The Untold Story Of Wild Bill Hickok's Only Wife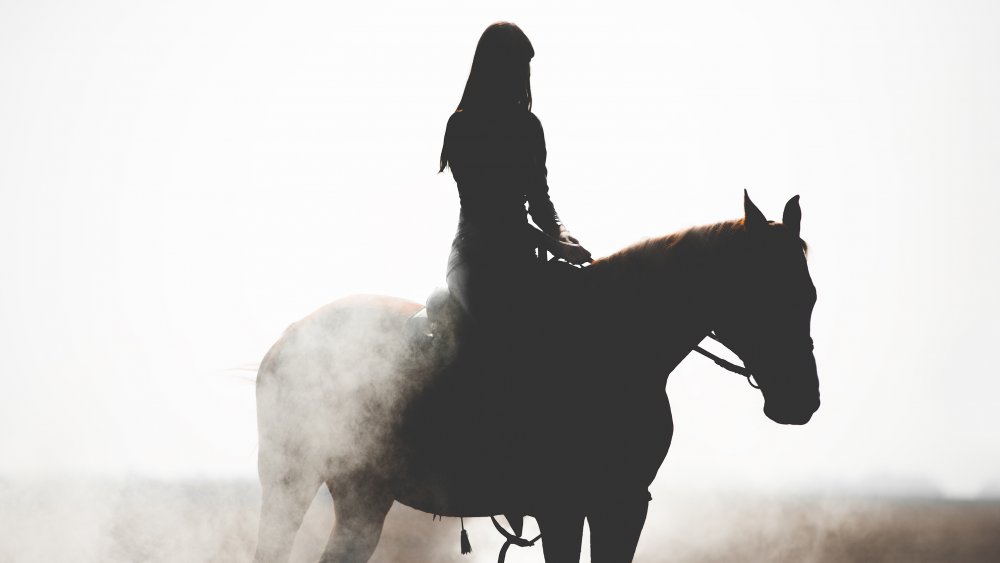 Shutterstock
Wild Bill Hickok is laid to rest at Mount Moriah Cemetery in Deadwood, South Dakota. In the plot beside him lies the remains of another Wild West legend, Calamity Jane, whose dying wish supposedly was to be buried next to Wild Bill. Tall tales and gossip like to romantically link these two famous characters of the frontier west, but most historians agree there is no evidence to show Wild Bill and Calamity Jane were ever involved. Calamity Jane had a reputation as what was then known as a "lewd" woman, and Wild Bill did not typically associate with drunkards or loose women, according to Gothic Western. It's even more unlikely Wild Bill was involved with Jane because he was already preoccupied with another strong-willed, independent woman: his first and only wife, Agnes Thatcher Lake. 
Lake was far from an unrespectable woman. Quite to the contrary, she was a world-renowned performer and manager of the popular Lake's Circus. Born in the Alsace region of Eastern France in 1826, the young girl known then as Agnes Messmann immigrated to the United States with her family at the age of four, according to the Times of Ottawa, Illinois. The Messmanns settled in Cincinnati, Ohio, where they made their living as farmers.
According to Gothic Western, when she was just 12 years old, young Agnes saw her first circus performance when a touring show came to Cincinnati, and it enthralled her.
Agnes Thatcher Lake was a world-renowned circus performer
The circus delighted Agnes so much that in her teen years she decided to run off with Bill Lake, a circus clown she met while he was performing at the big top in her hometown. The couple eloped and were married in Louisiana.
Despite her family's disapproval, Lake began training as a performer herself, and she soon became a talented equestrienne, tightrope walker, and lion tamer. She was known as the "Circus Queen," touring throughout the southern and eastern United States with her husband and their band of 240 performers, acrobats, and animals. The couple had a daughter, who also became an accomplished performer and horseback rider. They even did a stint abroad, performing for one season in Germany in 1862. When they returned from overseas, Agnes and Bill Lake decided to start their own circus. They performed together until Bill was tragically murdered in 1869. They were putting on a show in Granby, Missouri, when Bill encountered a man who had snuck into the show without paying for a ticket, according to the Times. When Lake confronted the man, he shot Bill dead. Now suddenly a widow, Agnes completely took over the management of the circus, raising her daughter and running the business while continuing to perform.
Agnes met Wild Bill two years after her husband's death, when they both happened to be passing through Abilene, Kansas in 1871.
Agnes Lake was eleven years older than Wild Bill
Hulton Archive/Getty Images
Despite the fact that Lake was 11 years his senior, they were immediately attracted to each other. Both moved on, and they did not reunite until five years later, in Cheyenne, Wyoming.
They married on March 5, 1876, per Cowgirl Magazine, when Wild Bill was 39 and Lake was 50. The not-so-young couple didn't get to spend much time together before their marriage was tragically cut short. Just two months after tying the knot, Hickok left Cheyenne for the Black Hills of the Dakotas in search of gold, hoping to soon be able to make arrangements to set up a ranch home for himself and his new bride. The couple planned to reunite sometime in the near future, and in the interim, they exchanged letters. In a letter mailed just two weeks before Hickok's death, he wrote: "Pet, we will have a home yet then we will be so happy," via the Times.
Unfortunately, their happy home would never come to be. Hickok was murdered, shot in the back of the head by the drunkard Jack McCall in a Deadwood barroom while playing cards. Bill was holding aces and eights, now known as the Dead Man's Hand. Agnes Lake Hickok lived to be 81 years old. She died in New Jersey in 1907, and was laid to rest in Cincinnati, next to her first husband.