Inside The Feud Between Rage Against The Machine And Limp Bizkit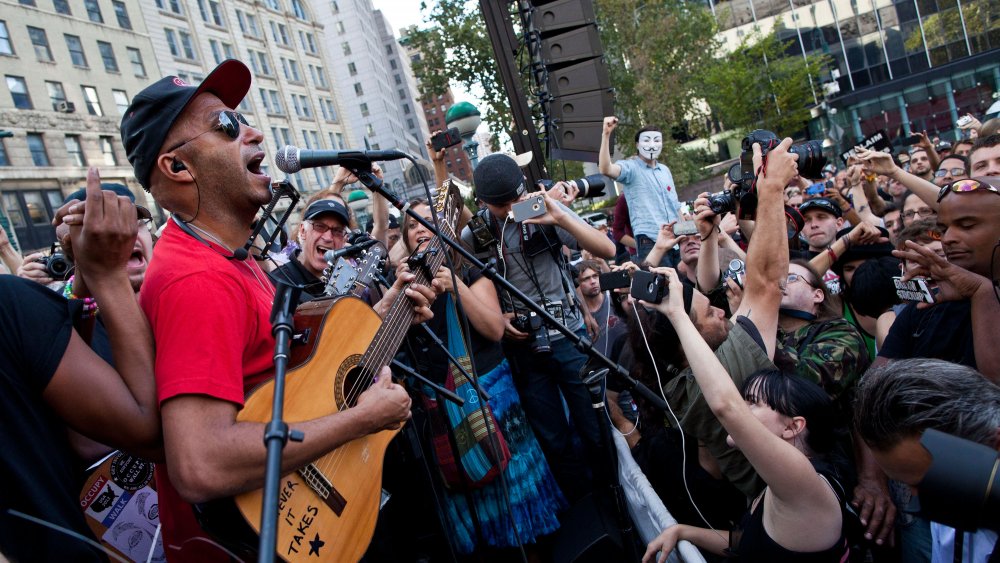 Andrew Burton/Getty Images
They say you should never meet your idols, and for good reason. While it can't be a good feeling to have your inspirations turn out to be not-so-nice people, it must be an even worse feeling to have your icons trash your band and call you a nasty expletive.
It wasn't just a case of one band not appreciating the admiration of the other, either. As Rolling Stone reported, chaos ensued after Limp Bizkit's video "Break Stuff" beat out Rage Against The Machine's "Sleep Now in the Fire" for Best Rock Video at the 2000 MTV Music Awards – and it wasn't just a fan brawl.
While the Michael Moore-directed music video for "Sleep Now In The Fire" featured RATM performing outside of the New York Stock Exchange while police officers attempt to stop them (according to Loudwire), Limp Bizkit's award-winning video touted fans mouthing the words to the song, along with cameos from celebrities such as Snoop Dogg, Dr. Dre, Eminem and Roger Daltrey. Naturally, as Limp Bizkit accepted the accolade, RATM bassist Tim Commerford crashed the stage, climbed a 20-foot fake palm tree, and refused to come down.
The highest form of flattery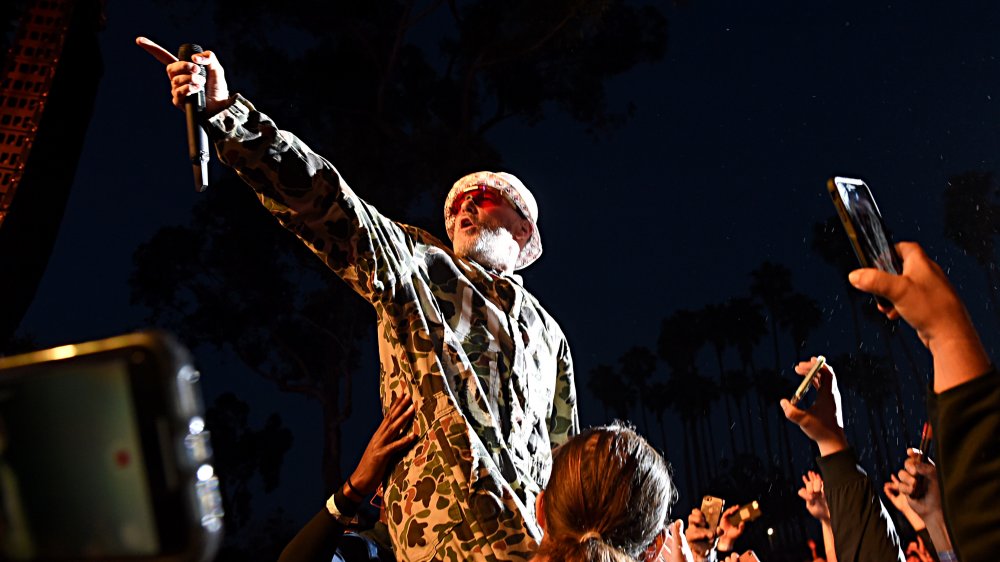 Kevin Winter/Getty Images
"We were up against Limp Bizkit, one of the dumbest bands in the history of music," Commerford later told ESPN Radio. "We're up against them and their singer made the video. So it was Limp Bizkit vs. Rage, Fred Durst-directed video vs. Michael Moore. And I'm sitting there with Michael and I'm like, 'Hey man, if that camera doesn't come over here, I'm climbing up that structure and I'm gonna sit there like a ... gargoyle and throw a wrench in this show.' And he's like, 'Tim, follow your heart.'"
Even after the whole stage-crashing debacle, Limp Bizkit continued to support their heroes. They regularly covered Rage songs and even spoke enthusiastically about their musical inspirations. "This is dedicated to the rap-rock band that started this s***," frontman Fred Durst told an audience in 2014, just before the band launched into a cover of Rage's "Killing in the Name." He later told the crowd the song had changed his life.
But while Durst proudly thanked his idols publicly over the years, the members of Rage Against the Machine only professed embarrassment from the honors. "I do apologize for Limp Bizkit," Commerford told Rolling Stone in 2015. "I really do. I feel really bad that we inspired such bulls*** ... as far as I'm concerned, we're the only one that matters."