What It's Really Like To Be A Student At West Point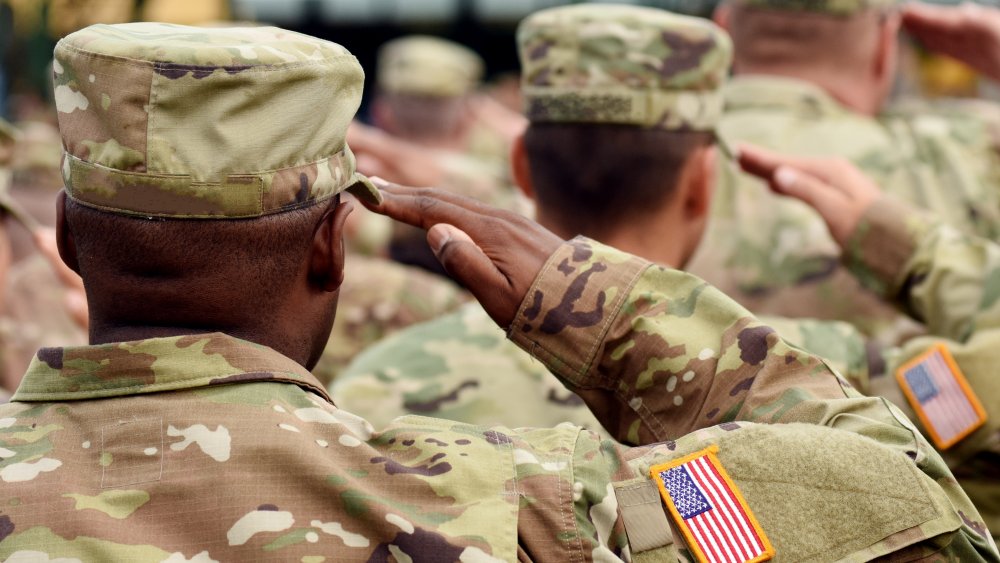 Shutterstock
The United States Military Academy — West Point — was founded in 1802 as a training center for the U.S. Corp of Engineers, reports Britannica. Built near the Hudson River 50 miles north of New York City, West Point has grown from its first 5-officer, 10-cadet class to be the country's #2 public university, per US News and World Report. Its curriculum is a blend of humanities, mathematics, and social sciences, same as any other university, but also incorporates military training and intense physical education. West Point is under the direct supervision of the Department of the Army. All cadets must be at least 17 years old when they are accepted, finish by age 23, and may not marry while in school.
West Point is an Elite Federal Service Academy (FSA) which, according to College Factual, means that its education is 100 percent subsidized. All students are full-time, and live on campus. In exchange, they must serve in the US Army for five years after graduation. The capacity of West Point is about 4,500 (all of whom can fit in the mess hall at one time, which kind of looks like Hogwarts). At present, West Point ranks higher than the national diversity average, except when it comes to gender; about 20 percent of its students are women, though 44 percent of its faculty are women. White students make up 63.9 percent, and students hail from all over the United States. International students also attend West Point, representing 16 different countries.
A highly regimented and disciplined experience
As a university, West Point places a strong emphasis on academics in addition to military training and exercise, as the West Point homepage describes. Students have access to a full array of 36 academic majors, including business, political science, and engineering, and 15 minors. Every day, students follow a highly regimented schedule in which nearly every minute of the day is accounted for. Schedules vary from year to year, but in general all students abide by a similar daily structure. Weekends are an exception, when students can relax and visit with friends and family.
Students begin each day with exercise, and often get up at 5:30 or earlier to jog and prepare their rooms for inspection. If anything in a room is out of order, or if there is dust somewhere, or boots are not polished, students will receive demerits that incur punishments. Classes themselves start at 7:30 a.m. and continue until 4:30 p.m. All classes start no later than 2 p.m. Lunch takes place during this time, as well, which lasts precisely 20 minutes, from 12:10-12:30 p.m. The period from 4:30-6 p.m. is for intramurals, gymnastics, and athletics such as swimming or boxing. Dinner is at 6:30 p.m. Evening study time, for homework or other academics, lasts from 7:30-9:30 p.m., in dorm rooms.
After that, there's nightly clean-up tasks, "Taps" (the bugle song), and finally "lights out" to rest up for the following day.
Plebes, Yearlings, Cows, and Firsties
Walter Olsen, West Point professor and alumnus, describes on Quora some quirks of student duties based on year, such as military training at Camp Buckner in the summer between first and second years (Plebe and Yearling), and fulfilling leadership positions between third and fourth years (Cow and Firstie) during Beast Barracks for incoming students.
In a 2015 YouTube video shared with UCLA, Cadet Elijah Contreras reveals some other quirks of campus life. In addition to every other rule that students must follow, such as wearing hats while outside, first-years can't speak outdoors, have to cup their hands while walking, have to walk alongside walls inside buildings, must greet upper classmen who pass by, and have additional duties: taking care of trash at night, setting up tables at lunchtime, asking permission to eat, and announcing to upper classmen how many days they have left until graduation. 
No matter how disciplined students are on the surface, however, many take issue with some of the university's facilities and aspects of everyday life. Student polls on Niche illustrate a pretty poor opinion of dorm quality (only 36 percent say the dorms are great) and food options (although burritos are a highlight). Fun and parties are limited (95 percent said that parties simply aren't possible), but not surprisingly, 100 percent of students say that the campus is perfectly safe and secure. In the end, students graduate as 2nd Lieutenants, and are off to serve in the US Army.