The Tragic Death Of Star Trek Actor Persis Khambatta
They were a team traveling through space, on a five-year mission to "explore strange new worlds, to seek out new life and new civilizations, to boldly go where no man has gone before," beginning with the 1966-69 Star Trek television series. That opening narration, voiced by William Shatner (Captain James T. Kirk) began each of the 79 episodes detailing the Starship Enterprise's original adventures.
While that show ran more than 50 years ago, Gene Roddenberry's sci-fi franchise remains vivid in pop culture today, with the original production still available in reruns, 13 movies, two cartoons and five TV versions: Star Trek: The Next Generation (1987-1994), Deep Space Nine (1993-1999), Star Trek: Voyager (1995-2001), Star Trek: Enterprise (2001-2005), Star Trek: Discovery (2017-present) and Star Trek: Picard (2020-present).
The series popularized dozens of characters, including Captain Jean-Luc Picard (Patrick Stewart), Spock (Leonard Nimoy), Khan (Ricardo Montalban), and Jonathan Archer (Scott Bakula). It has its own language and much-loved plot points. 
She starred with Sylvester Stallone in 'Nighthawks'
Part of the Star Trek mythology is what happens to participants in that world after their time in it is over. Leonard Nimoy spoke about his ambivalence of portraying such an iconic part in his 1975 book, I Am Not Spock, according to the New York Times. 
While Nimoy remained an entertainment presence long after his time in space, others' fame faded more quickly — for instance, Persis Khambatta, who appeared in Star Trek: The Motion Picture. The 1979 film, the first installment of the Star Trek movies, cast her as Lt. Iliaa, a navigator for the USS Enterprise, alongside many of the original television cast. Khambatta, an internationally known model from Mumbai (formerly Bombay), won Miss India in 1965 clad in an outfit she purchased right before the competition, according to the New York Times. 
She had appeared in Indian films before coming to Hollywood to play roles in The Wilby Conspiracy (1975) with Michael Caine and Conduct Unbecoming with Richard Attenborough. For her Star Trek audition, Khambatta wore a bald cap that she purchased for $1.99, said The Print. Her performance — her character was indeed bald — was nominated for a Saturn Award. Initially, Khambatta was slated to be part of a new Star Trek television series and signed on to do the role for five years. She embraced the change, however, believing that ultimately a movie might help her career more, according to The Better India. 
The career of Persis Khambatta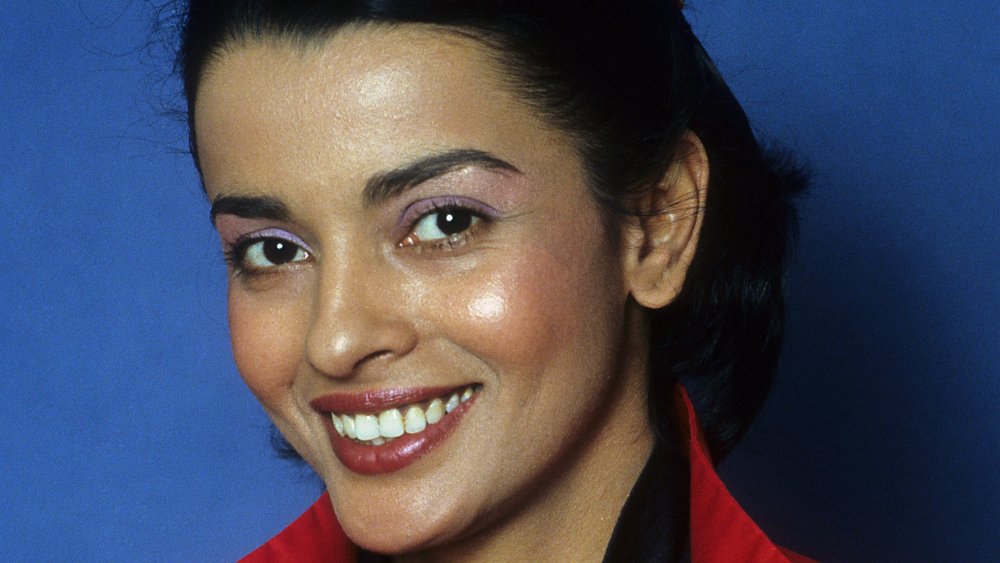 Donaldson Collection/Getty Images
In 1981, she appeared with Sylvester Stallone in the film Nighthawks, and according to The Independent, she was the first Indian to present at the Academy Awards. Around this time period, she married actor/stuntman Cliff Taylor a few weeks after meeting him. By some reports, she believed that they were lovers in a past life. The second time was not the charm, however, and they separated two months later before eventually divorcing.
She played a number of guest roles on American TV hits in the '80s including Hunter, MacGyver (both in 1986) and Mickey Spillane's Mike Hammer (1987). She also appeared in the 1993 pilot of Lois & Clark: The New Adventures of Superman. Khambatta left Hollywood for  Bombay in the 1990s and produced the 1996 anthology Pride of India, a book that featured participants in international beauty pageants and other icons, including Mother Teresa, who Khambatta thought "radiated beauty," according to the The Independent. She donated a percentage of royalties to the Missionaries of Charity, a Catholic congregation created by the saint in 1950. Khambatta was described as "a thorough professional and obsessively punctual," but also "private."
Khambatta died in August 1998 of a heart attack at age 49. She had a history of health problems, going back to a 1983 coronary bypass.