The Untold Truth Of Steve Vai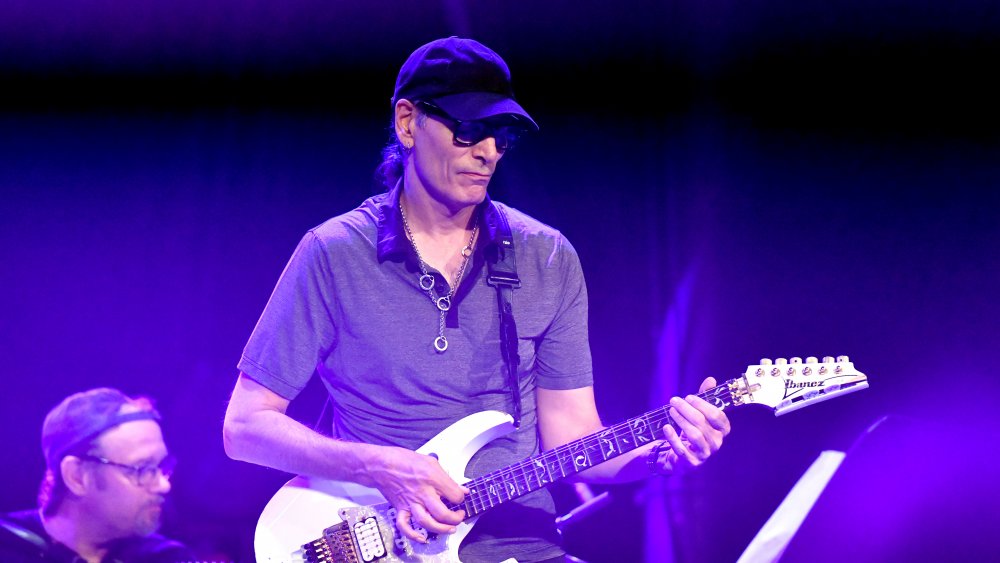 Scott Dudelson/Getty Images
For over three decades, Steve Vai has lent his versatile style to several wildly popular rock music acts, playing alongside greats like Frank Zappa, David Lee Roth, Whitesnake, Ozzy Osbourne, and more. According to his "Vaiography" (we guess we'll let that one slide — he did invent the seven-string Ibanez UV70P, after all) on his official website, Vai has won three Grammy Awards and boasts over 15 million album sales.
Vai told Make Weird Music in 2016 that he knew he was a born musician even before he ever touched a guitar. He realized his "deep attraction to music" at the young age of four, when he walked up to a piano, struck a key, and knew right away that the notes to the right went higher and those on the left went lower. "I had two great epiphanies right at that moment. One was I understood instinctually the construction of music, so whenever I would hear, I would think, 'Oh, that's what music is!' And then, 'These are all the notes.' I could see them," he said.
His second epiphany had to do with the limitless possibilities of music. "I was overcome with the reality that musical creativity is infinite, that no one can tap it out, that it'll never end." Vai instantly felt all of these possibilities within himself, and in that moment, he knew he was going to be a musician.
Steve Vai learned guitar from one of the instrument's greats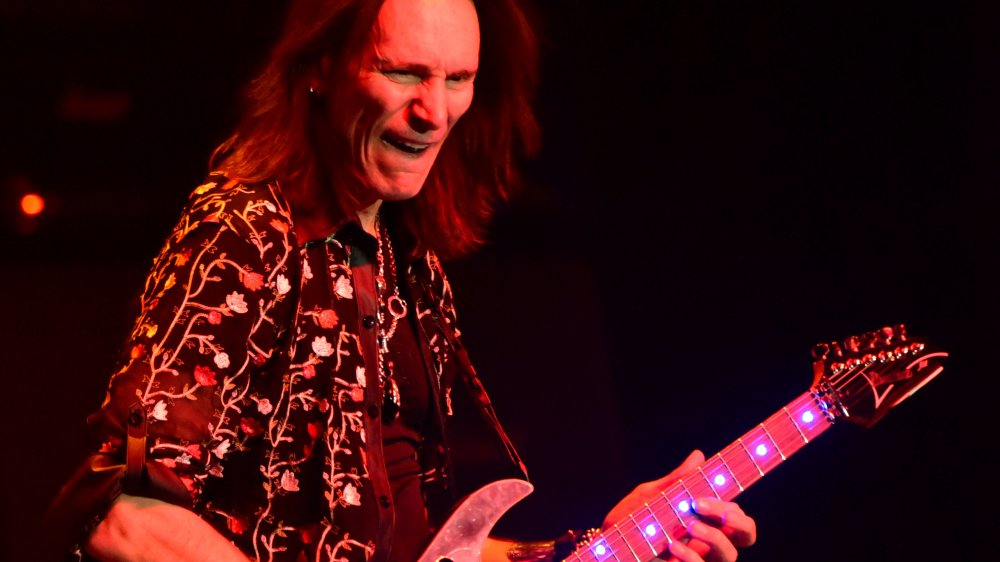 Lisa Lake/Getty Images
According to Ultimate Classic Rock, Vai began taking guitar lessons from legendary instructor Joe Satriani when he was 14 years old. The list of students who learned their licks from Satriani will astound you. Society of Rock compiled a list includes Metallica's Kirk Hammett, Primus' Larry LaLonde, Testament's Alex Skolnick, and Kevin Cadogan, of Third Eye Blind.
Vai then went on to study at Boston's illustrious Berklee College of Music, where he started transcribing music from records by ear. According to the Berklee Press, this skill would bring him his first big gig: playing guitar for legendary weirdo Frank Zappa. He sent Zappa a transcription of Zappa's "The Black Page," and the song's composer wrote him back, offering him a job. Vai became a member of Zappa's band at just 20 years old. Frank regularly introduced Vai to crowds as his "little Italian virtuoso." Vai called working with Zappa "an education," but not because Frank was into teaching. "He was interested in having his music played properly by people who are proficient. He really knew how to identify a person's talent." Zappa saw Vai's "ability to understand and perform difficult rhythms and to make weird sounds on the guitar" and then drag those things out of him. "That was his genius," said Vai.
Vai's time with former Van Halen singer David Lee Roth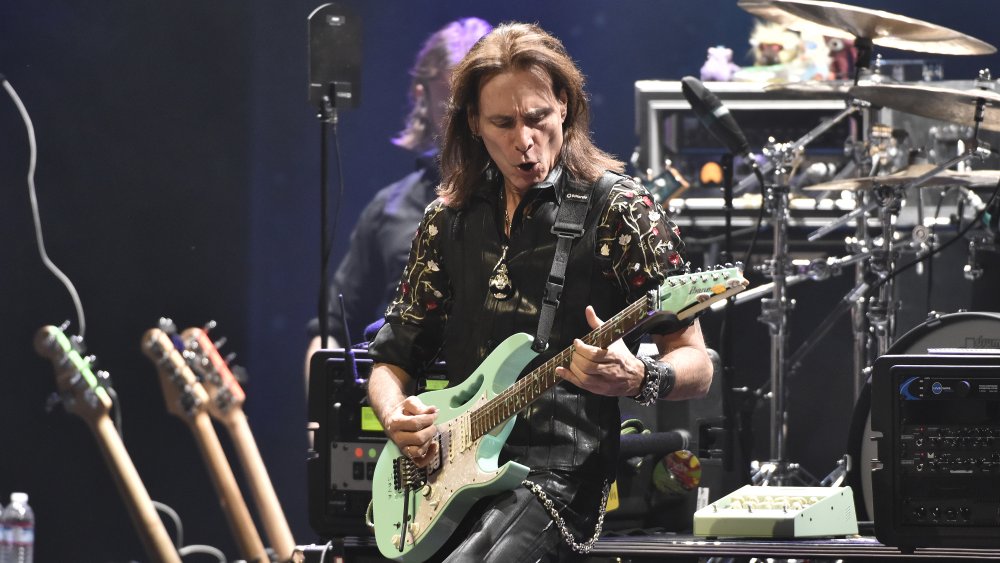 Tim Mosenfelder/Getty Images
After David Lee Roth and Eddie Van Halen split up, the former teamed up with Steve Vai to create what Louder Sound called "the greatest partnership of the '80s." Funnily enough, Vai didn't come away with the same low opinion of Roth as Van Halen did. "We got on really well!" said Vai. "We were friends. People have this image of Roth as being this rock star with a crazy kind of personality, and he is that. But as a partner in the creative process, he listens and doesn't assume to know everything ... I mean, you don't argue with Dave, but if you have a perspective or opinion, he's interested in hearing it. If it's a good idea, he's happy to go with it."
Vai told Adam Reader, host of the YouTube show The Professor of Rock, that he considered Roth his "fourth and final mentor," after Satriani, Zappa, and his first music teacher, Bill Westcott. "Dave and I really hit it off," Vai said, adding that Roth taught him how to be a physical performer. They went to the gym, worked out, went rock climbing. And that physicality, combined with Vai's boundless ingenuity, took his successful career well into the 21st century. At 60 years old, he continues to tour and record to this day.