The Tragic Death Of World Cup Soccer Player Sam Okwaraji
Tragedy can strike at any time, even in moments of personal glory. Sadly, this was what happened to Nigerian soccer player Sam Okwaraji. Okwaraji, who played professional football for European clubs and represented Nigeria, tragically died during a World Cup qualifying match against Angola in 1989. He was only 25 years old.
Okwaraji had been celebrated in his country. According to the Nigerian Tribune, Okwaraji left Nigeria to go to Europe for further studies. He went to Italy to get a law degree but instead earned two, a bachelor's and a graduate degree, in International Law from the Pontifical Lateran University of Rome, while pursuing his first love. He even signed up for additional studies; he wanted to get a Ph.D. in International Law.
During his time studying in Europe, Okwaraji was drafted to play for several football clubs. He suited up for AS Roma, Dinamo Zagreb, Klagenfurt FC, VfB Stuttgart, and SSV Ulm. His stint at Dinamo Zagreb even gave him the chance to score three goals during a friendly match. He joined AS Roma, his first professional team, when he was just 20. Okwaraji, though, very much wanted to play for his home country and represent it at the highest of soccer glories. The Nigerian Football Association ignored him, however, until he paid his way to enter the squad in hopes of qualifying for the 1988 Seoul Olympics. Okwaraji made his Nigerian team debut in January 1988.
International success brought him national recognition
Tony Duffy/Getty Images
In all his time playing for the Nigerian national team, the Green Eagles, Okwaraji usually paid to be featured, reported the Nigerian Tribune. The African Soccer Union wrote he appeared only 10 times with the national team. In one of those times, he scored the fastest goals in the Africa Nations Cup history. He even played in the final of the Africa Nations Cup, but the team lost to Cameroon by one goal. He also played in the Olympics.
One of the greatest moments for Okwaraji would be to play in the World Cup. In August 1989, Okwaraji stood in Lagos, waiting for the match to start. These Football Times described the feeling in the stadium. More than 100,000 fans awaited the game in the stadium that only seats 80,000. It was a hot day, but fans of both Nigeria and Angola sang, danced, and screamed until they were hoarse. If Nigeria wins against Angola for this match, it would only need to play one more game for one of the two places to get into the World Cup. Those who couldn't squeeze into the stadium were glued to their TVs. The whole environment was heated, and some fans had to be taken to the hospital.
The match started, and Nigeria missed an early penalty kick but quickly took the lead back. And then, with 10 minutes left in the match, tragedy struck. Suddenly, Okwaraji slumped onto the pitch.
Tragedy strikes at the pitch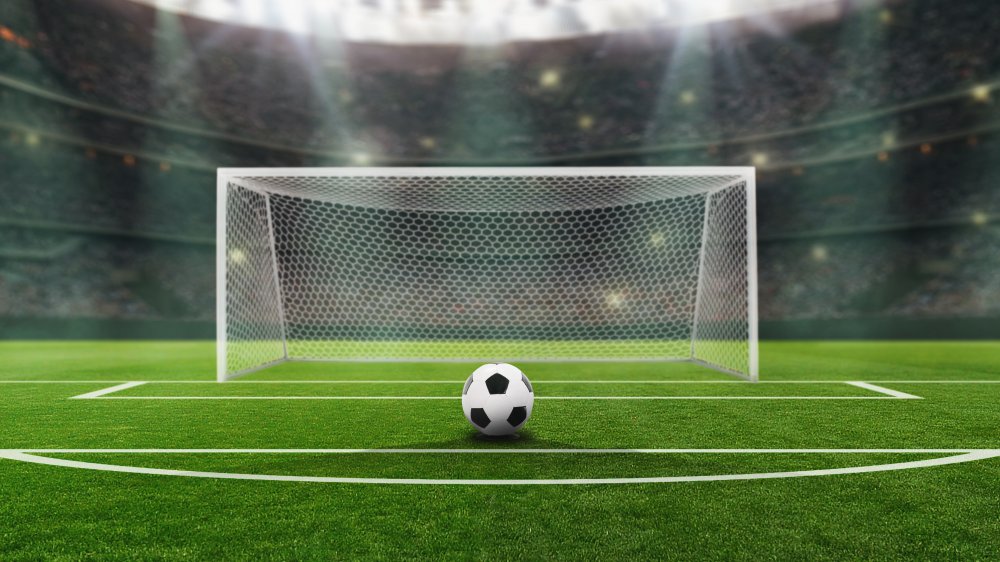 Shutterstock
Okwaraji lay motionless in the field, These Football Times said. His teammate Samson Siasia reached him first, bent down to help him stand up, only to rise again in panic. Okwaraji apparently had been foaming at the mouth and gasping for breath. A medical team rushed to his side to bring him to the hospital. These Football Times noted the ambulance had to be pushed by four ball boys because it wouldn't start. Finally, Okwaraji got to the hospital, but it was too late. As his teammates played on, beating Angola 1-0 and reaching the qualifier's final stages, doctors declared Okwaraji dead from congested heart failure. An autopsy showed he had an enlarged heart. Doctors said he might have even died right there on the football field.
His teammates told Goal his death scared everyone. Other players were scared the same thing could happen to them, and either dropped out of the team or were tentative in play. Nigeria ended up losing the next match and failed to qualify for the World Cup.
Many of Okwaraji's teammates insist the Nigerian government should do better in commemorating his legacy. Goal said teammates want a foundation set up for his family. A statue of Okwaraji stands in front of the National Stadium, where Okwaraji hoped he could help bring World Cup glory to his motherland. But instead, it became a moment of tragedy.