The Tragic Real-Life Story Of Al Pacino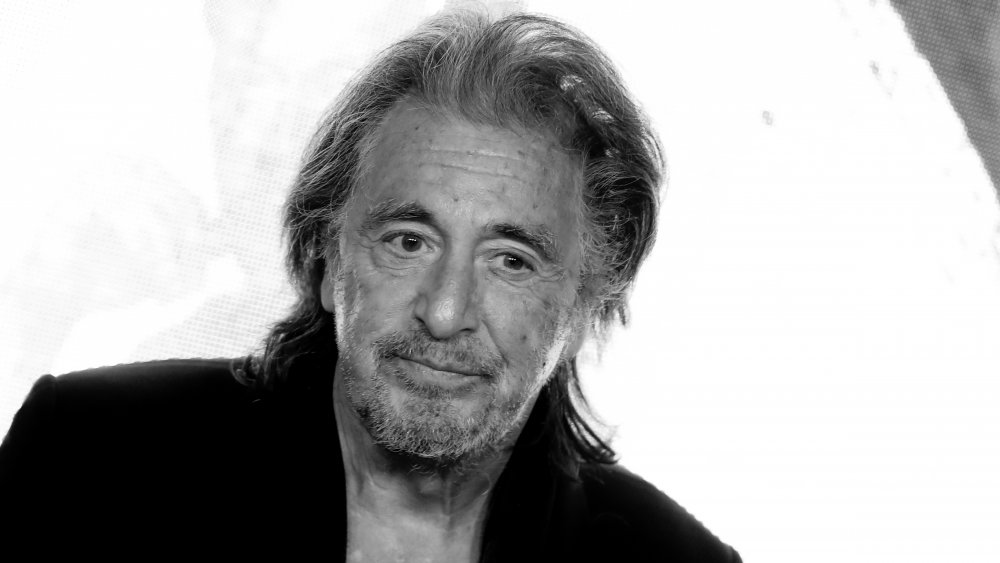 Rich Fury/Getty Images
Alfredo James Pacino, better known as Al Pacino, is undoubtedly an icon of our times. He's spent more than 50 years as an actor and is the face for many legendary movies including The Godfather, Scent of a Woman, Scarface, Dog Day Afternoon, Dick Tracy, and The Irishman. He is a method actor who has led a rich life and inspired generations with his talent and unique persona on screen. Pacino is also the recipient of many honors including an Academy Award and two Emmy Awards.
Pacino is a deep thinker who is not afraid of getting honest. He once told The Guardian in a 2015 interview that he has thought about mortality. "You don't think about it yet, but it will come to you," he said, adding that the realization that things do come to an end does hit everyone. He's well-known for being a hardcore method actor and doesn't believe in stopping or quitting. Pacino has claimed that, even if people question his acting skills as his career progresses, he simply doesn't see the point in giving up.
Pacino is an acting legend with many fans across the world, no doubt. But even devoted fans may be unfamiliar with the most tragic moments from his life, like the loss of his mother when he was still struggling to be a full-time actor. Let's take a look at Al Pacino's life, including his ups and downs through the years.
Pacino came from a broken home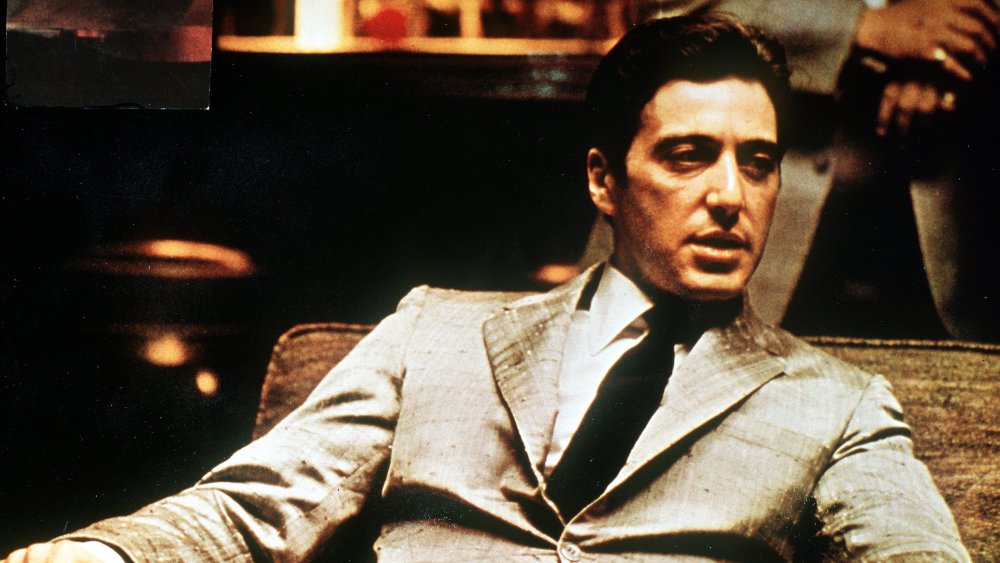 United Archives/Getty Images
Al Pacino didn't have easy beginnings. He was born in New York in 1940 and never got to enjoy that happy, two-parent home life. His parents separated when he was just two. He mentioned to The Guardian that his school teachers felt that he needed a father figure in his life. His father wasn't an active part of his life at that point. "I wasn't an out-of-control teenager, but I was close," he explained.
Pacino's household was unconventional in that he was surrounded by his mom, his sister, and his grandparents. He said that even though they weren't well off financially, he still felt lucky and got a chance to experience a life of adventure (via Interview Magazine). "It was tough for me growing up, I will say. But pretty much my grandmother, she ruled. And my mother was second. They were relatively young," he added, explaining that his mom was pregnant with him at a young age. Pacino has always felt indebted to his family for taking care of him in those turbulent times and helping him become the person he was meant to be. 
Al Pacino was always fascinated by the arts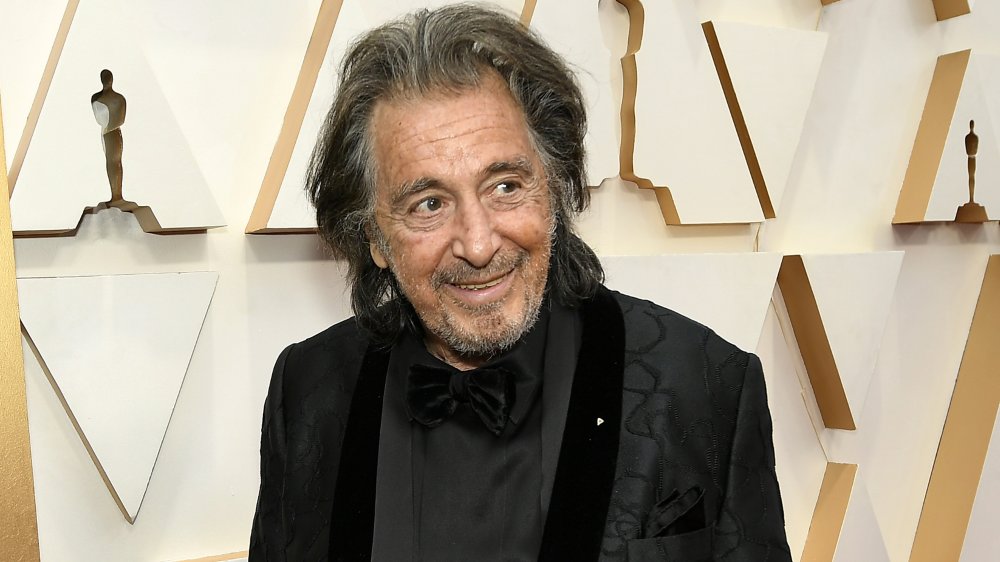 Kevork Djansezian/Getty Images
Al Pacino was endlessly fascinated by the arts, even as a kid. As illustrated in a New Yorker piece, Pacino would often take to performing wherever he was, including on the streets. In fact, he was called "the Actor." "We'd act out parts from joke books and comic books," he revealed. He added that he knows a lot of kids star in videos these days but things were different back then and it wasn't common to watch street urchins act out plays in the Bronx. His old neighbor Ken Lipper revealed that Pacino always had that spark in him and "was full of drama." He was not afraid to warm up to different characters and would often experiment out in public.
Pacino was also good looking. His looks and talent both got him noticed early on as girls in the neighborhood admired him, calling him "Sonny Pacino, the lover bambino." The actor was witty too and would use his acting skills to befriend other kids and confuse bullies, something that definitely worked to his advantage. It was almost like he was destined to become an acting legend in the future and achieve success.
Pacino dropped out of school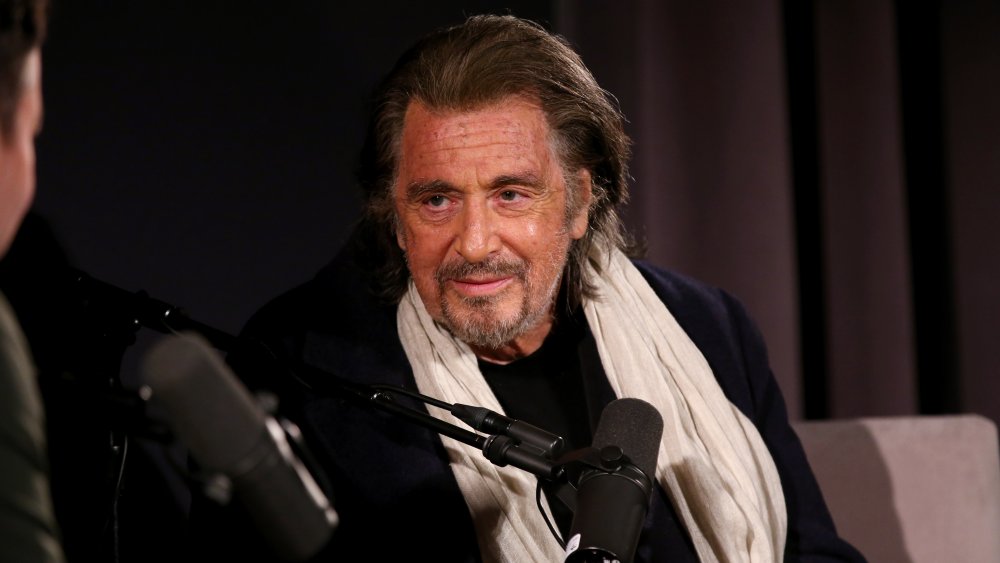 Phillip Faraone/Getty Images
Al Pacino was intrigued enough by the arts to pursue drama class in Junior High. While helping his mom run the house, Pacino also got a chance to be a part of the High School of Performing Arts in Manhattan, where he transferred. This was something his mother struggled to come to terms with. As highlighted by The New Yorker, she wasn't pleased. "Acting isn't for our kind of people," she declared. "Poor people don't go into this." 
Pacino was not discouraged because he was determined to succeed and believed he was a survivor. "Survivors only hear what they want to hear," he explained. He did experience a setback, though when his stint at the high school turned out to be a short one because the non-acting classes were more rigorous than he anticipated. Spanish was actually held in Spanish. Plus, the style of teaching didn't appeal to him either. He was too young for it. He left at 16, but Pacino didn't give up and started auditioning and working on his craft.
Al Pacino lived through poverty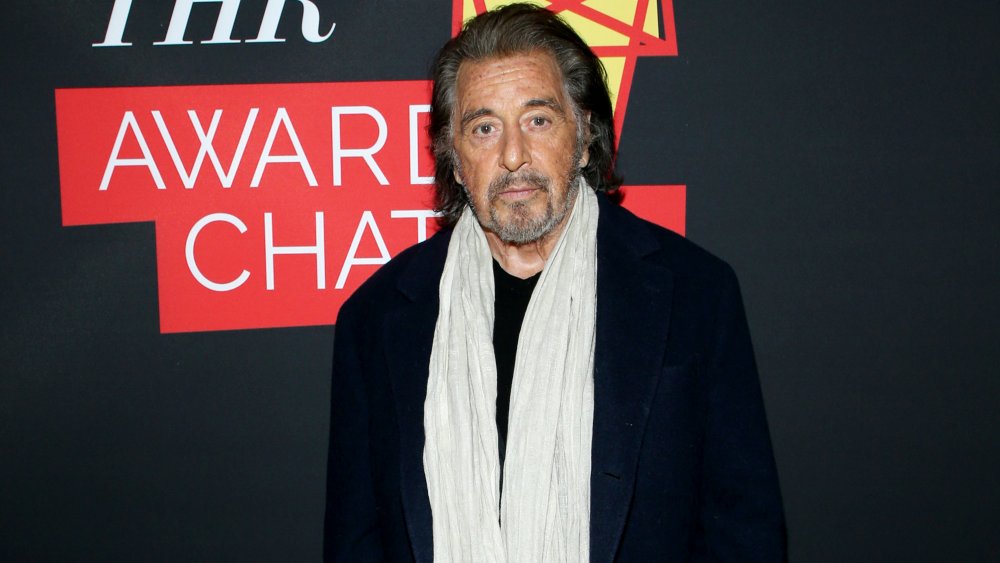 Phillip Faraone/Getty Images
When he was a struggling actor, Al Pacino didn't have a lot of money or connections but he was adamant and resilient enough to get through the tough times. "There were times when I was young when I could have used money," he told The Guardian, explaining that he'd even briefly spent a few nights in a storefront. Perhaps that experience taught him to not turn to materialistic things in life. He said he'd simply never been keen on materialism.
It also helped that Pacino truly loved what he was learning. He would read voraciously and meet all kinds of characters on the streets of downtown New York (via Interview Mag). He explained that it helped that he was young and poverty didn't seem that big of a deal at that point. Pacino could survive it because of his age — and with the age-old street slice of pizza. "You just have yourself to deal with. A piece of pizza goes a long way ... But you could live on anything at that age. It doesn't matter. You extract every bit of that piece of pizza," Pacino reflected. His enthusiasm for acting didn't fade in the least and he continued working on it as he learned to survive in the real world.
Pacino lost his closest family at 21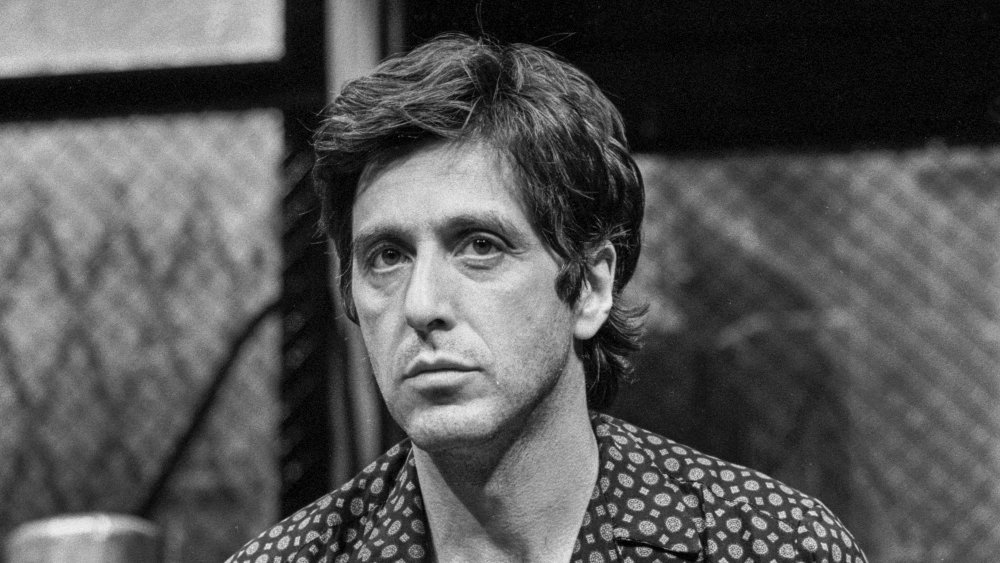 Dave Hogan/Getty Images
Al Pacino lived through loss at an early age. He was 21 and struggling to break into the acting industry when he lost his mother when she was just 43. It was a huge blow for someone who'd grown up around mostly strong maternal figures. It was something he wasn't sure how to deal with. Before he could truly comprehend the loss of his mother, Pacino lost his grandfather as well within a year. By 1962, he found himself struggling to make sense of it all. Recollecting what it felt like, Pacino said it was an incredibly difficult time for him (via The New Yorker), one of the worst periods he's ever lived through. "And I had no father," he said. "I think that was my darkest period. I felt lost."
Despite what he was going through, Pacino didn't give up on his dream as he learned to navigate uncharted territory and cope with loss. He continued looking for work, getting through rejections and doing his best to try and land good roles.
Pacino didn't feel good enough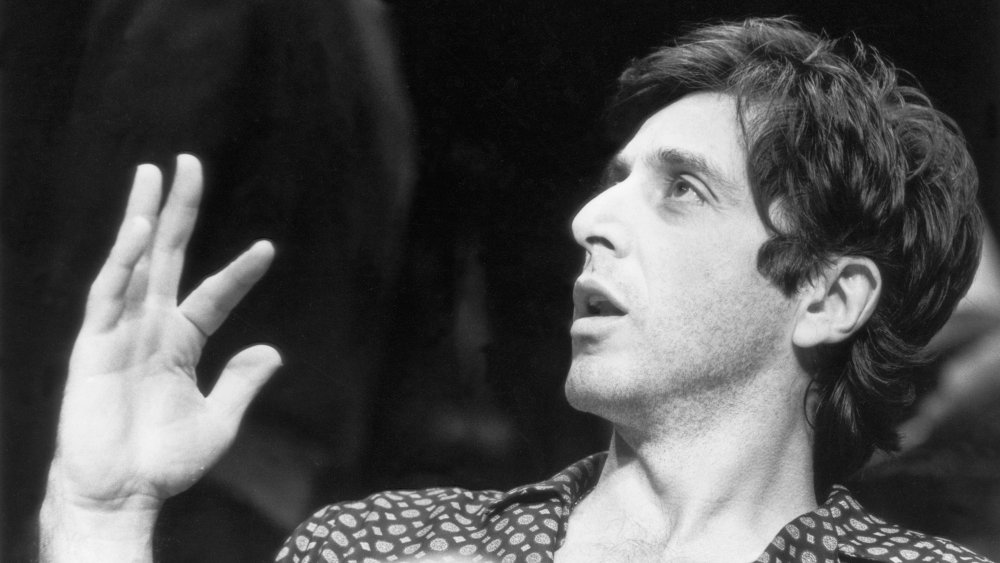 Dave Hogan/Getty Images
Al Pacino benefitted from joining the Actors Studio when he was 23, evolving as an actor and polishing his skills under the guidance of director Lee Strasberg. However, Pacino knew he was not like his contemporaries who came from privileged backgrounds. He felt inadequate and different at that point. "I knew I was this vagabond kid," he said (via The Telegraph).
Even at auditions, Pacino realized that as an Italian-American, he didn't look like his competitors. He felt like an outcast but didn't let that bring him down, knowing he needed to be patient for the right gig to come along. "I knew, when the opportunity came, all I'd have to do is be there," he told The New Yorker. Pacino did find himself struggling at times, filled with self-doubt. When he started working on the play "Creditors" and was with actors who'd received classical training, he felt like he couldn't go through with it and wanted to leave the show. Luckily for him, he had director Charlie Laughton, his friend, mentor, and teacher who spoke to him and quelled his fears and doubts. Sticking with the hard material of "Creditors" had been so transformative for Pacino, an image of him in the Off-Off-Broadway play still sits on his mantelpiece.
At first, Al Pacino struggled to get work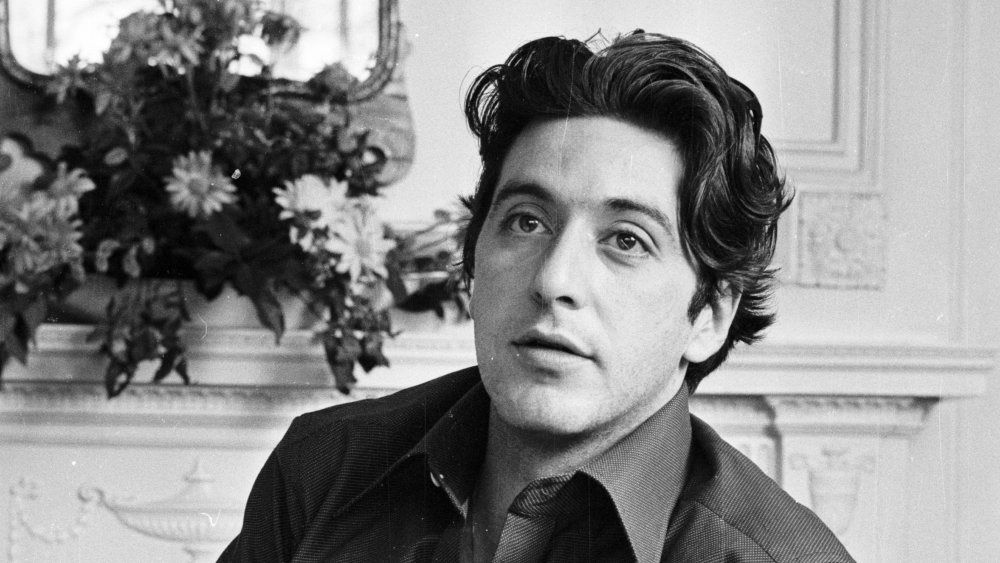 Steve Wood/Getty Images
Al Pacino wasn't always lucky. To get into Broadway and the movies, he had to work hard and it took quite some time roughing it out before he got fruitful opportunities. According to the New Yorker, even being a part of productions was taxing for him at times, especially as he worried about connecting with his audience. For example, while performing in his Off-Off Broadway début, which was based on William Saroyan's "Hello Out There," he found himself tearing up during the intermission, convinced the performance wasn't working.
His friend Charlie Laughton counseled him through it and he decided to go back to his performance. "It was a very important moment for me," Pacino said later. "I went back in there and finished the run."
Before Broadway, getting to the point where Pacino could bag roles meant milking every opportunity he got, including being a performer who didn't discriminate. He would put up plays in cafes with his peers and focus on making the most of what he had. "We passed the hat around after each performance. Somebody would drop in coins here and there. That's how we ate. And it was right in New York City ... Broadway was something that didn't exist," he recollected. He added that the experiences he lived through helped him to hone his creativity and understand the importance of cultivating the desire to do things and to grow.
Pacino struggled with alcohol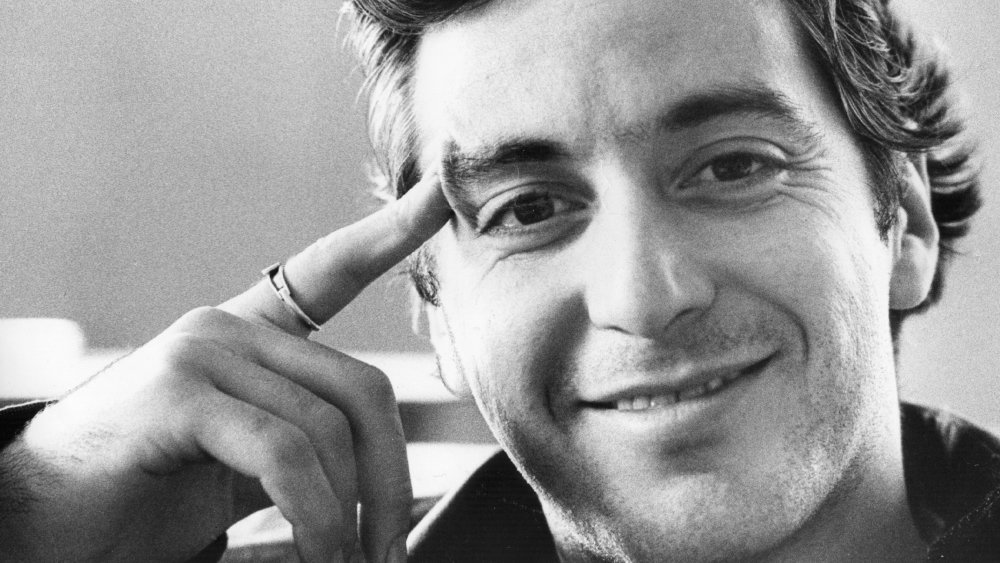 Roy Jones/Getty Images
Al Pacino often turned to alcohol to cope. Being the method actor that he was, he found himself feeling overwhelmed after each performance and felt the need to reward himself, according to the biography Al Pacino: A Life On The Wire by Andrew Yule. In fact, he had his first drink when he was just a teen. He liked the way alcohol made him feel but it started getting in the way of his relationships. For example, when he was in a relationship with actor Jill Clayburgh and had one of his binges, he was barely able to focus on anything around him. Clayburgh told him that she was lonesome, but he was too inebriated to hear it.
Pacino wasn't able to kick his addiction for a long time and once said, "I need that drink after the show, I really need it." However, his loved ones knew this was becoming a problem. He finally acknowledged his drinking problem thanks to his friends and made a decision to get sober in 1977. "My friends finally made me realize that drinking was an addiction," he said. "After each show, I felt entitled to a reward, but now it's ice cream and Oreo cookies!"
Pacino almost lost his iconic Godfather role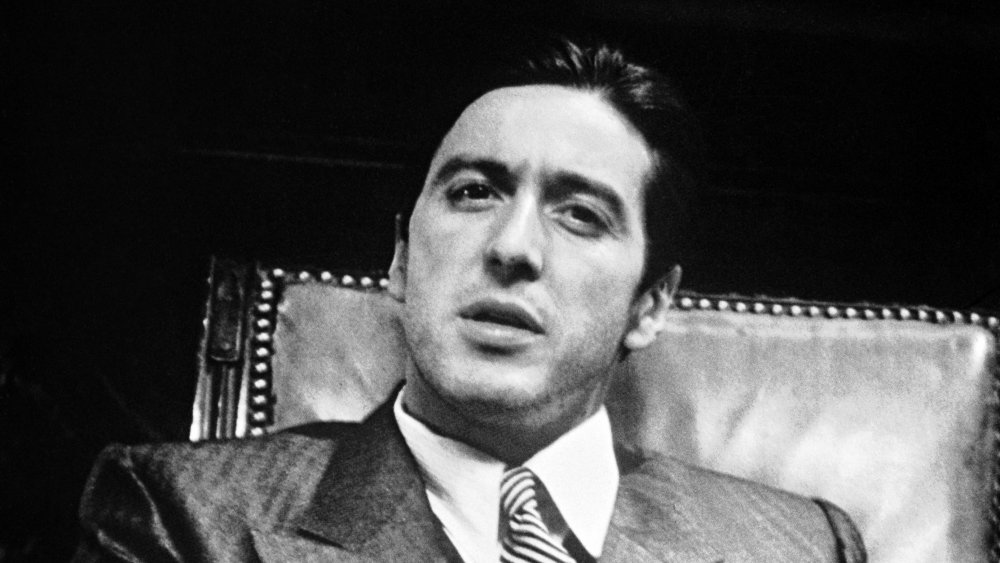 United Archives/Getty Images
It's safe to say that one of Al Pacino's most iconic roles in cinema is his portrayal of Michael Corleone in The Godfather in 1972. However, he almost didn't land that part. Other actors such as Robert Redford, Warren Beatty, Jack Nicholson, and Ryan O'Neal were being considered for the role, as explained by The New Yorker. However, the man who wrote The Godfather, Mario Puzo, was keen to listen to film director Francis Ford Coppola who was convinced that Pacino was really good for the part and set on casting him. Puzo's decision to support Coppola helped Pacino land the role.
However, Pacino still almost lost it when he showed up hungover at the screen test and hadn't learned his lines. It took him three attempts to deliver his lines, but he was left feeling agitated after the experience. A bit of back and forth ensued, and Pacino was finally offered the part which conflicted with another role he'd agreed to do a few months earlier. Pacino had to lobby hard to get out of this sticky situation, pulling a few strings so that he could focus on The Godfather. After Pacino landed the role, for which he got a flat fee of $35,000, he spent time thinking about how to do justice to it. "I didn't see Michael as a gangster," he explained. "I saw his struggle as something that was connected to his intelligence, that innate sense of what's around and being able to adjust to things."
Al Pacino needed therapy after the Godfather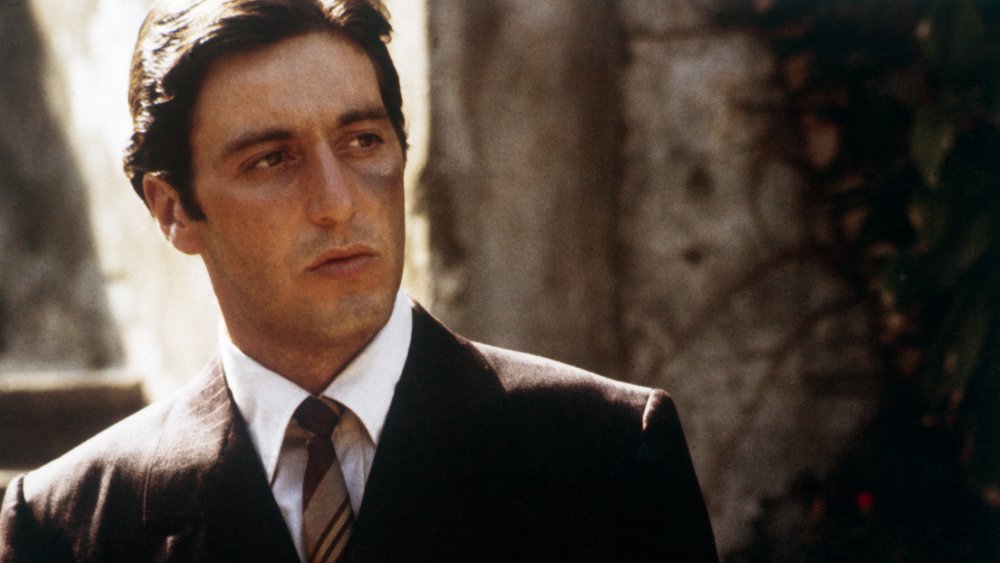 United Archives/Getty Images
Playing a role as iconic as Michael Corleone was a major move for Al Pacino, who found himself being propelled into the limelight all of a sudden. This transition wasn't exactly easy for the actor who wasn't sure how to deal with his newfound popularity. In fact, according to the Hollywood Reporter's Awards Chatter Podcast, he was so disillusioned that he decided to seek professional help to cope. "It [fame] is a big thing to get used to," Pacino explained. "I remember [director and actor] Lee Strasberg saying to me, 'Darling, you simply have to adjust.' And you simply do. But it's not so simple."
He found himself in therapy, attending his sessions five days every week in a bid to manage his mental health. In fact, he would continue with his therapy sessions for 25 years and also choose to take it easy in the 1980s, sticking to doing only five films through that entire decade. "I just wanted to move away from the pace of the whole thing, and it was good for me," Pacino said.
Pacino's seen failure up close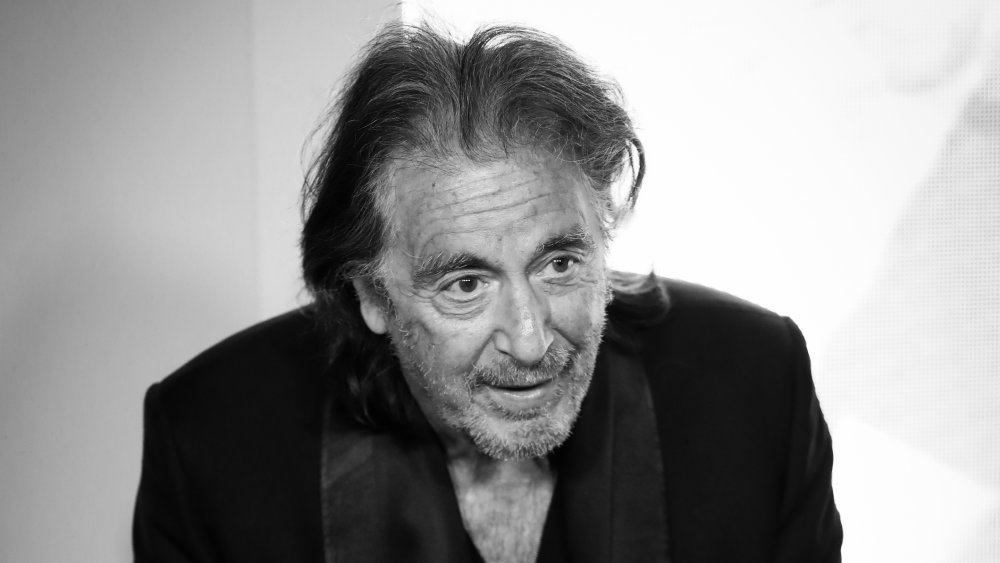 Rich Fury/Getty Images
Al Pacino may be an iconic film legend but he has witnessed his share of highs and lows in his career in the entertainment industry. His 1985 film Revolution was a much-awaited title that turned out to be a major flop. It was big enough for Pacino to move away from films for four years and take a much-needed breather from cinema. According to MarketWatch, the film had a hefty budget too: $28 million. Its failure was a major letdown and something that affected Pacino on a personal level. "Nobody saw this film," Pacino reflected. "But we love it and we hung in for the next 20 years and changed this movie a little."
When Pacino was asked whether the fact that Revolution bombed at the box office had something to do with the actor choosing to take time off from acting, he said that it did have an impact and he was tired of everything. He needed to take a break and reflect. He decided to step away but had to return eventually because the actor was going broke and his then-girlfriend Diane Keaton pushed him to get back out there with 1989's Sea of Love.
That said, Al Pacino's passion for acting never subsided. He told The Guardian that he does believe that if there's passion, a person should keep doing what they do. "I believe I have reached my stride, which is why I persist," he admitted. "As long as you have passion for the art, keep working, because age catches up with you."
Al Pacino longs to be free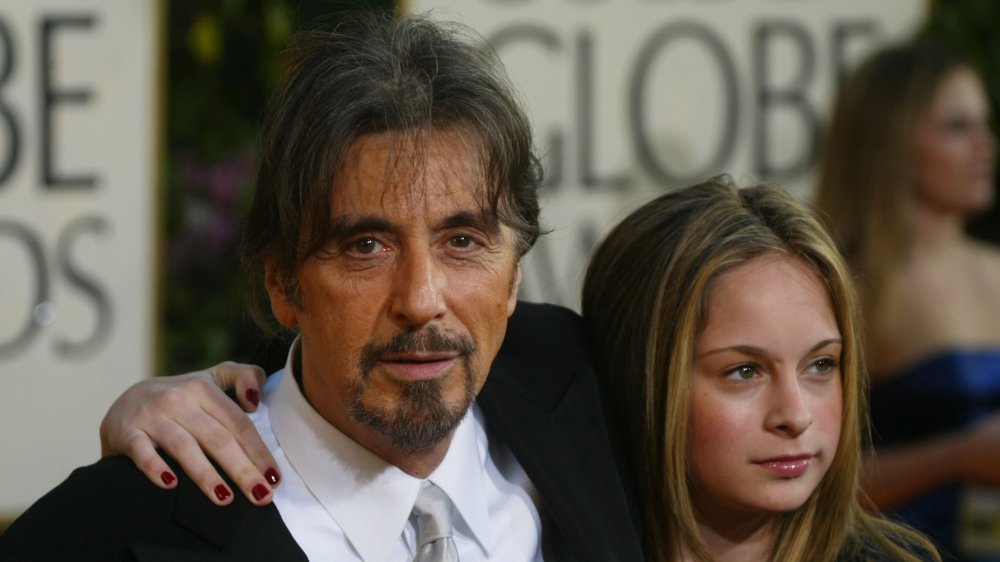 Carlo Allegri/Getty Images
Al Pacino really likes his space and wishes for anonymity. He told The Guardian that he doesn't recall the last time he could simply be out in public without stressing about it and hasn't been able to be outside with his kids. "I haven't been in a grocery store or subway for years. It's hard for my children to go out publicly with me," he admitted, explaining that fame as a concept has evolved drastically over the years and is not how it used to be two decades ago. He recognizes the value of being out and about and not being spotted.
As detailed by the The New Yorker, even when Al Pacino had decided to take a break from acting in the movies after Revolution, he felt happier and didn't feel pressured." It is the very nature of fame that the light is on you a lot," he explained in the interview. "I sort of wanted to turn the light out of my face, so I could see."