The Weird Reason Miracle On 34th Street Was Released In The Summer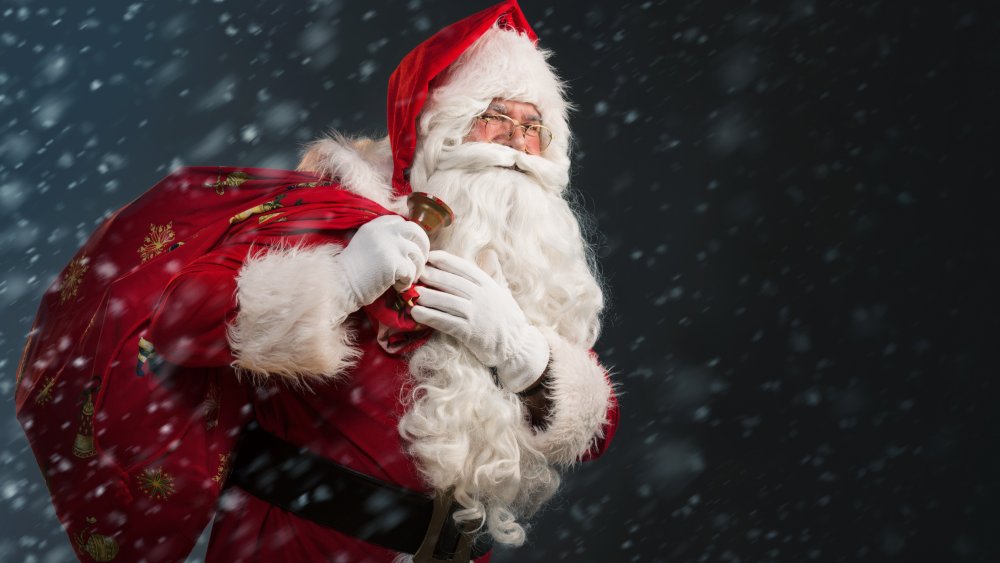 Shutterstock
The classic Christmas flick Miracle on 34th Street is now such an integral part of U.S. holiday season folklore that you feel like you've already seen it countless times, even if you've never actually seen it. It set the mold for generations of Christmas movies to come. There's the old, fat, bearded guy whose utter jolliness alone should inform anyone who takes one look at him that he's obviously Santa Claus. There's the little kid full of Christmas spirit who believes in the winking old fellow, without a sliver of doubt. And, of course, there's the cohort of cynical adults who stubbornly spend the whole movie disbelieving the hot cocoa-chugging old guy until he finally removes the veil of grownup skepticism and we all feel like a kid again.
According to The Movie District, Miracle on 34th Street was shot at a number of New York City locations now considered cliché in holiday movies, places like Central Park and, of course, the Macy's department store on 34th Street. There's also a parade, a dream house, the shameless conflation of holiday spirit and unfettered capitalism, etc. There's one platitude we now associate with Christmas movies that the film can't claim to have had, however: Miracle on 34th Street wasn't released at Christmastime. Weird, right? Here's why.
As with any product for sale, the marketing came first
In blatant contradiction of what we consider to be par for the course for Christmas movies (and Star Wars), Miracle on 34th Street didn't take to the silver screen in December. As The Huffington Post reports, it was released on May 2, 1947, "making it a surprise summer movie about Santa Claus." Well, of course it was so successful. There's nothing we want more than to watch Santa ride in his sleigh just as we're starting to don our shorts and flip flops, right? The initial marketing material for the film didn't even hint that it had anything to do with our jolliest of holidays. In the original poster, the actor who played Kris Kringle (i.e., Santa, you cynical grownups), Edmund Gwenn, wore not a fluff-fringed red velvet suit and oversized belt buckle, but a seasonally neutral blazer with a handkerchief in the breast pocket. Even the original trailer touted the film as a regular old romcom.
"In those days, we didn't have the Internet. We didn't have television to promote a movie. We didn't have anything," film historian Robert Obsorne told The Huff Post. He said it was actually common practice for Christmas movies to first premiere in the big cities in the summertime. That way there would be a good amount of hype about them by the time they spread through the rest of the country in the months to come.
The strategy worked for Miracle on 34th Street, but not for another Christmas classic
Osbourne said the studio didn't think that Miracle on 34th Street would be a big box office hit. "It was not an important film when it came out. I don't think they had a great deal of hopes for it," he said. "But it caught on with the public and as we know it's become a classic ever since." That sentiment can be seen in a New York Times review of the film from June 1947: "For all those blasé skeptics who do not believe in Santa Claus ... let us heartily recommend the Roxy's new picture, 'Miracle on 34th Street,'" read the review, adding that it was "the freshest little picture in a long time, and maybe even the best comedy of this year."
Miracle on 34th Street isn't the only perennial Christmas classic that didn't bank on audiences being all hopped up on holiday cheer to find success. But It's a Wonderful Life didn't enjoy the immediate success of Miracle. According to Mental Floss, that movie — released on January 7, 1947, just when we're all sick and tired of eggnog and gingerbread cookies — was an initial flop. It wasn't until 1974, when the movie passed into public domain due to a clerical error, that it gained popularity. The movie flooded the airwaves, as TV stations now had free Christmas content, and it's now part of the Christmas movie canon.