What You Don't Know About Mac Miller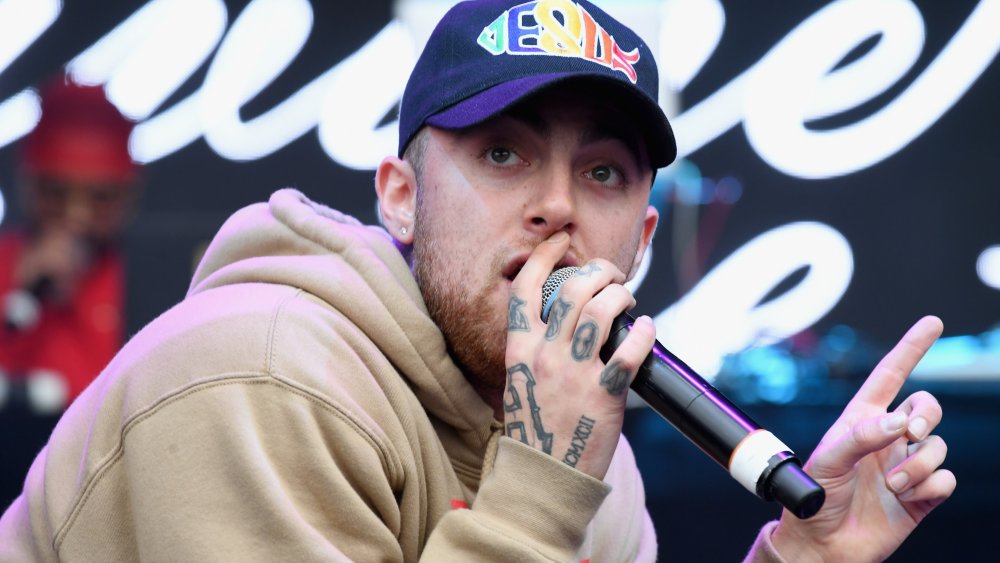 Jeff Kravitz/Getty Images
The story of Mac Miller is one we've heard too many times in too many different ways. A young talent finds fast fame and fortune, only to die young. It's a sad tale in some ways, and a story of accomplishment in others. In Mac Miller's 26 years on this Earth, he got a great a deal done.
Miller's album Swimming was nominated for a Grammy in 2019, he was nominated for "Best World Stage" at the 2013 MTV Europe Music Awards, and the musician won two mtvU Woodie Awards in 2012. Miller released his first recording under the name "EZ Mac" when he was only 15 years old. By the time he was 18, eyes across the country were looking at the rap artist with his release of K.I.D.S. For the next few years, his career would grow, and he'd earn millions doing what he loved.
Being a young, famous musician had its consequences. Miller had plenty of struggles to go with the highlights. His substance abuse drew as much national attention as his music. The guy prided himself on being "underground" rap, and often bared his soul about his problems in his lyrics.
He was an extremely small acting career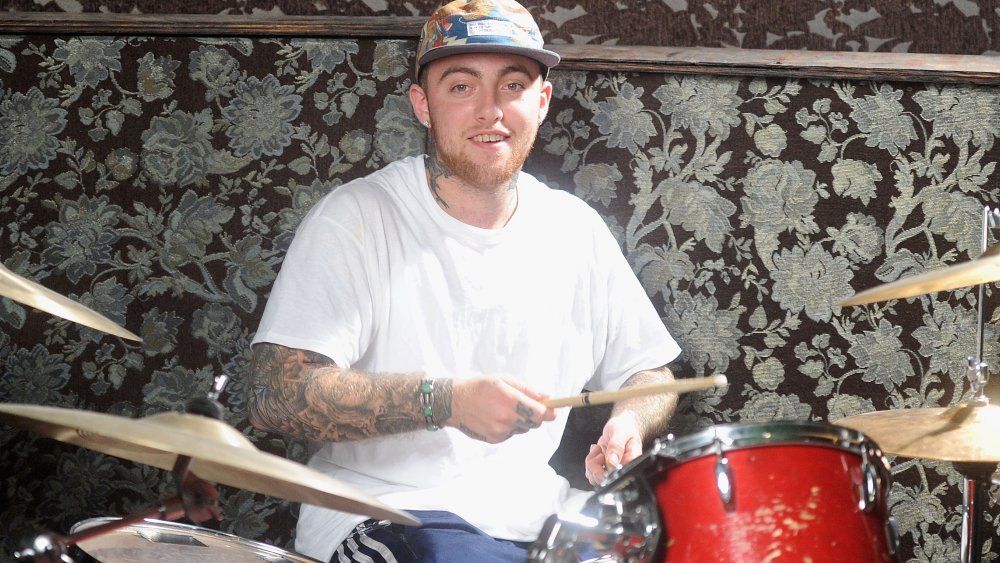 Jamie Mccarthy/Getty Images
Chances are, you've seen Mac Miller on TV. He's showed up on the screen as himself numerous times. He's appeared on Punk'd, Mac Miller and the Most Dope Family, Ridiculousness, and a slew of talk shows. He was also in several short YouTube videos. Some of those might technically count as acting, but most were just Mac Miller being Mac Miller, but on the other side of the camera. He did, however, have a couple of legitimate acting roles.
His only appearance in a fictional film took place in Scary Movie V in 2013, when he played D'Andre alongside Snoop Dogg. The franchise had basically been played out at this point and the fifth film was, in essence, a series of callbacks to its predecessors, only with Miller and Snoop. His only other legitimate acting credit came in one episode of Loiter Squad, a sketch comedy show that aired on Adult Swim. It's not much, but Miller did enjoy a small career on the screen, something to add to the numerous accomplishments the young actor amassed during his short life.
His drug use caused a lot of issues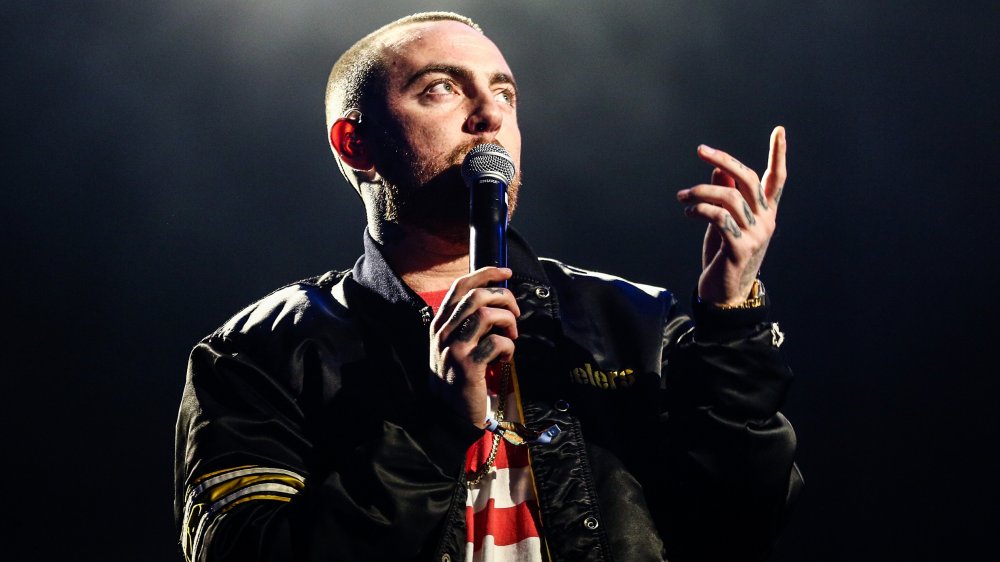 Rich Fury/Getty Images
Mac Miller's substance abuse problems ultimately led to his death on September 7, 2018. The musician was only 26 years old when he died, but the drugs caused problems in his life before his death. As any Miller fan knows, he dated Ariana Grande, though the relationship ended before his death. Grande left Miller, but during the time the two were together, she supported him through his substance abuse issues and his struggle to get clean and sober. "There could not have been anybody more supportive of him being sober than Ariana," Shane Powers, a close friend of Miller's, said to E! News following the musician's death. Though she was supportive during their time together, the relationship turned toxic, and Grande admitted that Miller's substance abuse factored into their break up. After they split, TMZ reported that Miller was arrested for a DUI when he ran his car into a pole.
While he and Grande were still together, Miller commented on his idea of sobriety to W Magazine: "I've spent a good time very sober and now I'm just, like, living regularly. I think it's important. I don't believe in absolute anything, but I think not sharing that type of information, because it becomes like, 'Oh he's sober, oh he's not, oh he has a beer, oh my god.' I just realized some things are important to just keep for yourself."
Mac Miller had a lot of big-name friends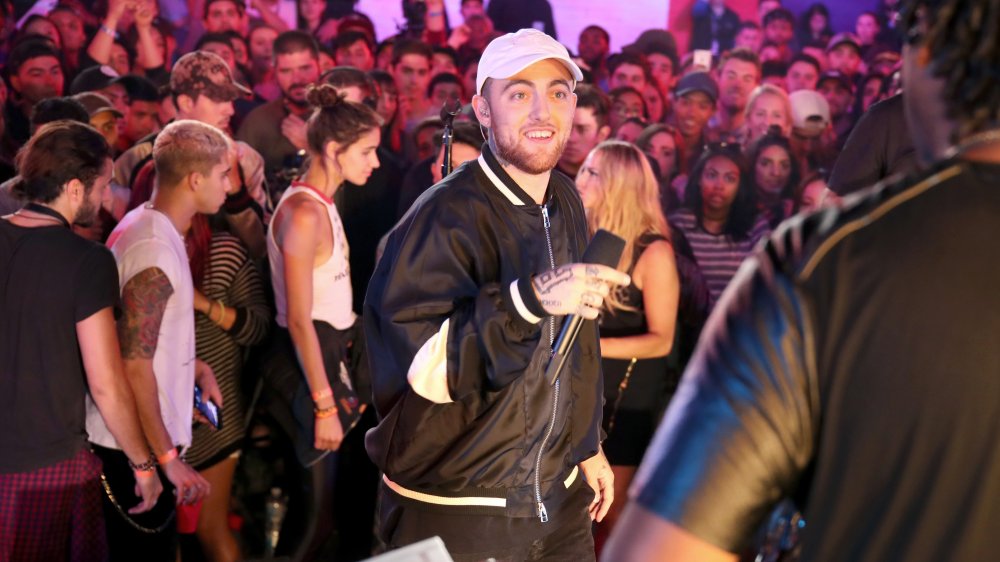 Randy Shropshire/Getty Images
He dated Ariana Grande. He appeared on Ridiculousness because of his friendship with Rob Dyrdek. But Miller had other famous friends, people he touched throughout his life, and some who rose up to fame with him. A week before Miller's death, he was hanging out with the punk bassist and songwriter Thundercat, celebrating Thundercat's daughter's birthday, according to Rolling Stone. Miller was close with Chance the Rapper, Whiz Khalifa, Kojo Ebro, and as Spin reported, many others in the music community who posted tributes to the musician after his death. Certainly one of his most important relationships was with Vince Staples, rapper and member of the Cutthroat Boyz hip hop trio.
Miller was the reason that Staples stuck to music long enough to see it pay off. Miller convinced him to stay in the game at a time when Staples didn't think he'd amount to anything. "We was at the studio. [He] made me go to his house one day and he basically said what I told you earlier. Like, 'why you not making music?' Two days later, he picked me up from the ghetto," Staples told Rolling Stone.
He goes on to talk about Miller's substance abuse issues: "To be honest the good ones always die, just from the streets. Them boys always go. It makes sense in retrospect, but I was never worried about him. I was worried about him, but never like to that extreme."