The Controversial Incident Involving Vince Neil And Nicolas Cage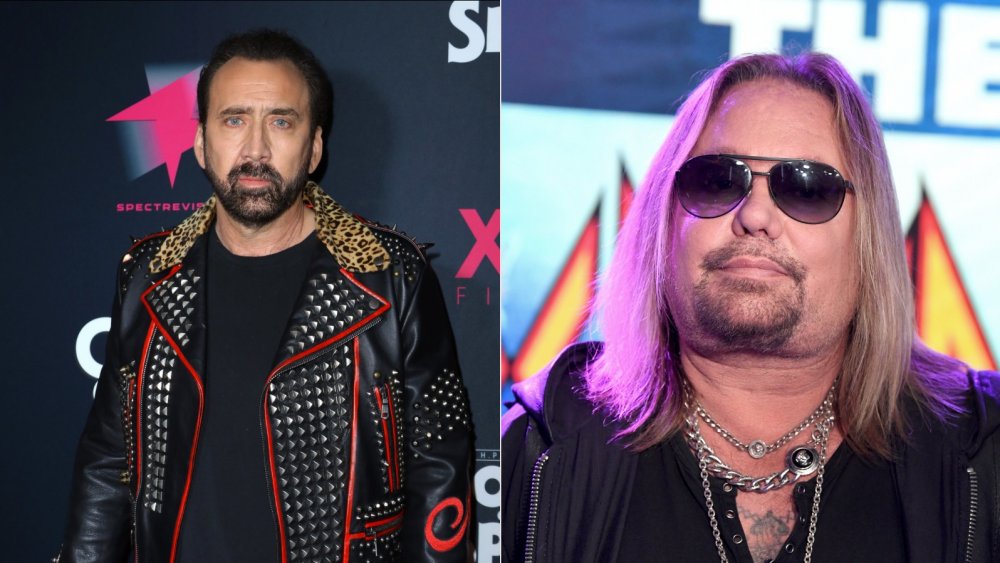 JC Olivera, Kevin Winter/Getty Images
Opinions are definitely mixed about over-the-top actor Nicolas Cage. The internet has analyzed his onscreen antics up and down, such as in Wisecrack Edition's Deep or Dumb? analysis of his craft, posted on YouTube, and In/Frame/Out's absolutely serious claim (also on YouTube) that he's an acting genius. Whether you call it silver screen brilliance or not, one thing's for sure: no one throws a fit for the camera better than Nic Cage, and Epic Entertainment 247 has the four-minute montage of Nic Cage losing it to prove it.
To his credit, the man does have an Academy Award for Best Actor (for Leaving Las Vegas, 1996) and a nomination (for Adaptation in 2003). Of course, not all his decisions are as gold as the treasure on the map he found that's printed on the back of the Declaration of Independence in National Treasure. Case in point: his friendship with rock star (technically) Vince Neil, of big-haired Mötley Crüe fame. But no matter what you think of Cage's hyperbolic thespian talents, we can all agree on the real-life action he took in 2016 when he put a violent Vince in his place after an altercation with a  fan who had asked Cage for an autograph. Unsurprisingly, Vince Neil can be as garbage as any other rock star. And, as it turns out, Nicolas Cage popping his top can actually be a good thing for the world.
Vince Neil attacked a mom because she wanted Nicolas Cage's autograph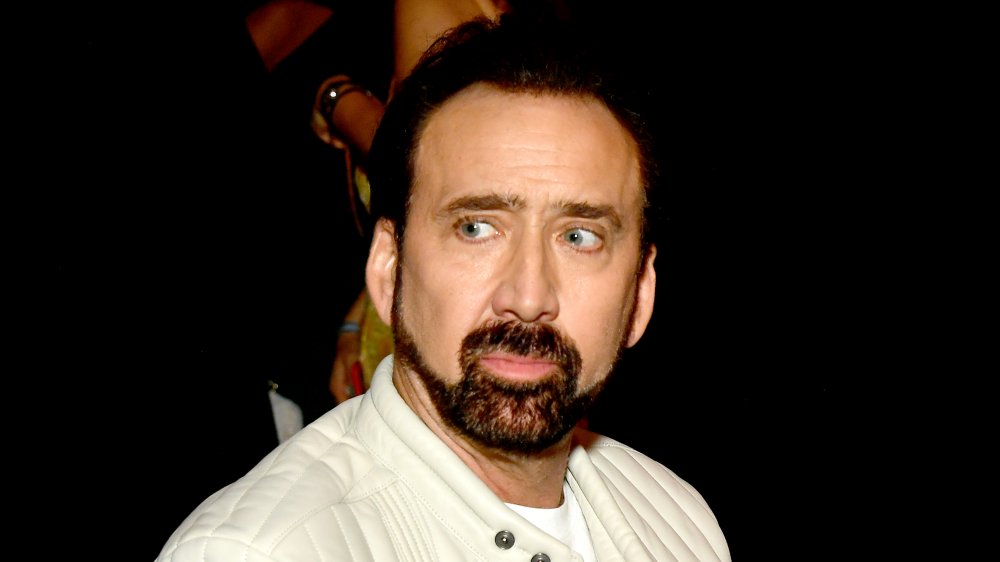 Amy Sussman/Getty Images
Yes, you read that correctly. Vince Neil, a grown man who probably put his John Hancock on more bare breasts than you can count, threw a violent hissy fit because a woman didn't want his autograph. Why he ever expected to be noticed by anyone in the 21st century, we'll never truly know. Let us set the scene for you.
According to Loudwire, Cage and Neil were at the Aria Hotel in Las Vegas on April 7, 2016, when a woman approached the actor and asked him for his autograph. When Neil realized that she wasn't an aging '80s bodacious bimbette looking to get backstage, he apparently lost his temper like a spoiled brat who isn't getting everything he wants. The "Live Wire" singer came up behind the woman, grabbed a fistful of her hair, and pulled her to the ground.
"The two AARP-eligible stars looked like a couple of sloppy Tyrannosaurus Rex tangling outside the Aria," wrote the L.A. Times the day after the incident. A video obtained by TMZ showed the moments just after the infantile attack. "I'm helping you!" Cage screams at the former Crüe member, who yells back, "I know!" And Nic continues to characteristically rage for his friend's own good. "I f****** love you. Stop this s*** now!" he screams before putting Neil into a sloppy headlock.
Vince Neil's victim wasn't so forgiving as Nic Cage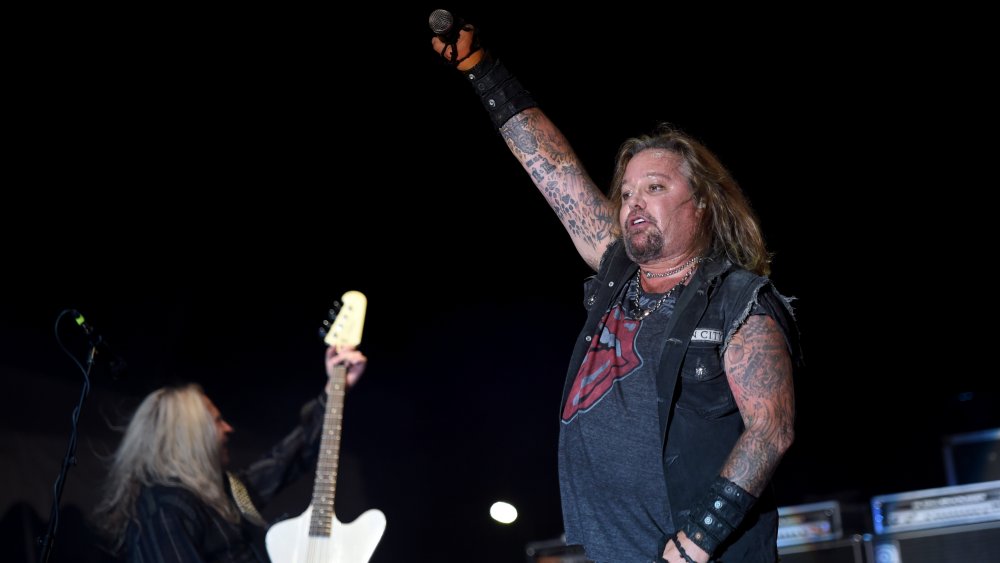 Stephen J. Cohen/Getty Images
Cage's move to subdue Neil quickly turns into an embrace of pure bromance as Nic says into his friend's ear, "Don't do it." Vince is heard drunkenly muttering, "I love you," to which the actor lovingly responds, "I love you, too." 
The woman whose hair Vince pulled, however, was not as loving as his drinking buddy. The Las Vegas PD told TMZ that Neil was charged with assault and battery, but was not taken into custody. According to Courthouse News Service, the attack left her with a broken coccyx, and her lawsuit detailed Neil's history of violent behavior. Among other assaults, Neil was charged with manslaughter after he killed a passenger in a 1984 drunk driving accident. According to the Daily Mail, he was sentenced to 30 days in jail for the offense, but got out in 15 for "good behavior."
If his music and bad behavior weren't offensive enough, and you need more proof of how badly Vince Neil sucks at life, we'll conclude with a quick update on what came of that 2016 assault on an unsuspecting housewife. Loudwire reported in December 2019 that Neil was refusing to pay his legal representation in the case, to the tune (you should pardon the expression) of $190,000.