This Is Guns N' Roses' Most Underrated Song Ever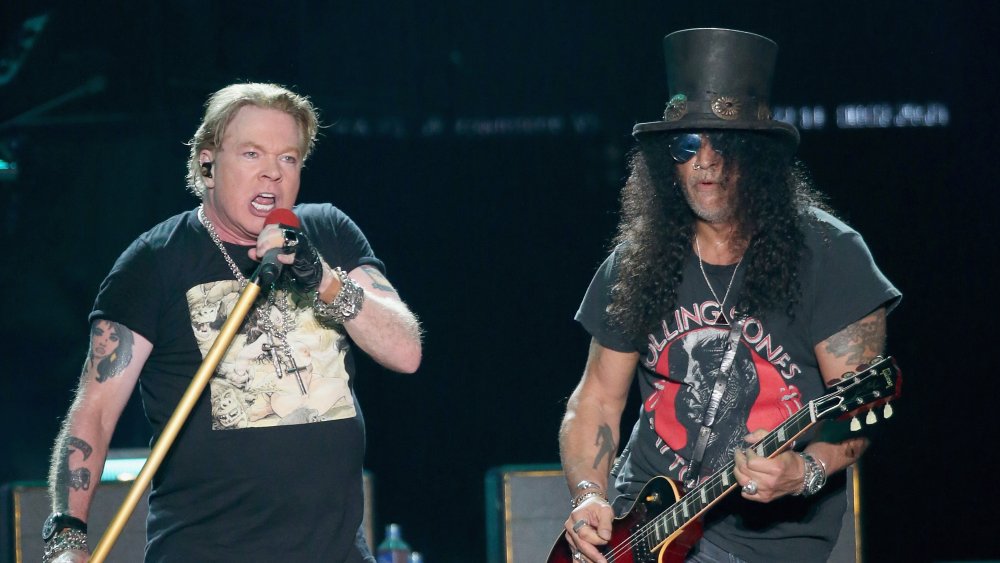 Gary Miller/Getty Images
It's safe to say that Guns N' Roses were game changers when they arose from the '80s glam metal scene of Poison, Whitesnake, and Mötley Crüe. Sure, 1987's Appetite for Destruction was brash and full of the guns-girls-booze triad, which wasn't too different from their contemporaries. The band's music, however, as discussed in Revolver, came more from the Rolling Stones lineage of rock, yet was tinged with the teeth-gritting rawness that previewed the forthcoming grunge era. (Songs like "It's So Easy" nearly sound like early Stone Temple Pilots B-sides.) 
You'd be hard-pressed to find folks who aren't even a little familiar with Guns N' Roses' monster hits like "Sweet Child O' Mine," "Welcome to the Jungle," "Paradise City," and the winner of most overblown epic music video of epicness ever, "November Rain." Each of these tracks has about 500 million listens on Spotify, a tremendous feat for a band who didn't release anything new from 1993 to 2008, and nothing new since. The band's three-year reunion tour (2016-2019) was a testament to their lasting fame: It was the third-highest grossing in history, per Ultimate Classic Rock, making a staggering $584.2 million, outranked only by U2 and Ed Sheeran.
Even with all this renown, and all these sales, it still seems like Guns N' Roses has something of an ignored back catalog outside of their big hits, which may have outshone their lesser-known material. Sites like Loudwire have even ranked every single one of GnR's tracks.
Unearthing a gem among gems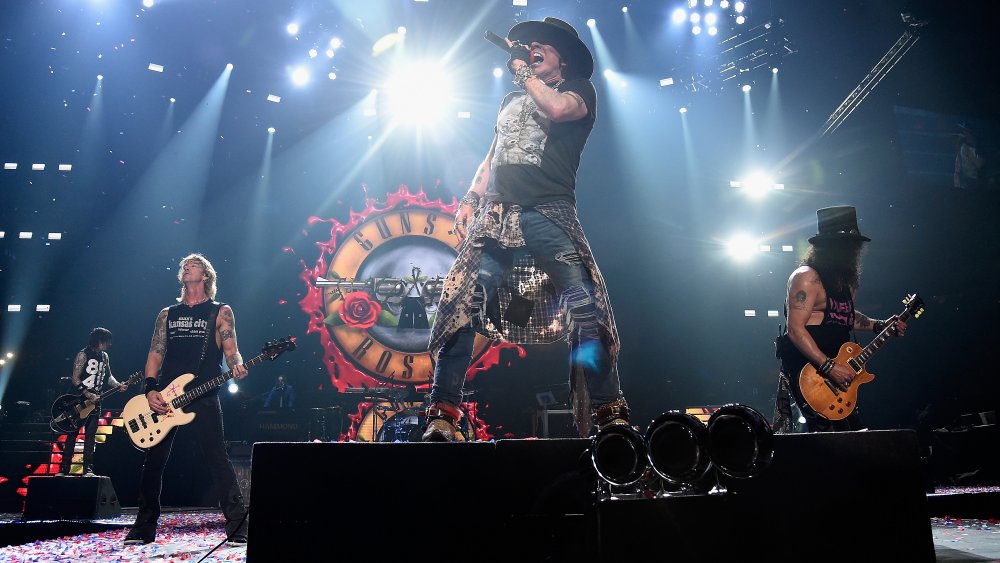 Kevin Mazur/Getty Images
In fact, debating Guns N' Roses' underrated tracks seems to be an internet pastime. In 2016, Rolling Stone did a deep dive of rare tracks and alternative track versions that includes rap-rock hybrid "It Tastes Good, Don't It," which they made before the nigh-unlistenable 90-second final track to Use Your Illusion II, "My World." MTV Asia chronicled a list of underrated songs that ought to be performed live, including "Yesterdays," also from Use Your Illusion II, which seems to be a rediscovered favorite. A thread on Quora resulted in various choices from fans, as did a similar thread on Reddit. There is, predictably, little consensus regarding the most underrated track from Axl, Slash, Duff, and Izzy, but a couple of songs come up repeatedly in discussion, especially "Breakdown" and "Locomotive."
In the end, "Breakdown" gets the overall vote, with its "Patience"-like whistles and plaintive acoustics, banjo (always cool), some of Axl Rose's noted piano playing, an evolving, progressive structure that unfolds over its seven-minute length, a relatively strong core motif that replays through the track, and of course: some boss lead work from Mr. Tophat himself, Slash. "Breakdown" is one of those "Bohemian Rhapsody" kind of tracks that sounds like a magnum opus of some kind, but is oddly couched in the middle of its album, Use Your Illusion II (yet again), and was never released as a single.
Some fans may disagree, but "Breakdown" is definitely a fitting reminder to not underestimate GnR's songwriting.