How William Shatner's Music Career Was Affected By Two Cover Songs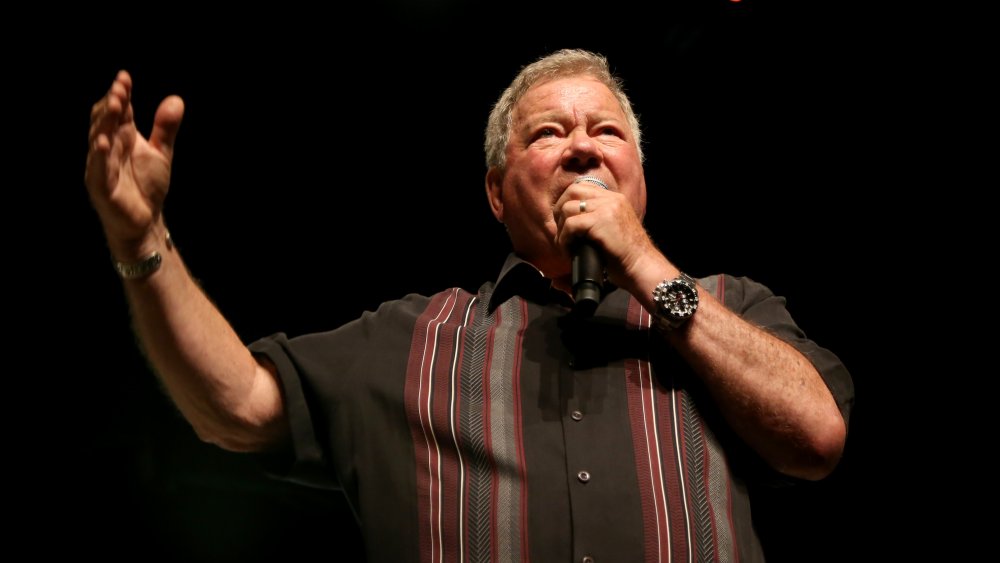 Gabe Ginsberg/Getty Images
William Shatner. The name is practically synonymous with Star Trek's James Tiberius Kirk, the hammiest, punchiest, and most loved-by-green-women of Trek's string of captains. Since the original Trek finished its third and final season in 1969, "The Shat" has been up to a medley of odd, quirky side projects, besides begrudgingly attending cons to sign autographs for Trekkies that he, as late as a 2012 Portland Mercury article reports, still loathed. Part of Shatner's over-the-top persona comes from his early career as a Shakespearean actor, when he performed in 1954 in Stratford, Ontario, per Jack 969. At his core, he's a performance artist who has, unfortunately for him and fortunately for comedy, demonstrated a tin ear for how he comes across. 
Take his 1978 rendition of Elton John's "Rocket Man," viewable on YouTube, where Shatner drags on a cigarette while druggily overenunciating the song's lyrics, a cappella (this is seriously "wtf" stuff, folks). And if that isn't enough to tickle your need for schadenfreude, and neither is Family Guy's riff on it (also watchable on YouTube), then go ahead and jump over to Shatner's take on Bob Dylan's and The Byrd's "Mr. Tamborine Man" (again, YouTube), or his version of the Beatles' drug-tribute (or not) track, "Lucy in the Sky with Diamonds" (YouTube, yes).
Any one of these should be enough to get you to do the facepalm gif from fellow Trek captain, Jean-Luc Picard, played by Sir Patrick Stewart.
A legendarily bizarre album that spawned a defunct music career
It seems Shatner legitimately wanted to launch a, erm ... "music career" when he released an album titled The Transformed Man in 1968. He must have known that Star Trek would help his sales — the cover of the album proudly states, "Captain Kirk of Star Trek" under his name, written in a very sci-fi font. (This is ironic, given his future disdain for the franchise, and the lack of popularity of Trek at the time of the album's release.) The entire recording is a legendarily bizarre spoken-word performance that at once put the kibosh on any hopes Shatner might have had for being taken seriously as a musician, and simultaneously launched his own sub-genre of interpretive covers.
As Complex states, the horribleness of "Mr. Tamborine Man" stands out from the pack. The song, per History, launched the folk-rock revolution in 1965. Readers of Rolling Stone also ranked his "Lucy in the Sky" as one of the worst covers of all time, doubtlessly in part thanks to the preeminence of anything written by The Beatles. As recently as 2020 (!), Shatner released The Blues, listenable on Spotify, where he revises his particular music shtick, this time on classic tracks such as "The Thrill is Gone" by B.B. King and "I Put a Spell on You" by "Screamin' Jay" Hawkins, famously covered by Credence Clearwater Revival.
One thing is fore sure: at 89, Shatner shows no sign of slowing down.