This Is How Billy Ray Cyrus Became A Part Of Old Town Road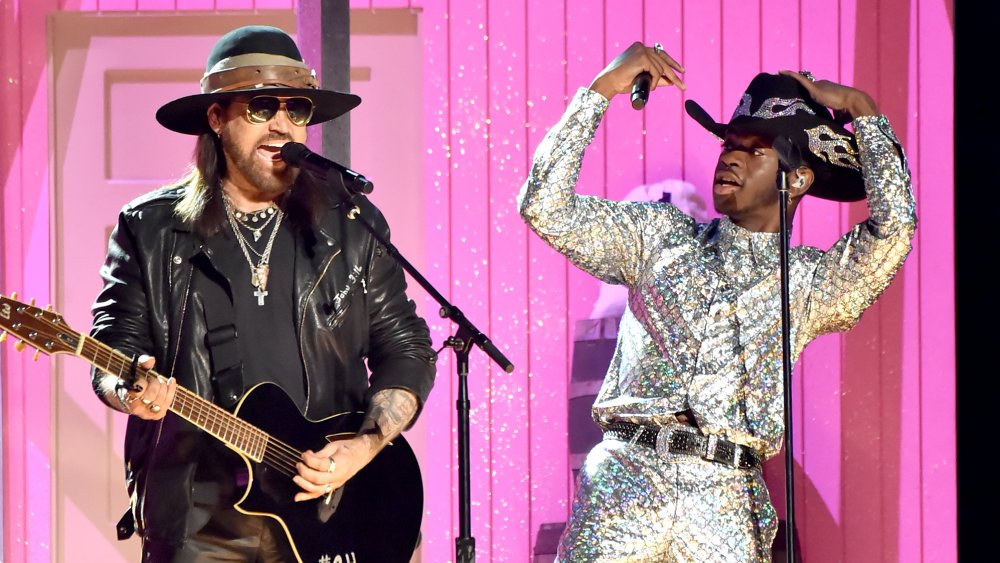 Jeff Kravitz/Getty Images
It was the surprise hit song of 2018. It bent genres and confused people — was it country, rap, pop, or something else entirely? Some people weren't even sure if it was a full song. "Old Town Road" by Lil Nas X was the talk of the town since it came out in December, and he fanned the flames even more by releasing a remix version featuring a very familiar face and voice, Mr. "Achy Breaky Heart" himself, Billy Ray Cyrus.
The song was first released online for free in 2018, but it took on a whole different level the year after. Cyrus joined the rapper for the remix, and people who hadn't heard the song suddenly heard it everywhere. The song still racks up listens. Hot New Hip-hop reported "Old Town Road" has gone platinum 13 times.
The song caused controversy because of how many genres it crossed, and even sparked a long-overdue conversation about its racist roots. Billboard had removed it from the country charts, saying it wasn't country enough. So it surprised many music fans when Cyrus joined Lil Nas X for the remix. How did that come about? It's not like Lil Nas X was a powerhouse at the time who could pick up the phone and just call Cyrus. In the end, it was a mix of social media persistence and help from his record company that finally got Cyrus and Lil Nas X to make beautiful music together.
Oh, what a few tweets can do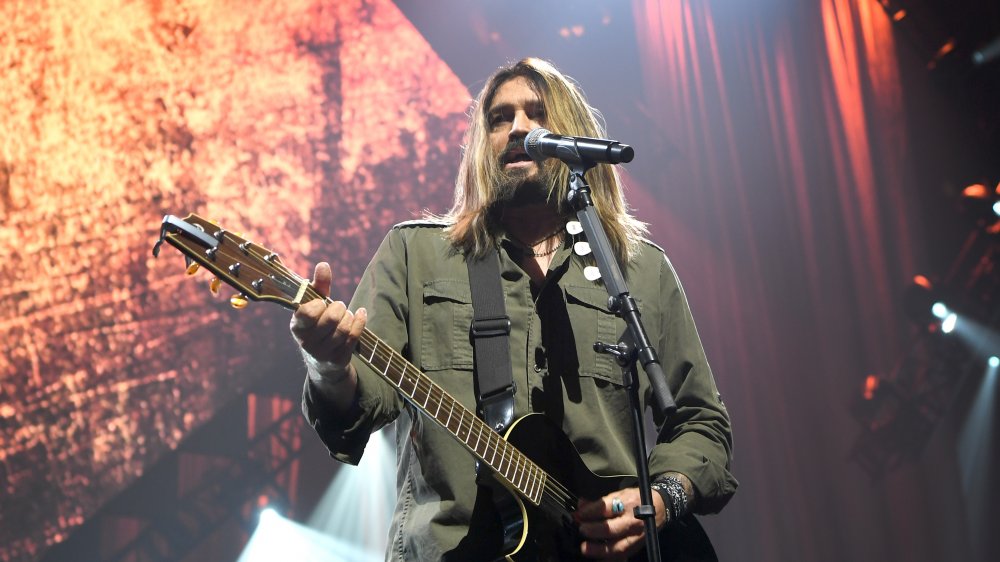 Denise Truscello/Getty Images
After Lil Nas X first released the song, he went on a social media mission, Rolling Stone wrote. When he released the song's initial snippet, he tweeted that he hoped Cyrus could hear it. The rapper said he knew collaborating with someone like Cyrus would "create a moment." He told Rolling Stone that Cyrus was a big country musician that many generations recognized, either from his actual music career or from the Disney show Hannah Montana. (Billy Ray starred in Hannah Montana with his daughter, a little known actress and musician named Miley.)
Cyrus explained to Insider that he worried that Hannah Montana derailed his music career. He stopped touring and making music to focus on acting, but, it turned out that if he had never done Hannah, artists like Lil Nas X wouldn't have heard of him.
Three months later, Lil Nas X would sign with Columbia Records. He told his new label he wanted to work with Cyrus. The label reached out, Cyrus heard the song, and boom, he was on board. Cyrus tweeted that the moment he heard "Old Town Road," he didn't question whether it was a country single or not. He said the song had all the trappings of a country hit: humble lyrics, an infectious hook and, of course, a banjo. All it needed was a mention of the Grand Ole Opry. For the remix, Cyrus even whistled at the end — another country music staple.
Cyrus thought the song was perfect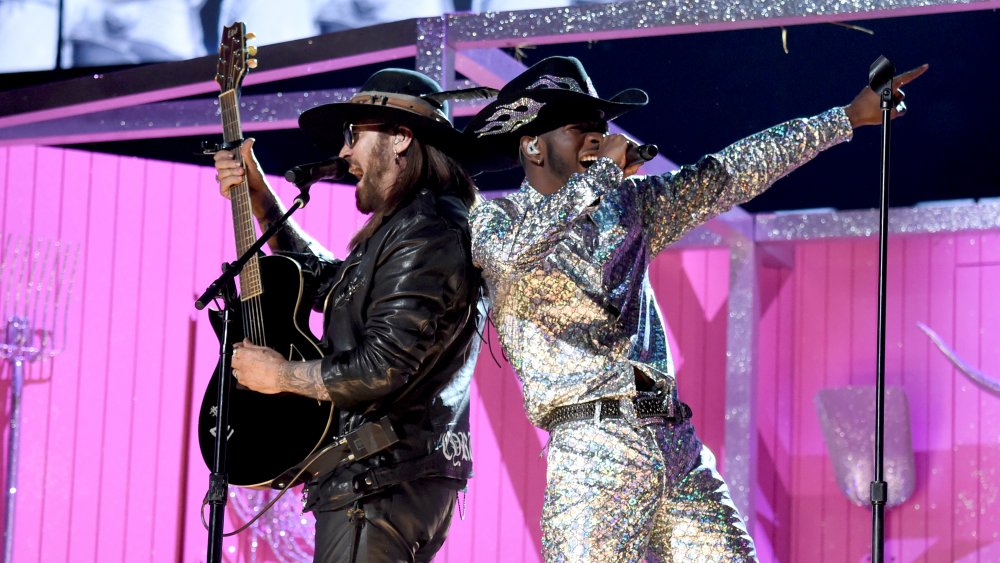 John Shearer/Getty Images
Cyrus told Rolling Stone that when his manager first asked him if he wanted to do a guest spot on "Old Town Road," he was confused. He already thought it was a complete song and that it was already perfect the way it was recorded.
But he liked the song so much that he was disappointed it was only sitting at number 19 on the country charts. So, he agreed to write a verse for the remix. He worked with his wife Tish and songwriter Jocelyn "Jozzy" Donald to write his parts. Donald told Variety that she wanted Cyrus to move away from mentioning anything country in his verse. She said it was important that the references Cyrus made were from Lil Nas X's world, the world of hip-hop and rap, because Lil Nas X was stepping into a different world. She even joked that Cyrus had no idea what a Fendi sports bra was.
It shouldn't come as a surprise, though, that Cyrus was interested in rap. Back in 2010, he played around with the genre (as reported by The Boot) with his band Brother Clyde, recording a duet with rapper King Phaze. In the end, Cyrus and Lil Nas X made history. The song not only continues to be played on the radio, but it also earned both artists a Grammy award, for Best Music Video.