What Happened With Robert Johnson And The Crossroads?
Scott Olson/Getty Images
"Standin' at the crossroad, baby, risin' sun goin' down / I believe to my soul, now, poor Bob is sinkin' down." So sings the Delta blues musician Robert Johnson in his characteristically ethereal tone on "Cross Road Blues," one of only 29 songs that the mysterious figure recorded in his short lifetime. Lyrics such as these have helped create one of the most enduring legends in the world of popular music.
Almost everything in Johnson's biography is up for dispute: the date of his birth, the exact date and manner of his death, and, most famously, the way he became a master of the blues guitar. For the legend is that Johnson entered into a Faustian pact: that his great ability as a guitarist and vocalist was down to Johnson selling his soul to the devil, a deal which took place at the crossroads of Highways 49 and 61 in Mississippi, according to how the legend is recounted by Biography.
Tales of Faustian pacts are nothing new. As The Guardian points out, the same legend was attached to the Italian master violinist Niccolo Paginini in the early 19th century, and was even told about one of Johnson's blues contemporaries, Thomas Johnson (no relation), who died in 1956 at the age of 60. But what was it about Robert Johnson that made him such a suitable receptacle for this most seductive legend? And why does his story endure, like his music, almost a century later?
Robert Johnson's mysterious guitar mastery
The quality of Robert Johnson's blues performances — those few that were recorded — has never been up for debate. Though he was little known in his own lifetime, his music began to be rediscovered in the 1960s, according to Biography, thanks to the re-release of a selection of his recordings on the album The King of the Delta Blues Singers, which fell into the hands of a new generation of musicians. Among them was Bob Dylan, who wrote that Johnson's "words made my nerves quiver like piano wires." The New World Encyclopedia also lists such big names as Muddy Waters, Led Zeppelin, and Eric Clapton among those Johnson influenced.
But according to those who knew Johnson, guitar did not come to him easily. Indeed, it is this point that many believe has made the legend of his pact with the devil stick around as long as it has. According to udiscovermusic, Johnson's first experience of playing the guitar was learning the basics from his brother as a small child living with his family in Memphis. After relocating to the Mississippi Delta, Johnson's interest in music was noticed by blues legend Son House, who would become the young musician's hero. House recalled: "He blew a harmonica and he was pretty good with that, but he wanted to play guitar ... such a racket you never heard! 'Get that guitar away from that boy,' people would say."
Robert Johnson would do anything to be like Son House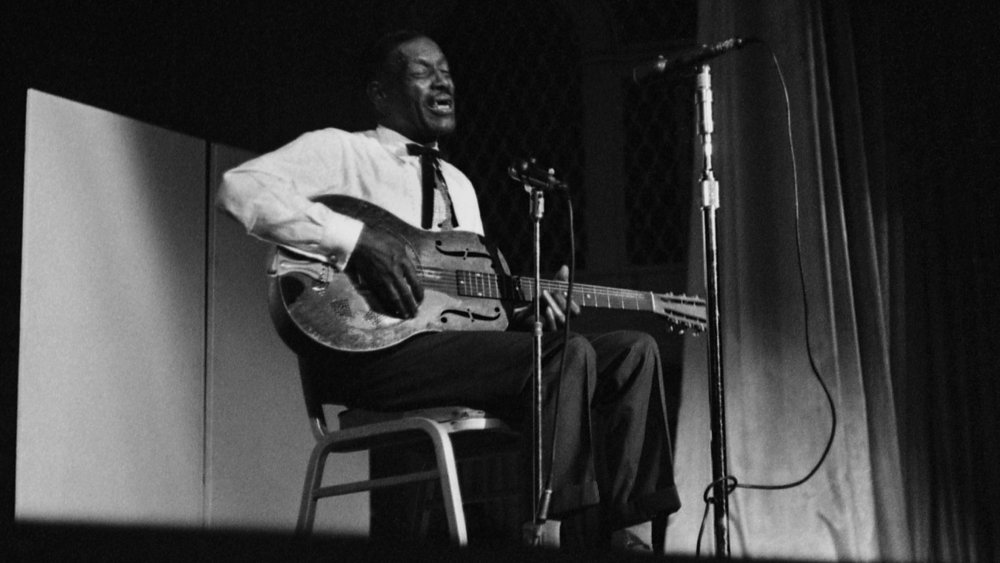 Michael Ochs Archives/Getty Images
The origin of the legend of Johnson's pact with the Devil is to be found in the fact that the aspiring musician somehow managed to transform himself from being "embarrassingly bad" at the guitar into a blues master in such a short period. Those who witnessed the phenomenon could only explain it by supernatural interference.
It was Son House (pictured above) — whose talent the young Johnson "coveted," according to Open Culture – who has been one of the most prominent proponents of the Faustian legend. Biography tells us how House recalled Johnson disappearing in Clarksdale, Mississippi, close to the now legendary crossroads at Highways 49 and 61, for "a few weeks," before re-emerging in public with his signature blues guitar style.
Recent academics have come up with a more realistic explanation for his steep musical development: sheer practice. Researcher Bruce Conforth has identified Johnson's guitar teacher: blues musician Ike Zimmerman. Thankfully (or not), this version of the story also has a creepy edge; Conforth states that Johnson often took lessons from Zimmerman in local cemeteries, practicing atop the tombstones, where they wouldn't be disturbed.
Johnson recorded just two sessions' worth of material, in 1936 and 1937, before dying in 1938 at age 27. What killed him? The New World Encyclopedia lists such disparate possibilities as being poisoned by the jealous husband of one of his lovers, being shot and/or stabbed (according to Son House), and death from syphilis.