The Truth About Alex Trebek's Wrestlemania Appearance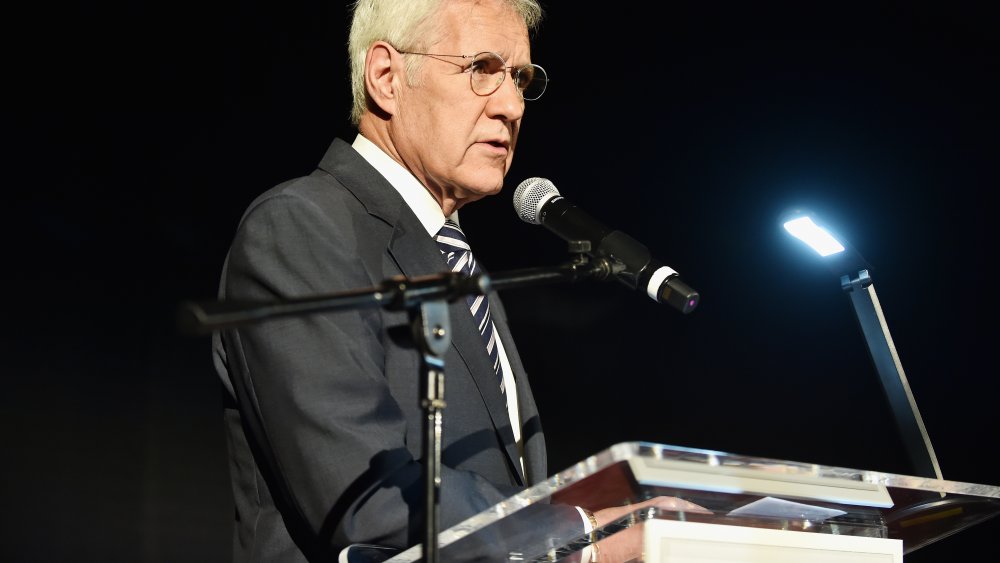 Emma Mcintyre/Getty Images
Alex Trebek, the longtime host of Jeopardy! has died at 80 years old, according to a statement on the show's official Twitter account. The longtime game show host graced the silver screen since the 1960s with appearances on 1963's Music Hop and 1970's Pick and Choose, but of course he rose to become a household name after he started hosting Jeopardy! in 1984.
The show is still going strong today, churning out over 8,000 episodes and garnering 39 Daytime Emmy Awards, according to NH Register. The show was even ranked No. 45 on TV Guide's list of the 60 greatest shows in American television history, as Jeopardy has also amassed a significant worldwide following. The accolades for Trebek are pouring in in the wake of his death, including from all kinds of celebrities and organizations, as you'd expect. One organization you might be surprised to see talking about Alex Trebek? The WWE. 
"WWE is saddened to learn that Alex Trebek has passed away at the age of 80," the organization said in a statement, per Wrestleview. "WWE extends its condolences to Trebek's family, friends, and fans." Why is the wrestling giant remembering Alex Trebek? Here's the connection between Alex Trebek and the WWE. 
Alex Trebek's Wrestlemania appearance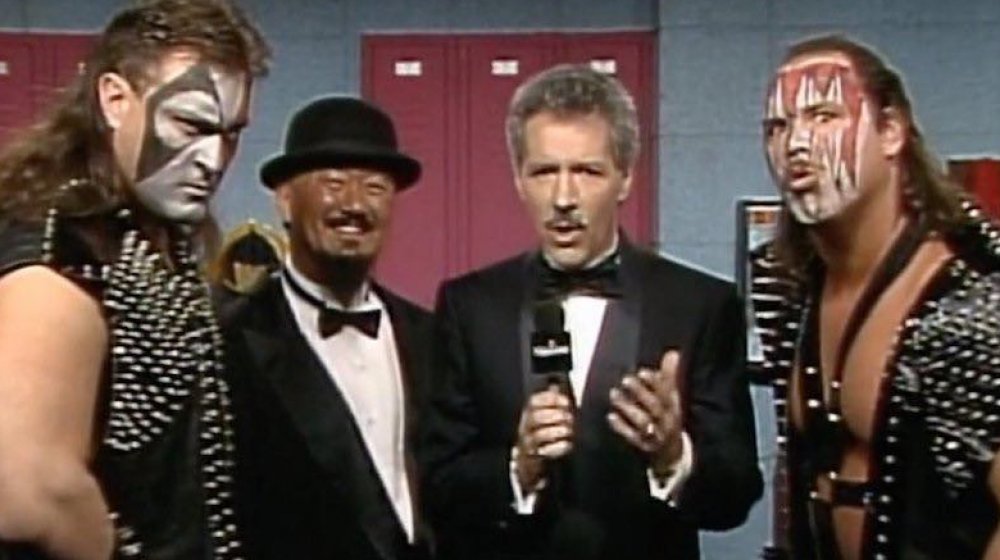 Even casual fans of wrestling are certainly aware that mainstream celebrities are known to make guest appearances on the likes of Wrestlemania from time to time. From Regis Philbin to Donald Trump to Chuck Norris, avid watchers have certainly seen movie stars, talk show hosts and real estate tycoons appear in ringside seats, or even better, take up backstage interviewing duties.
Per WWE, Jeopardy! host Alex Trebek served as the guest ring announcer for a WrestleMania VII main event between Hollywood Hogan and Sgt. Slaughter in March 1991. The show took place at the Los Angeles Memorial Sports Arena in Los Angeles where Trebek also conducted backstage interviews with Demolition and Jake "The Snake" Roberts, as Wrestleview reports.