The Untold Truth Of Boy George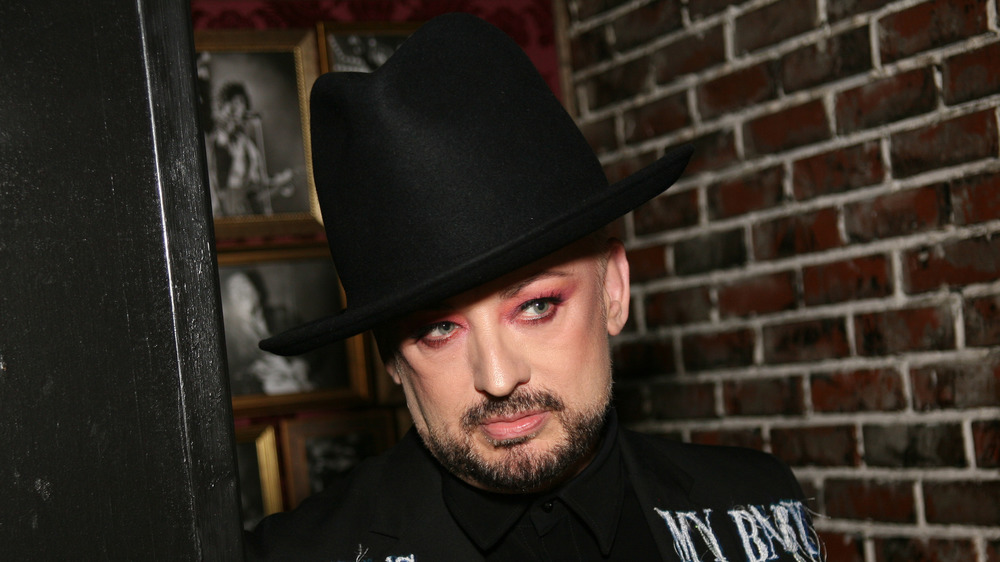 Jim Steinfeldt/Getty Images
In the recent interview with Culture Club singer and LGBTQ icon Boy George on Louis Theroux's Grounded podcast, the impression one gets is of a man who is totally at peace with both his present and his past, but also of someone whose resilience has been paramount in dealing with his own mistakes and the manifold trappings of success.
George has been in the public eye on both sides of the Atlantic for 40 years. As Culture Club's lead songwriter and frontman, George enjoyed a sudden burst of stardom in the early '80s when the group's debut album, Kissing To Be Clever (1982), was released to critical acclaim, charting in the top 15 in both the UK and the US and spawning a slew of hit singles. According to Electric Soul Show, Culture Club received the notable distinction of being the first group since the Beatles to have three singles from their debut album chart in the top 10 in the US. The band's second album, Colour By Numbers, released the following year, and its hit single, "Karma Chameleon," became instant classics around the world. At the age of just 22, Boy George was a worldwide megastar.
But Boy George's life in the spotlight has not always been easy, and that he is now so willing to look back on his career and very public personal problems with a sense of humor really stands as a testament to his outlook.
Boy George's androgyny has landed him in trouble
Express Newspapers/Getty Images
Though there had been popular androgynous artists in the past, such as David Bowie, homosexuality was still a taboo subject to put front and center in pop music in the 1980s, and most groups avoided being open about their sexual identity. According to Biography, Boy George (born George Alan O'Dowd) created his unconventional look to stand out in his male-dominated, working-class surroundings. "It didn't bother me to walk down the street and to be stared at. I loved it," he has claimed. His look, however, also contributed to his being expelled from school.
George's unconventional appearance and demeanor also attracted attention, and questions about his sexuality recurred throughout his early interviews. George decided not to blatantly lie and say that he was straight, but instead claimed to be attracted to both men and women in an interview with Joan Rivers in 1983 (posted on YouTube). According to The Stranger, early gay fans of Culture Club have since admitted this to have been frustrating and perhaps evasive; and, as it turned out, George came out as gay in his 1995 autobiography Take It Like a Man, written with Spencer Bright.
More recently, Boy George has come to define himself as "an old fashioned gay man," according to Pink News, as opposed to being gender-fluid. Per LGBTQ Nation, he has also claimed that the use of personal pronouns is "a modern form of attention-seeking."
Boy George's battle with addiction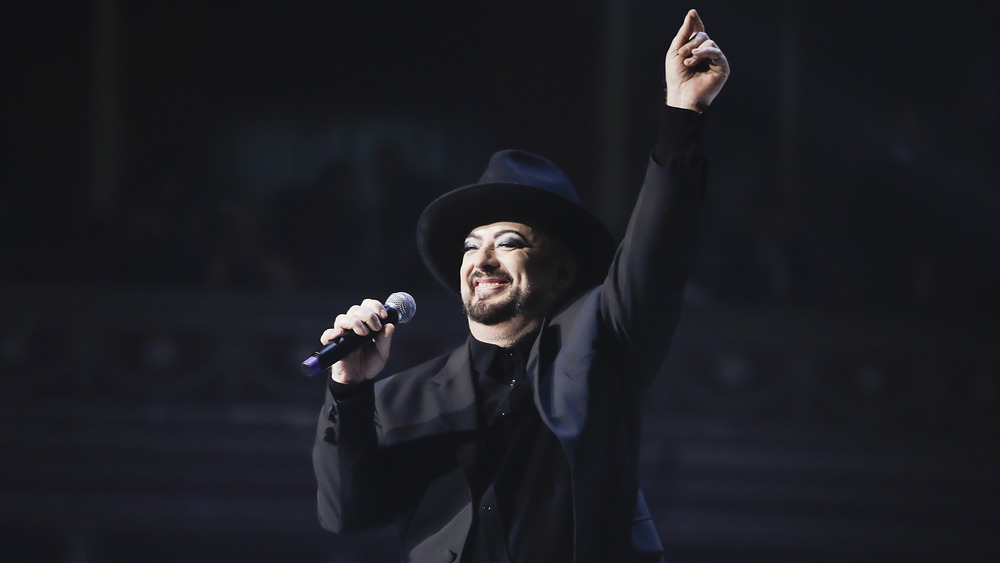 John Phillips/bfc/Getty Images
Many of Boy George's most infamous appearances in the press have been related to his use of drugs, a habit which escalated throughout the early years of his fame in the 1980s. George first became demonized as a public "drug addict" in 1986, when he was arrested in the UK for possession of cannabis. What wasn't so widely reported at the time was that George had also become addicted to heroin. Just days after George's arrest, Culture Club suffered tragedy when Michel Rudetski, the band's keyboardist, was found dead in George's home, the result of a heroin overdose, according to Biography. 
Heroin proceeded to tear Culture Club apart, and they disbanded after the cancellation of the US tour — George had been denied entry to the states after his arrest. Further drug-related arrests plagued George over the years, including an incident in Manhattan in 2005 when police found cocaine at his apartment. More notoriously, George was arrested and convicted of the unlawful imprisonment of a male escort in 2007, an incident he claims was the result of his drug use. Convicted, he served four months in jail. 
Culture Club has proceeded to reunite and tour intermittently, and Boy George has enjoyed a successful solo career in his own right. He has been clean since 2008, according to the Evening Standard, and describes himself as an addict in recovery.