Why Carlos Santana Couldn't Record Music For Much Of The '90s
Scott Dudelson/Getty Images
Carlos Santana is known for his guitar prowess. In the 1970s, he was one of the kings of rock, and he had multiple hit albums to prove it. But then, Santana stopped recording music for much of the '90s. It wasn't until 1999 that Santana came out with the album Supernatural and the song "Smooth" that catapulted him to even greater heights of popularity.
Santana was born in Mexico before moving to San Francisco. His father, Jose, a mariachi musician, taught his children how to play. Santana fell under the thrall of blues guitar players like B.B. King and determined that he would play guitar professionally. His father agreed, and the two went around bars playing music, wrote Rolling Stone. Carlos put together a band in the 1960s, and soon, he got a record deal and the gig of a lifetime: Woodstock. From there, it seemed to go only up for Santana. By 1970, he recorded two of his biggest singles, "Oye Como Va" and "Black Magic Woman." Hit songs and albums soon came in quick succession, but by 1990, he was left without a recording contract. 
Santana told Rolling Stone that he had been holding back from recording, feeling like he had "a masterpiece of joy in [his] belly." His previous recording companies had tamped down his more experimental projects and even felt he was too old. But he knew he still had something to prove.
A difficult decade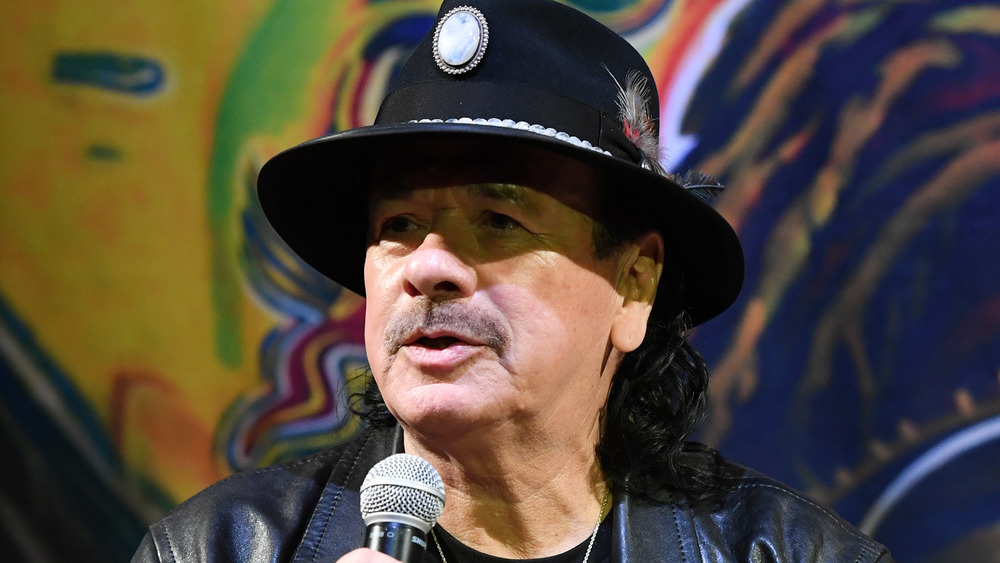 Ethan Miller/Getty Images
Before leaving his recording company, Santana released a couple of albums. There was 1990's Spirits Dancing in the Flesh, Milagro in 1992, the live album Sacred Fire in 1993, and a collaboration with his brother Jorge and nephew Carlos Hernandez, Brothers, in 1994. But none were successes. Santana wanted to make more music, but he wanted to be sure it would be supported, and he currently didn't have a label.
Santana also had to deal with tragedy during the time he was unable and unwilling to make music. His beloved father, Jose, had died. Carlos admitted that after his father's death, he felt mostly numb, and could barely even listen to music. 
Fortunately for Santana, he began feeling inspired again. According to AARP, Santana felt the man who could turn the '90s around for him was Clive Davis, who first signed him, age 22, at Columbia records. Davis founded Arista Records (and helped make Whitney Houston a star) and was intrigued by what Santana wanted to do: create an album of collaborations with some of the biggest names of the time while keeping true to his old sound. Davis told AARP he knew people were skeptical of his signing Santana. Many people thought it was a nostalgia play — sign an older musician to appeal to an older audience, and possibly lose money. But Davis believed in what Santana wanted to do.
Santana's resurgence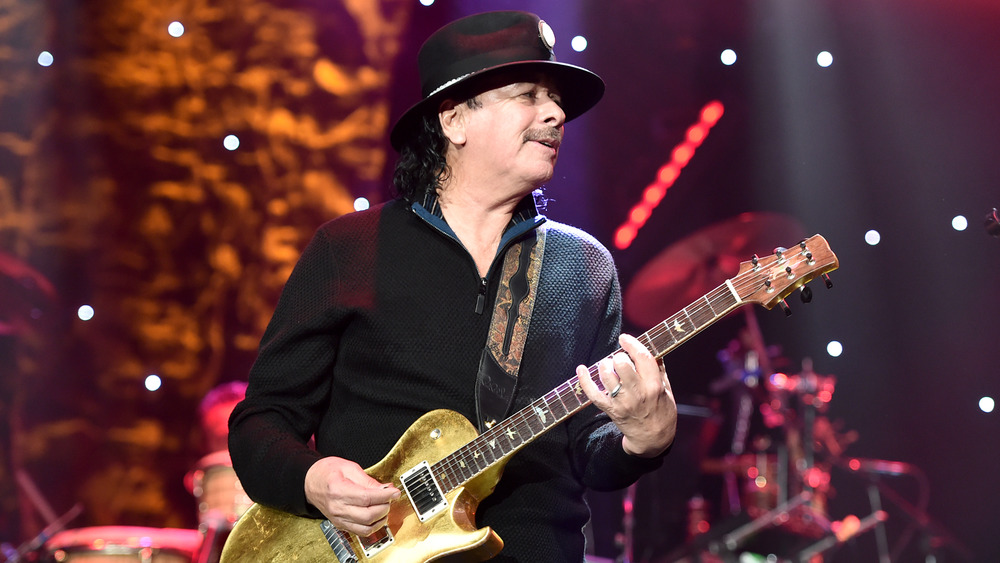 Alberto E. Rodriguez/Getty Images
The gamble paid off. Santa recorded Supernatural, released in 1999, and the album went diamond, selling more than 13 million copies that year. It was thanks in large part to the song "Smooth," which featured Matchbox 21's Rob Thomas and was the surprise hit song of the summer of 1999. The song stayed number 1 on the Billboard charts for 12 weeks, the most extended number 1 song that year.
It also earned Santana eight Grammys (out of nine nominations), his first wins since 1988, and as The New York Times reported, tying Michael Jackson's record of eight Grammys in a single year. He won album of the year and in every single category in which he was nominated; vindication, said The New York Times, for never having won during his most prolific era in the 1970s.
With the difficulties he faced during most of the '90s, it must've been a relief to Santana that the 2000s and 2010s proved to be busy for him. He came out with a few more albums and toured around the U.S. He was inducted into the Latin Music Hall of Fame. By 2007, he opened a chain of restaurants called Maria Maria, named after the song of the same name from the album Supernatural. 
In 2019, Santana collaborated with artists like Tyga. And if it weren't for the COVID-19 pandemic, Santana would've been on tour, reports Rolling Stone. The troubles of the '90s are genuinely far behind him now.