The Time Ozzy Osbourne Got Arrested At The Alamo
Famous rocker and former Black Sabbath frontman Ozzy Osbourne has never been known for his conservative lifestyle. From the beginning of his heavy metal career, his eccentric look and outrageous acts were hallmarks of his public persona.
It was February of 1982. Ozzy was living the hard-partying, rock star life. His behavior the evening before a performance in San Antonio, Texas had concerned his then-girlfriend, Sharon, enough so that she hid his clothing to prevent him from going out. This failed to deter him the next morning, however — he simply slipped on one of her dresses and went about his day, getting buzzed and visiting the city's main attractions.
Perhaps because he'd had a few too many drinks, he soon felt nature calling. Apparently, he had to urinate badly enough that he couldn't hold it long enough to find a restroom. Instead, he relieved his bladder directly onto the 60-foot-high Cenotaph monument in Alamo Plaza. The Cenotaph was built to honor the deceased defenders of the siege and assault on the Alamo, per Texas Public Radio, and it's a pretty big deal in Texas. Although he did not urinate directly on the Alamo itself, it's still a fairly significant monument. In general, Texans are known to be quite serious about remembering the Alamo, so it's no surprise that Texas authorities did not take kindly to Ozzy's drunken desecration of the Cenotaph.
Ozzy Osbourne publicly apologized in 1992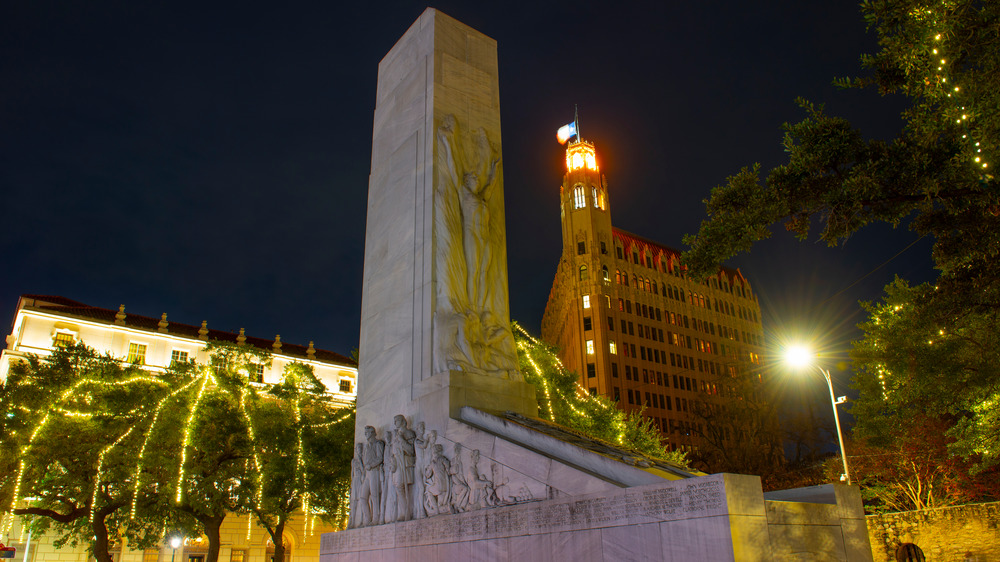 Shutterstock
According to Loudwire, Ozzy was immediately arrested and held for the afternoon in the local jail on public intoxication charges. The bail was set at a paltry $40, which was paid off in time for Osbourne to make his scheduled show at the Hemisfair Arena Convention Center that evening. But the real punishment actually came in the form of a 10-year ban.
Ozzy Osbourne performances were unwelcome inside the San Antonio city limits until 1992, when he finally publicly apologized for his behavior and donated $10,000 to the Daughters of the Republic of Texas to go toward the upkeep of the Alamo grounds. "We all have done things in our lives that we regret ... I am deeply honored that the people of San Antonio have found it in their hearts to have me back. I hope that this donation will show that I have grown up," he told the city (via Loudwire).