The Tragic Death Of Hollywood Boulevard Superman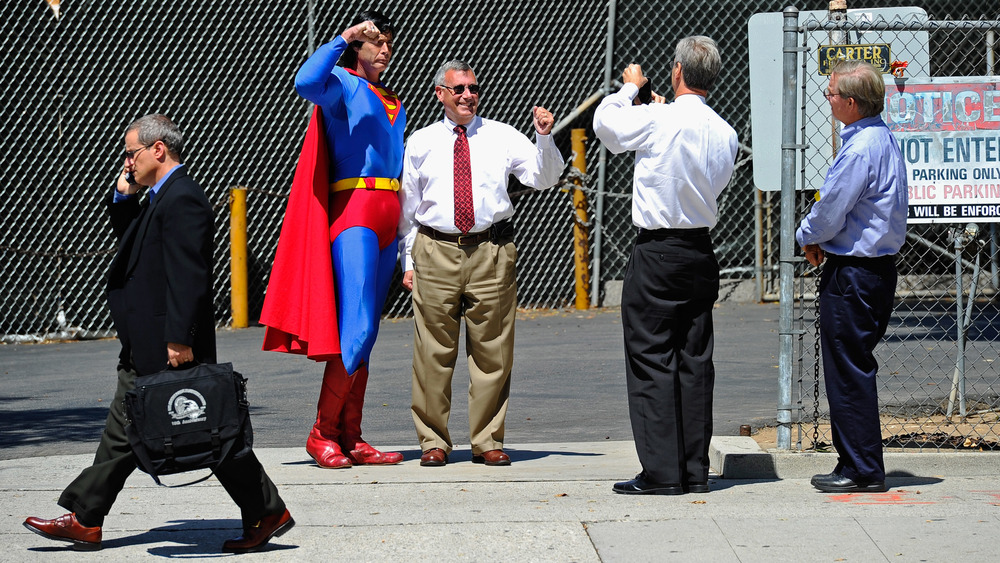 Kevork Djansezian/Getty Images
The character of Superman has had many faces. Actors George Reeves, Christopher Reeve, Brandon Routh, Henry Cavill, and Tom Welling have all played the Man of Steel on one screen or another. But on the smaller stage of Hollywood Boulevard, Christopher Dennis as Superman entertained visitors along the famous street between the tourist spots Madame Tussaud's and Hollywood & Highland Center.
The street performer embodied the superhero as the Hollywood Boulevard Superman for more than 25 years before dying in 2019 at the age of 52. TMZ reported that his body was found in a San Fernando Valley clothing donation bin and that Dennis, who was homeless, might have been obtaining items for himself. The Los Angeles Coroner revealed that the cause of death was suffocation, according to Deadline.
A former actor who struggled to balance his job as a waiter with auditions, Dennis decided to capitalize on his resemblance to Christopher Reeve. As he told the Superman Homepage, it all began on the set of the movie Ali, when he played a press guy. He wore a Superman t-shirt underneath his gray suit and ripped open his shirt as a joke. "The guy just about dropped dead laughing and said, 'Can I get a photo of you like that?'"
His costume evolved over time, and included at one point the actual belt worn by Christopher Reeve. Dennis earned his livelihood solely through the tips he received by posing for photographs and sharing his wide-ranging knowledge of all things Superman.
A superman struggles with life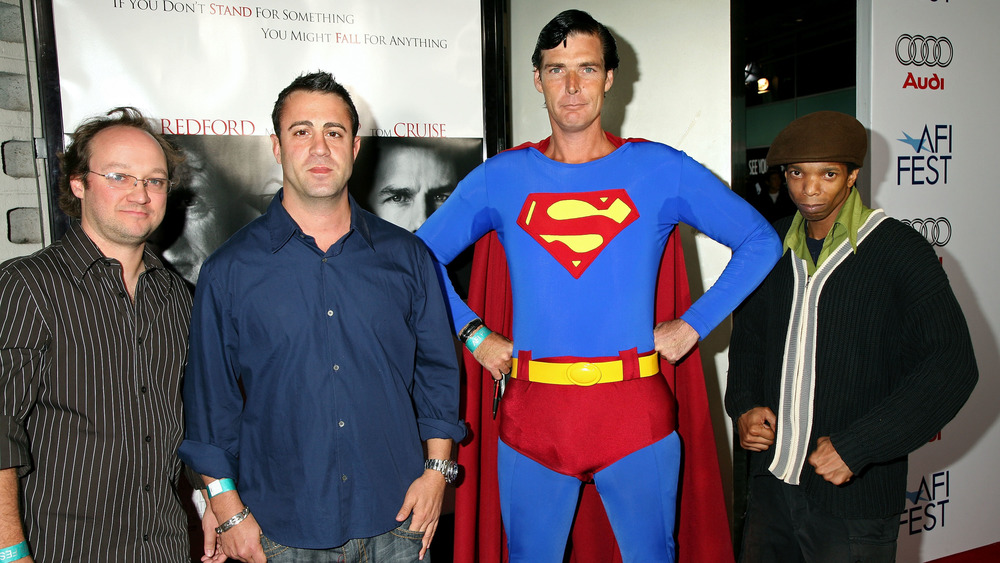 David Livingston/Getty Images
Dennis starred in the 2007 documentary Confessions of a Superhero, about his and others' work as on-the-street legends. He was also a guest several times on Jimmy Kimmel Live!, The Daily Show, and The Tonight Show with Jay Leno. His popularity as a street performer sometimes got him acting gigs in projects like A Noisy Delivery.
He ran into hard times. He and his first wife divorced; he was assaulted; he lost his home — allegedly, his RV was seized by the city, and a robbery took away his treasured costume, according to the Los Angeles Times. The publication further reported that he struggled with drug use during his life.
It's hard to know what is exactly true about him. Reports vary, because Dennis and his companions weren't the most reliable sources. After he lost his livelihood, he was homeless and panhandled. Eventually, donations from friends and a Kickstarter campaign raised money for a new Superman suit so he could greet and pose with tourists once again. But Dennis died before he could return to the place he loved best.
Hollywood Reporter called him "arguably the most recognizable of all the characters who line Hollywood Boulevard." MSN reported that Jimmy Kimmel Live! also released a statement when Dennis died, saying, "Chris was a sweet guy and well-liked by everyone ... We will miss him."