The Untold Truth Of Selena
If there was anyone musicians of today can thank, it's Selena. She was poised to be the first real cross-over pop sensation. And with a new series about her life coming soon on Netflix, Selena's life will once again be in the spotlight — a life tragically cut short just as she was becoming an even bigger star.
Selena Quintanilla-Perez was one of the most famous people in the '90s, even though mainstream audiences only discovered her late into her career. Born in Texas to a musical family, Selena started performing at a very young age, wrote Biography. Her father, Abraham Quintanilla, saw how musically inclined his children were and formed a group. He centered the band around his youngest daughter and called it Selena Y Los Dinos. Selena sang while older siblings A.B. and Suzette played instruments.
Her dad wanted Selena Y Los Dinos to play for a mainly Spanish-speaking Tejano audience in Texas. The problem was, Selena didn't speak Spanish. She learned the language, primarily the lyrics of their songs, at 10, and began performing around Corpus Christi, Texas. They played street corners, quinceañeras, and state fairs.
Selena Y Los Dinos quickly became very popular. Abraham decided to let the band tour and took Selena out of school, to her teachers' great concern. (Eventually, she earned her GED and took college courses at Pacific Western University.)
Forbidden Love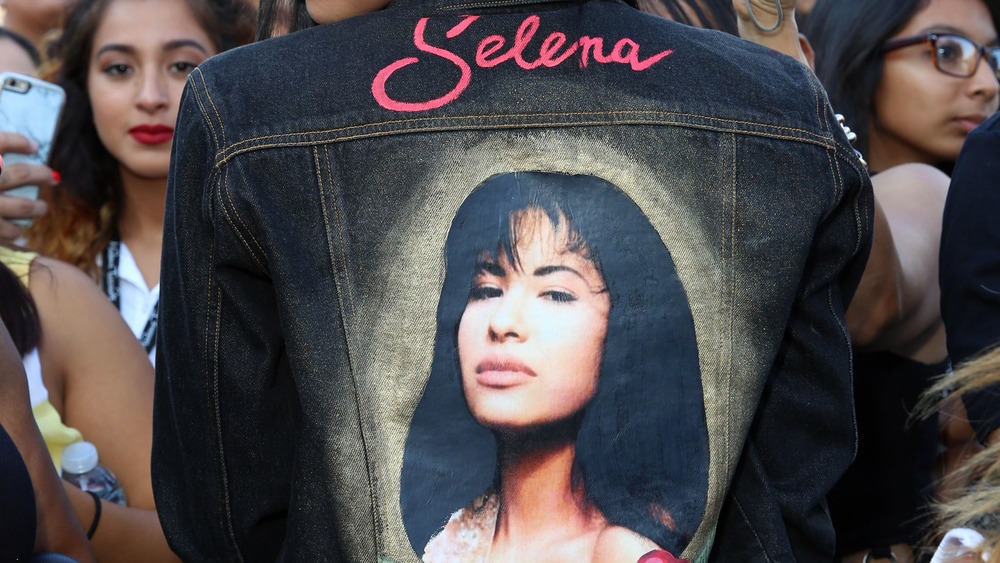 Rachel Murray/Getty Images
Men had long dominated Tejano music, and that hadn't changed by the time Selena recorded her first album. She and her father, however, were determined to break into the industry. By 1989, Selena signed with EMI records. Her family stayed involved in her career: her father as manager, and brother A.B. her primary producer.
She also fell in love. Guitarist Chris Perez joined Selena Y Los Dinos in 1989. Perez told Good Morning America that at first, he wanted to distance himself from her, for fear of ruffling feathers. The two became close but decided to hide their relationship from her father. When her father found out, he fired Perez. Selena and Perez kept seeing each other, however, and in 1992 eloped. For a time, Abraham disapproved of the marriage, but relented and accepted the couple.
Selena steadily gained a following in Tejano music and earned several awards, especially for her signature song, "Como La Flor." She was invited to perform in Mexico, who traditionally looked down on Tejano singers, and became the biggest-selling Tejano act in Mexico. And in 1994, her status became stratospheric. Her album Live! won the Latin Grammys, and a follow-up, Amor Prohibido, was nominated the next year.
Selena used her growing popularity to launch a fashion line. Already known for pushing boundaries with her onstage wardrobe — she wore bustiers in concerts — she opened two stores in Texas and was in negotiations to open other stores in Mexico and Puerto Rico.
A tragic end to a short life
The mainstream English-speaking music industry started to take notice. According to Newsday, she was touted as the Queen of Tejano music and invited by her label to record an English album. She had a cameo in the Johnny Depp-Marlon Brando movie Don Juan de Marco. She released her first English song, "Dreaming of You," which became a cross-over hit. Selena performed a sold-out concert at the Houston Astrodome and broke attendance records.
And then Selena discovered that Yolanda Saldivar, the longtime president of her fan club — someone Selena considered a family member — had been embezzling money. The Quintanilla family trusted Saldivar, who had been put in charge of Selena's boutiques. Despite complaints from staff and fan club members who claimed they never got paid for perks, Selena did not confront Saldivar.
On March 31, 1995, Selena met with Saldivar in a motel to pick up financial documents. Selena finally asked Saldivar about the missing money, and Saldivar pulled out a gun and pointed it at her. Selena tried to flee, but Saldivar shot and killed her. Saldivar holed herself up in her truck, reported The New York Times, and only surrendered after 10 hours. Selena was just 23 years old.
Twenty-five years later, her legacy lives on. A movie of her life came out in 1998, starring Jennifer Lopez. Selena was supposed to be the first Latin cross-over star; instead, she paved the way for others who came after her.