The Time JFK Fell In Love With A Possible Spy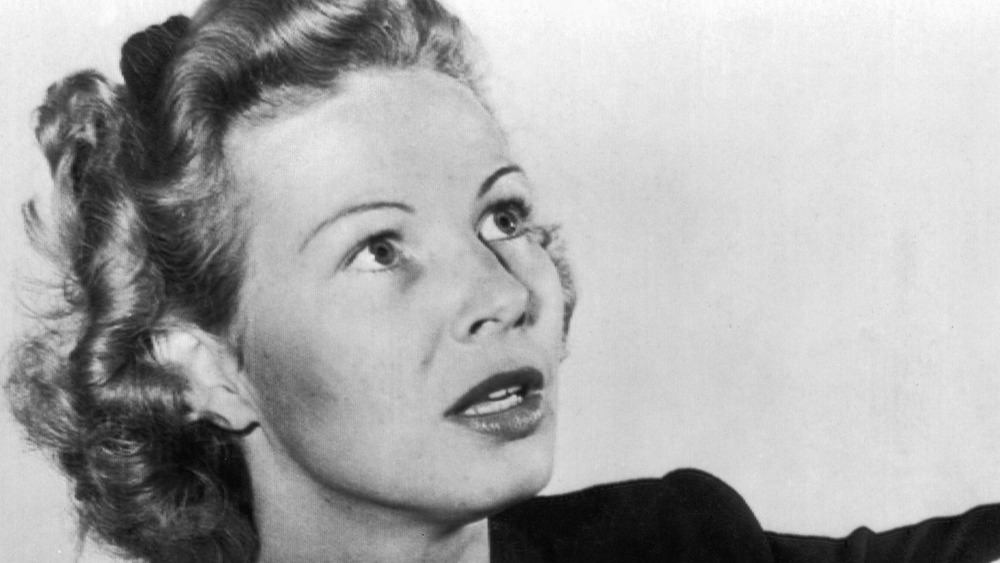 Keystone/Getty Images
President John F. Kennedy's love affairs are just about as well-known as his political accomplishments. The famously promiscuous president had no shortage of well-documented romantic dalliances, but perhaps Kennedy's most scandalous affair was his relationship with Inga Arvad, which began when he was only 24. The couple met in 1941 through Kennedy's sister, Kathleen, who worked alongside Arvad at the Washington Times-Herald newspaper. JFK became infatuated with the Danish beauty queen/journalist, and soon fell head over heels in love with her.
She was blonde, blue-eyed, and beautiful, but apparently JFK wasn't the only person who thought so; Hitler did, too. Arvad was reportedly not only friendly with the dictator, who called her a "perfect Nordic beauty," but she also could have been working for him, per Ronald Kessler's book The Bureau: The Secret History of the FBI. Following an interview she conducted with Hitler as a young freelance journalist in 1935, suspicions emerged that she had been recruited to work for the Nazi party. Although there was no hard proof that she was involved — a non-incriminating photograph taken of her with Hitler notwithstanding — it was enough to peak the FBI's interest in her.
Arvad had also been friendly, if not romantic, with Axel Wenner-Gren, per United Press International, an exceedingly wealthy Swedish businessman and a suspected Nazi agent. He had been blacklisted by the U.S. government in 1942, according to wennergren.org.
Arvad, Kennedy, and the FBI makes three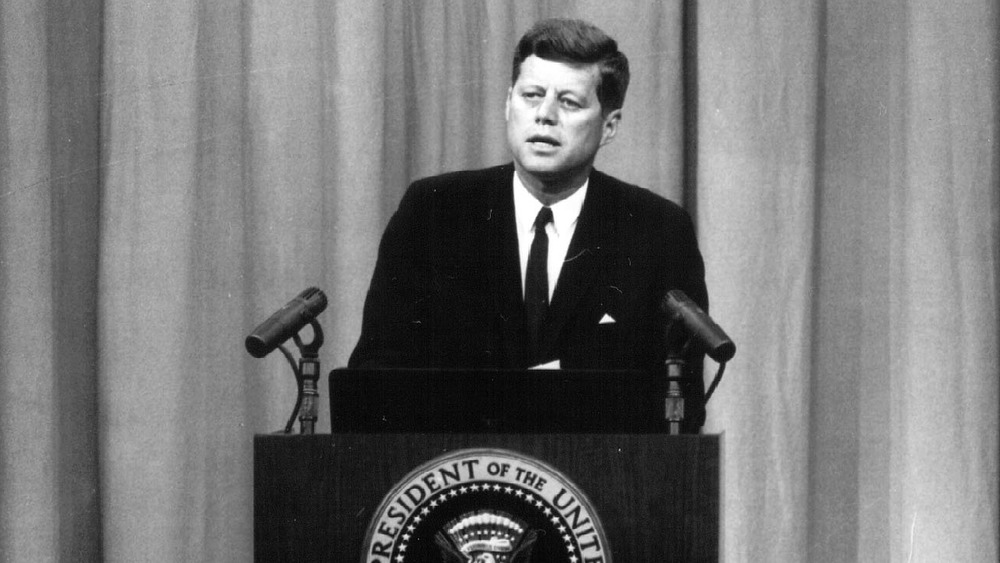 National Archives/Getty Images
Arvad's relationship with Wenner-Gren, combined with her known affiliation, however loose, with Hitler, led the federal government to suspect that she was secretly a Nazi spy. Of course, dating a Nazi spy was terrible a PR move for a rising member of the prominent Kennedy clan. According to Kennedy scholar Nigel Hamilton, "Over the course of a few months, suspicions that she was an enemy spy would lead to Jack's near dismissal from the service as the FBI, the Navy and Jack's father all hounded the romance to its doom," reports UPI. Fearing the potential repercussions of this relationship, Kennedy's father tried his hardest to split the couple up.
In an effort to squash the affair, Joe Kennedy, Sr. had his son reassigned to Charleston in 1942, but Arvad visited him there as well. The couple managed to arrange a few romantic trysts in the Fort Sumter Hotel. Even there, however, they still had no privacy. Their hotel room was tapped by the FBI, and the couple was followed around town, per CHS Today.
Ultimately, the stress took its toll on the relationship, and in time, Kennedy's father was successful in breaking up the two lovebirds. JFK was forced to end his affair with his beloved "Inga Binga," and both went on to marry other people. Arvad maintained her innocence, and no hard evidence was ever uncovered linking her to any covert Nazi affairs.