The Tragic Death Of Mahlon Reyes From Deadliest Catch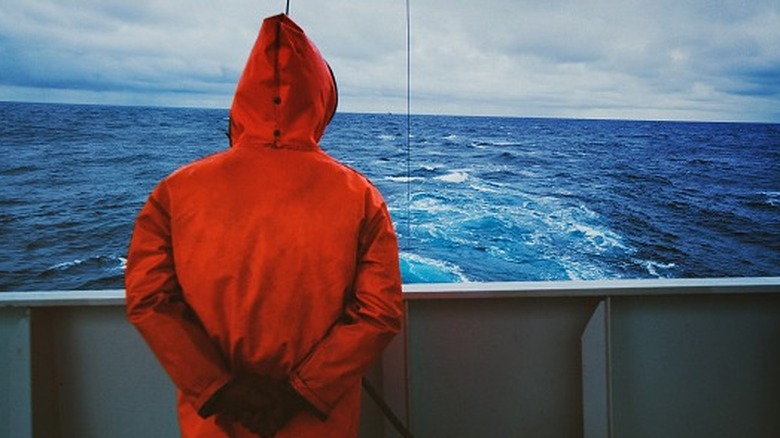 Piola666/Getty Images
Frequent viewers of the Discovery Channel reality series "Deadliest Catch" are no strangers to tragedy. With the deaths of a half-dozen cast members over the years, unfortunate events have struck the cast and fan base of the fishing-themed reality series time and time again. Captain Phil Harris, Keith Anderson, and Tony Lara are just some of the show's significant personalities who have died in recent memory. In July 2020, cast member Mahlon Reyes also fell victim to what some fans call the show's curse.
As "Catch" fans are well aware, Reyes worked as a deckhand on the boats Seabrooke and Cape Caution. He otherwise starred in 14 episodes of the Discovery Channel show. In a statement, a representative from the Discovery Channel confirmed Reyes died in his hometown of Whitefish, Montana. At first, it was reported that Reyes had a heart attack, which according to his wife, he survived (per TMZ). Once hospitalized, Reyes never regained consciousness, though, and as a result, it was decided the deckhand would be taken off of life support. A short time later, Reyes died, surrounded by his friends and family. Shortly after he died, the reality star's true cause of death — an overdose — was revealed (via USA Today).
According to TMZ, at the time that Reyes died, the deckhand was recovering at home from a recently torn Achilles tendon, an injury sustained while crabbing on the boat. He was otherwise focused on doing whatever he could to be ready to go the next season.
He had a 'positive attitude and smile'
In an email (via USA Today) written when Mahlon Reyes died, his wife, Heather Sullivan, said those who knew him laughed and remembered "all the funny stories ... I am in awe of the people that he touched just by his positive attitude and smile ... [Reyes] was my rock and I was his."
In a memorial posted on Facebook, the Reyes family wrote (via USA Today), "On Sunday night our family together made the hardest choice we've ever made and that was to remove him from life support. Mahlon's body was tired and had put up an amazing fight. He was the strongest guy we knew. He was surrounded by so much love."  Mahlon spent too much time without oxygen, which caused irreversible brain damage, the Facebook post read. 
In the aftermath of the reality TV star's death, the Discovery Channel issued a statement that read (per USA Today), "So sad, he was so young. Our thoughts and prayers to his family." Reyes' death shocked friends, family, and fans of "The Deadliest Catch" around the world, as there were no known pre-existing conditions that could contribute to a fatal heart issue in someone so young. Reyes was only 38.
Reyes died from an accidental cocaine overdose
Though Mahlon Reyes did have a heart attack leading to his hospitalization, removal from life support, and eventual death, a Flathead County Sheriff's Office report later explained that an accidental cocaine overdose is what caused him to have a heart attack so young. Those findings were based on autopsy and toxicology results. No foul play was suspected. According to WebMD, chronic cocaine use can lead to a number of health conditions that tax the cardiovascular system and increase the risk of heart attack and death.
Sadly, Reyes died only a short time before another "Deadliest Catch" star Nick McGlashan. Reportedly, Reyes' friend also died from a drug overdose, per The U.S. Sun. Substance use issues such as what Reyes, McGlashan, and others experienced are an ongoing challenge in the fishing industry, according to SaltWire. Workplace death among fishermen also outstrips rates of death in other industries. 
Reyes was cremated, and his ashes were scattered in a place dear to his heart: the Bering Sea and Montana's Swan Range mountains, according to his wife Heather Sullivan, who said those "were two of his favorite places." Reyes and his brother would snowcat in the Swan Range mountains. After Reyes died, McGlashan tweeted, "This place misses you. RIP Mahlon," alongside a photo of the two fishermen together. McGlashan reportedly had meth, cocaine, and fentanyl in his system when he died.
Reyes was survived by his wife and four children. After Reyes' death was announced, Sullivan posted on Facebook, "[Reyes] touched so many lives and he is up there smiling and watching over my protector from the sky."
If you or anyone you know needs help with addiction issues, help is available. Visit the Substance Abuse and Mental Health Services Administration website or contact SAMHSA's National Helpline at 1-800-662-HELP (4357).