The History Of Jingle Bells Explained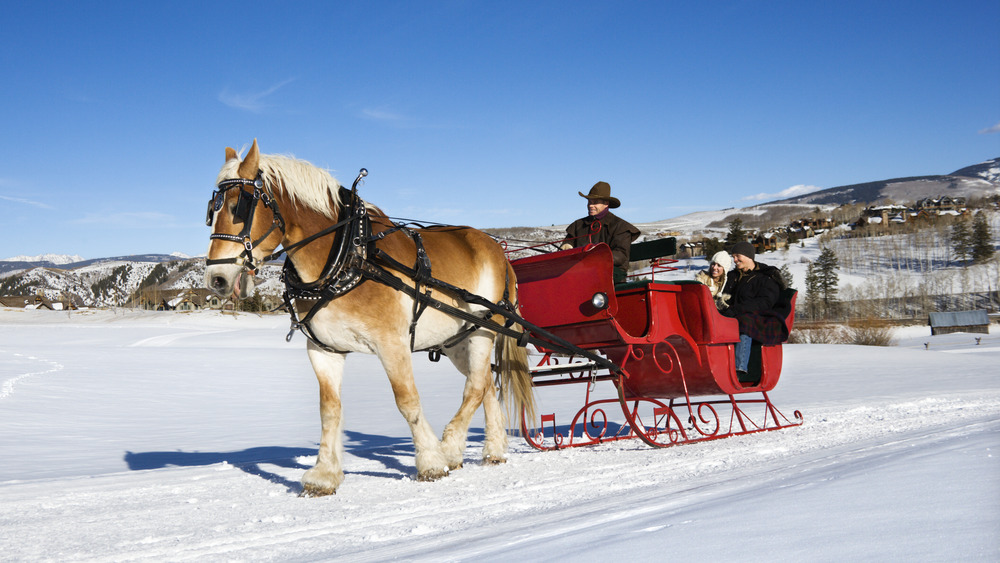 Shutterstock
"Jingle Bells" is a classic Christmas carol that is sure to be being played dozens of times over the course of the holiday season. It's a favorite everywhere from Christmas radio stations to seasonal concerts as a cheerful holiday melody that everyone can sing along to. But it was never originally intended to have any connection to Christmas at all.
Written by James Lord Pierpont and originally published under the name "One Horse Open Sleigh" in the 19th century, the song was never meant to be about Christmas, or any holiday, for that matter. Although it was supposedly first performed at a Thanksgiving church service, the song contains no mention of any holiday, be it Thanksgiving, Christmas, or otherwise, according to CNN.
The song didn't become associated with Christmas until September 15, 1857, when a musician named Johnny Pell, working with a troupe called Ordway's Aeolians, performed the song at Ordway Hall, on Washington Street in Boston, according to Boston University. The song was a favorite at Ordway Hall all through the fall season, and Pierpont copyrighted it not longer after.
The birthplace of 'Jingle Bells' is disputed
Recently, some questions about the true origins of the song have arisen. A plaque at 19 High Street in Medford, Massachusetts proudly commemorates the location of the tavern where James Lord Pierpont supposedly wrote the famous holiday ditty in 1850. For many years, most New England natives have accepted that version of the story as fact, claiming that Pierpont was inspired to write by watching the sleigh races that used to take place on Salem Street.
This has led to some contention between the town of Medford and the town of Savannah, Georgia, because Savannah also claims to have been the birthplace of "Jingle Bells." In the 1850s, Pierpont had moved south, and found work as the music director at a Unitarian church in Savannah. Locals insist that he wrote the song while he was employed at the church, where it was performed as a sing-along, according to CNN.
'Jingle Bells' is one of the most recognizable carols in the world
In 2016, Boston University researcher Kyna Hamill did some investigating, however, and her research shows that likely neither of these cities has a valid claim to the song's origin. In fact, the song may not have been written in 1850 — probably it was composed much closer to its performance debut in 1857. According to Hamill's research, it's most likely that Pierpont actually wrote the song at a rooming house in downtown Boston, where he lived for a short time in the summer of 1857.
Regardless of where it was written, the song was a hit. By the late 1880s and 1890s, it was being used regularly as part of holiday medleys, and by the 20th century, "Jingle Bells" had become one of the most popular secular holiday songs in the world. In 1965, the beloved holiday classic became the first song to be broadcast from space, a feat accomplished by astronauts Walter Schirra Jr. and Thomas Stafford on board Gemini 6, per History.
Despite its somewhat disputed origins, "Jingle Bells" has remained a holiday classic for over 150 years, and has earned James Lord Pierpont a spot in the Songwriters Hall of Fame.