The Tragic Death Of John Belushi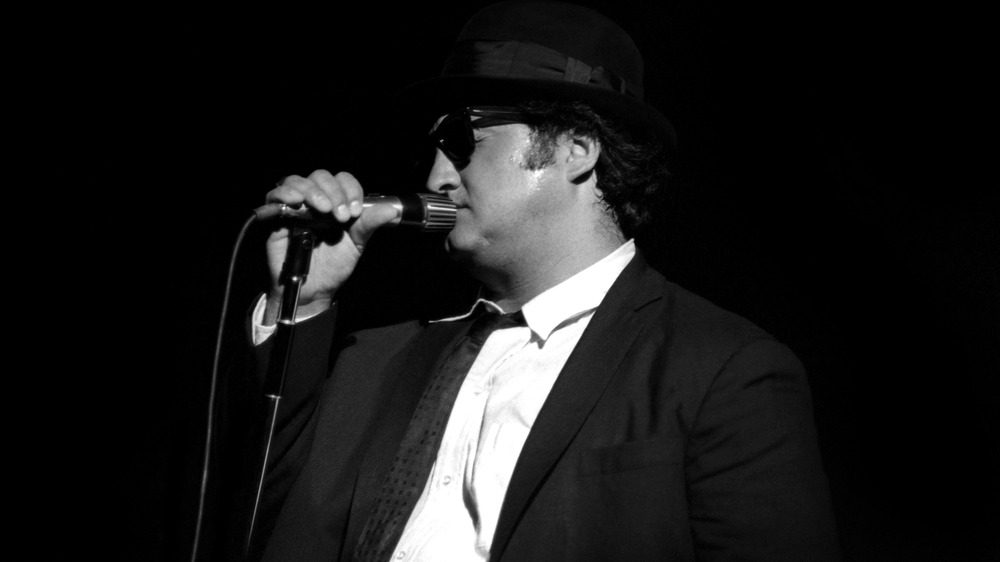 Icon And Image/Getty Images
During his life, John Belushi reached legendary status in the comedy world. He was a major player in what's arguably the greatest era of Saturday Night Live (the '70s) alongside actors Dan Aykroyd, Chevy Chase, and the infamous Bill Murray. In 1978, the rough-around-the-edges comedian made his film debut in the cult classic National Lampoon's Animal House, which is still watched by nearly every college student in the country. (There's no official poll on this, but we're guessing we're right.) He'd then go on to co-star in other popular films such as Steve Spielberg's 1941 and, of course, The Blues Brothers. (Maybe 1941 wasn't popular, but it had plenty of popular actors in it, so it counts.)
The Blues Brothers would become such a hit that you can find a statue of "Joliet" Jake and Elwood at The House of Blues in Chicago, Illinois. A statue may not be the epitome of comedy fame, but that's okay; Belushi has been immortalized in other ways. He has a star on the Hollywood Walk of Fame, he was nominated five times for Emmys and won once, and he's an honoree in the Television Academy's Hall of Fame. He holds a special place in our hearts.
The world would have been happy to accept decades more of John Belushi's 0-100mph comedy style, but fate had other, tragic plans for the actor.
A losing battle with substance abuse
We've seen it too many times: A comedian rises to fame, only to be taken before their time by a little thing called "drugs." Lenny Bruce, Mitch Hedberg, Chris Farley, and many more have met this unfortunate fate. There seems to be a correlation between comedy and tragedy. It's a known phenomenon, according to Psychology Today, that a large number of comedians suffer from depression, and use both substances and comedy as forms of self-medication. John Belushi is only one among many who's self-medicating led to an early death.
On February 28, 1982, Belushi checked into the Chateau Marmont Hotel in Los Angeles for the night. He was exhausted and wanted nothing more than to work on his latest screenplay, a romantic-crime comedy titled Noble Rot. According to Hollywood historian Shawn Levy's book The Castle on Sunset (found via Hollywood Reporter), Belushi was an absolute mess that night. He was completely beaten down and disheveled, but he was on a mission. Belushi was going to write his next hit, if only he could work around his insurmountable drug problems.
Belushi's time at the famed Chateau Marmont didn't go so well. He wasn't making the progress on his script the producers were hoping for. Those close to and working with Belushi knew something was off. The comedian was missing meetings. He wasn't bathing and his attention span was virtually non-existent. The reason? Belushi was hitting the drugs hard and spiraling out of control.
The end of a comedy legend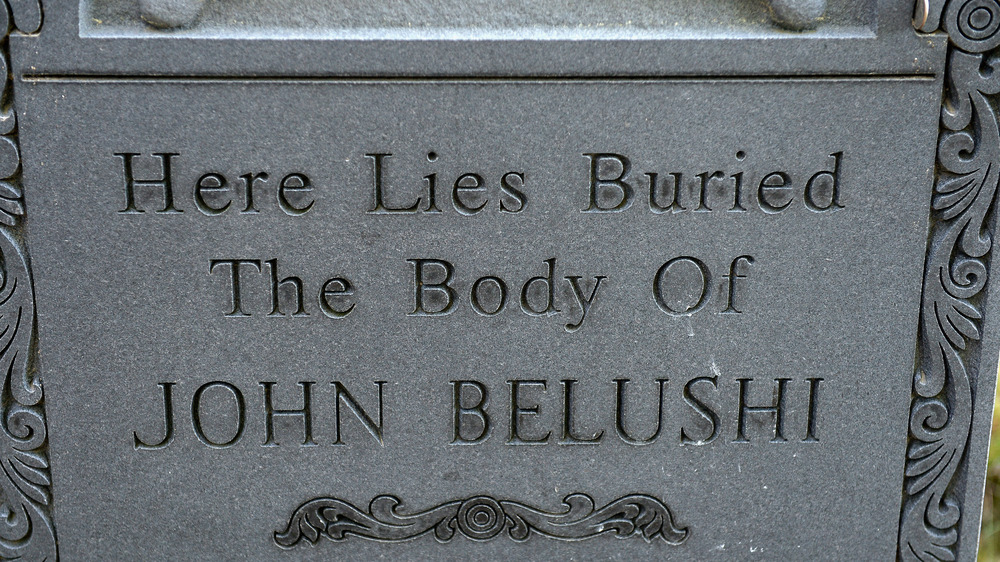 Paul Marotta/Getty Images
The Castle on Sunset says that Belushi was actually pretty proud of his substance abuse — his ability to consume inhuman amounts of anything. This included food, alcohol, marijuana, and cocaine, which the comedian was known for using near-constantly. When the late Saturday Night Live star began to sample heroin, he'd tell people it was only for research for a movie he was planning to make someday. It was the early '80s, and substance abuse was rampant, especially within the entertainment industry.
Belushi's downward spiral was bad enough that those close to him began to worry. He was, at best, unproductive, and it was threatening to make him a forgotten star, dropped from the Hollywood heavens. His wife, Judith, and his best friend, the great Dan Aykroyd, believed they could pull the actor back to the light. Unfortunately, even finding Belushi was next to impossible most of the time. Saving him wasn't going to happen.
He already had a host of medical issues, says Rolling Stone — obesity, enlarged liver, swollen heart. On March 5, 1982, the end would come for Belushi. For reasons still unknown, a back-up singer named Cathy Smith pumped a mix of cocaine and heroin — a "speedball" — into Belushi's veins, causing an overdose that killed the 33-year-old actor. His script still unfinished, his friendly and familial ties still failing, with no chance of bringing anything new and great into the world. Belushi was lost forever.