Why Pat Smear Once Left The Foo Fighters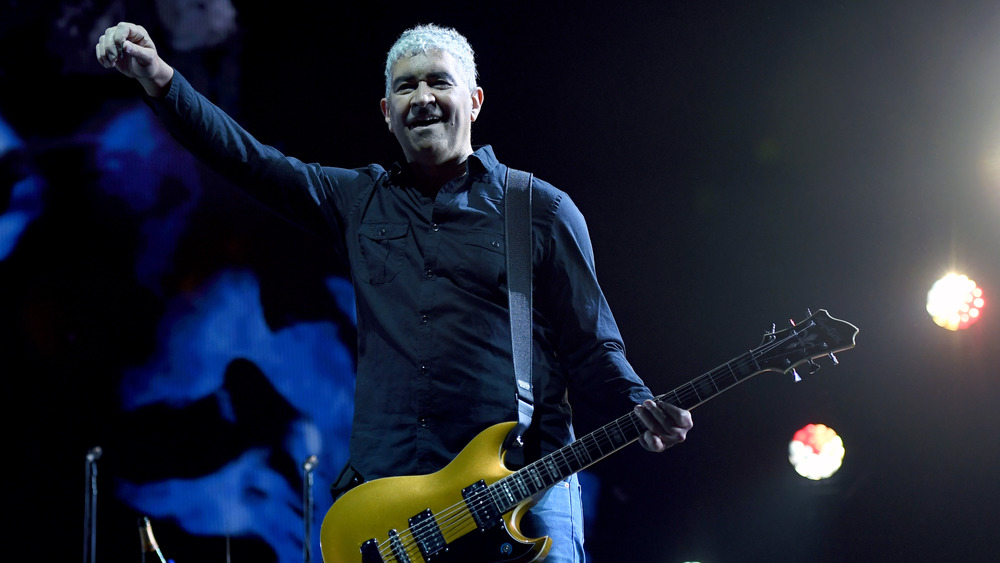 Ethan Miller/Getty Images
If you're driving down the road and you tune your radio to the local rock station, chances are you'll hear a Foo Fighters song within a very few minutes. The band has a whole list of hits that have peaked on Billboard's listings above number five, many of them staying there for weeks. Look at "Everlong," which is generally considered, according to GQ, one of the greatest rock love songs in history.
Dave Grohl of Nirvana fame started the band back in 1994 following the death of his dear friend Kurt Cobain, and while the world is grateful that he did, Grohl's only one member of many. If Grohl were a one-man band complete with a back-strapped walking drum kit, double decked guitar, and a mic strapped to his chin, we could give him all the credit, but since he hasn't so far, we should give props where props are due. Foo Fighters couldn't have made it to where they are today without the rest of the band, and that includes Pat Smear.
Smear was the Foo Fighters' original lead-guitarist-turned-rhythm-guitarist after Chris Shiflett joined the ensemble. Smear is probably the second-most-famous member of the band, having played on Nirvana's Unplugged in New York and several Foo Fighters albums, but there's a blank spot in his Foo Fighters career. That's right: There was a time when Smear called it quits.
If you can't handle the fame, get out of the rock and roll kitchen
Scott Dudelson/Getty Images
Some newly famous people find obstacles hidden in celebrity that they hadn't prepared for. Constant travel, a complete lack of privacy, interviews, photo shoots, cameras, cameras, and more cameras. It can be hard to deal with. For Foo Fighter's guitarist Pat Smear, fame and fortune weren't worth the personal cost and, eventually, led to him leaving the band.
Around the time Smear departed in 1997, Foo Fighters frontman Dave Grohl told ID magazine (via Rolling Stone), "He told us early on this year that he didn't want to tour anymore and he doesn't like doing press and he hates flying, tons of stuff." Touring is a pretty standard job requirement for Famous Musicians, press is how they get famous in the first place (and stay that way), and flying, terrifying though it might be, is still a time-effective way to get from gig to gig.
To be honest, the Foo Fighters should've been prepared for Smear to leave. His dislike of fame wasn't exactly a secret. Grohl remembered that when the guitarist joined Nirvana in their final year, "all of his friends were placing bets on how long he was going to last in that band. Some friends bet a week, or a month, or two months." His 1994 to 1997 stint in the Foo Fighters had been his longest tenure. Or, at least, that's what Grohl told the publication.
The Foo Fighters were on the verge of crumbling when Smear left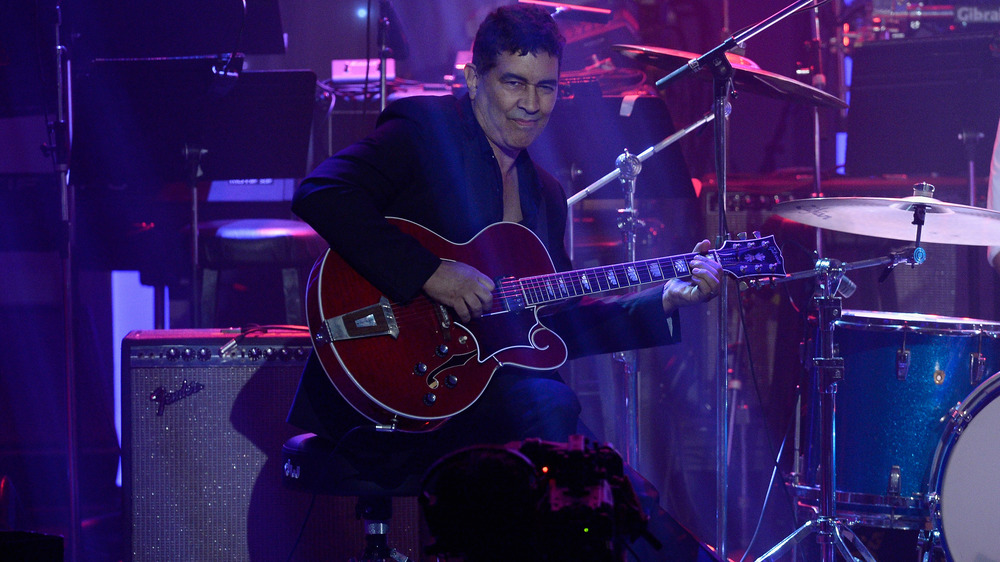 Kevork Djansezian/Getty Images
Despite the predictions, the announcement that Smear would be leaving shocked the band for two reasons: It was completely out of the blue, and it came at the worst possible time. William Goldsmith, Foo Fighters' original drummer, had just left the band over recording disputes with Grohl, according to Loudwire, but the band filled his spot fairly quick with Taylor Hawkins. Hawkins was already a weathered drummer from his time playing for Alanis Morissette, but all musicians need some time to acclimatize in a new gig before things start to roll out smoothly, and Hawkins was still pretty green in his Foo Fighters position when Smear told the band he was taking off.
A tour was already set to promote the band's second album, The Colour And The Shape, and, luckily, Grohl was able to talk Smear into sticking around until they could find someone to replace him (eventually, Franz Stahl) so they weren't lead-guitar-challenged. To make matters worse, Grohl was having trouble on the homefront. He was actively going through a divorce, which, according to Louder, was at least partially because of the album. The band was on the verge of crumbling. "The band was just holding on by our fingertips this whole time," Grohl said about the situation (via Louder).
Smear wasn't gone for good, though. The guitarist found his way back in 2005 and has been playing with them ever since.