Before Rudolph Or Frosty, There Was The Cinnamon Bear
Rudolph first proved himself to the other bullying reindeer with his shining red nose in 1939. And that magical silk hat brought Frosty the Snowman to life in 1950. These Christmas classics have endured ever since, and been reproduced into dozens of cartoons, songs, movies, books, and other media. But did you know that before Rudolph and before Frosty, The Cinnamon Bear was what got kids all hopped up on Christmas cheer this time of year?
According to Open Culture, the Christmas-themed radio serial premiered just after Thanksgiving in 1937. The show opens with the brother and sister duo of Jimmy and Judy Barton writing up their Christmas wish lists to send to Santa Claus. In what was perhaps an omen of the fate of The Cinnamon Bear, Judy plans to ask Santa for a velocipede, one of those old-timey bikes with the giant front wheel that are almost as forgotten as the radio show itself.
After writing to Santa, it's time to finish trimming the tree. But Jimmy and Judy can't find the silver star that usually tops their Christmas tree. They head up to the attic, where they find the bear of the show's title. Paddy O'Cinnamon is a teddy bear with an Irish accent who likes to act like he's more ferocious than he is in reality. (You don't get a name like O'Cinnamon for nothing.) The three embark on a magical adventure that takes them all the way through Christmas.
The Cinnamon Bear takes the Barton kids on a magical Christmas adventure
Paddy O'Cinnamon decides to help the children find their lost silver star, which is most likely in his patria of Maybeland. How he came to immigrate to the Barton's attic is not explained. Maybeland is a fantastical realm where Jimmy and Judy meet a who's who of wacky Christmas characters, such as Oliver Ostrich, the Crazy Quilt Dragon, and Willy the Stork. Authorities like the Roly-Poly Policeman, Captain Taffy, and King Blotto keep such rascals as the Candy Pirates and the Wintergreen Witch in check. There's also a flying hat, and old Saint Nick himself makes an appearance, of course. This is a Christmas show, after all.
But Santa doesn't come along until the climax on Christmas Day, when the original broadcast reached its thrilling conclusion. For six days a week between Thanksgiving and Christmas, kids were left on the edges of their seats, wondering anxiously as to whether or not the Barton kids and their Cinnamon Bear would ever find their long-lost star. According to CinnamonBear.org, the show was so popular that it was broadcast nationally well into the 1940s and '50s. Some stations in the Northwest still air it during the holiday season to this day. But don't worry if you don't live in that area. You can now binge listen to all 26 of the 15-minute episodes in one go if you want to, because the internet.
The legacy of the Cinnamon Bear lives on to this day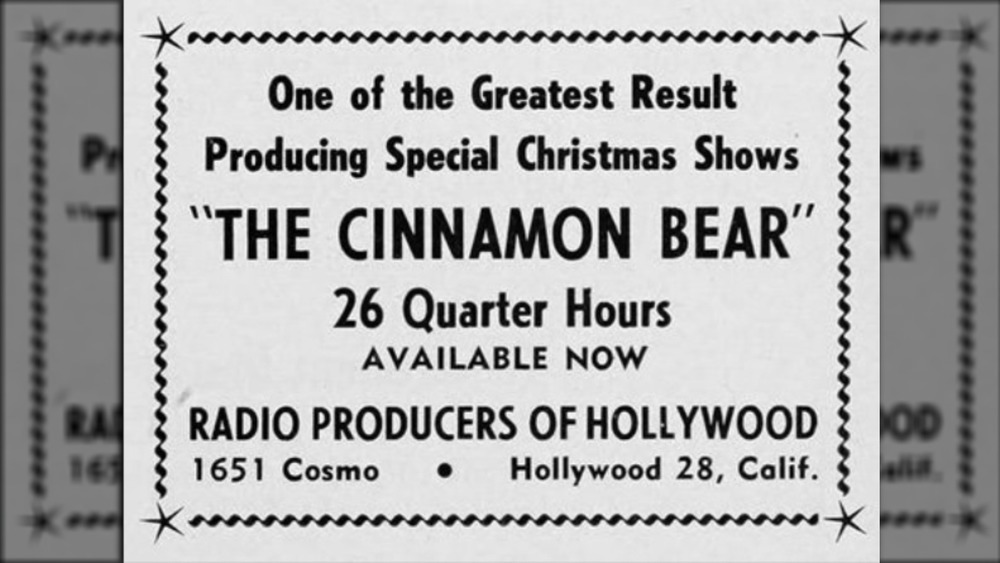 Twitter
Written by the husband-and-wife creative team of Glanville and Elizabeth Heisch, The Cinnamon Bear was produced in Hollywood and syndicated nationwide. Many department stores sponsored the popular show, paying for repeat broadcasts for many years. They used the characters as advertising and even put up Christmas Bear displays, and holding events where they put Paddy O'Cinnamon alongside their mall Santas. One store that got into The Cinnamon Bear in a big way was Lipman's in Portland, Oregon. PDX History posted several ads placed in The Oregonian newspaper that show how the Cinnamon Bear craze in Portland has spanned decades. Although it's no longer in business, Lipman's sponsored the radio show's first broadcast in Portland in 1937, and continued to do so until it began to experience financial troubles in 1978. The store regularly had a Cinnamon Bear on the floor alongside its Santa Claus, and the show became so popular in Portland that the city still offers Cinnamon Bear Cruises each year during the holiday season.
Kids back in the Golden Age of Radio had to wait a whole day after each cliffhanger episode to get their next dose, but you've got several options to listen to the entire series online now. You'll find all 26 episodes on The Internet Archive, YouTube, and iTunes. In a year as wacky as 2020, why not go retro this Christmas and binge listen to The Cinnamon Bear?