The Real Reason Blue Santa Suits Exist
Everyone knows Santa Claus wears a red suit. It's the image that's been burned onto our brains by the marketing experts at Coca-Cola, so it's the one that stuck. But what do you do when you're a die-hard fan of a sports team, and your biggest rivals' colors are red and white, and you want to dress up as Santa? Why, you invent a whole new suit to support your team, of course. That's what fans of the football (read: soccer) team Everton did in the United Kingdom.
First, a little Santa suit history:
While the popular version we know is of a jolly older man with white hair and a beard wearing a red suit, there's no historical standard to what Santa, or his real-life counterpart, St. Nicholas, wore. Racked explained artists drew St. Nicholas, a bishop, wearing red and white because that's often what bishops traditionally wore. When Santa Claus became popular, illustrations borrowed heavily from St. Nicholas, and he was depicted with the traditional red and white. Even those drawings of Santa as Civil War propaganda followed the same model. But then, around the 1900s, postcards featuring Santa showed him wearing different colored clothes — blue, green, and red.
The more popular magazines of the time kept showing Santa wearing red, however, so much so that people just accepted the red suit as his customary uniform. Really, the only reason Santa wears red and white is because we just got used to seeing the red and white.
They're very loyal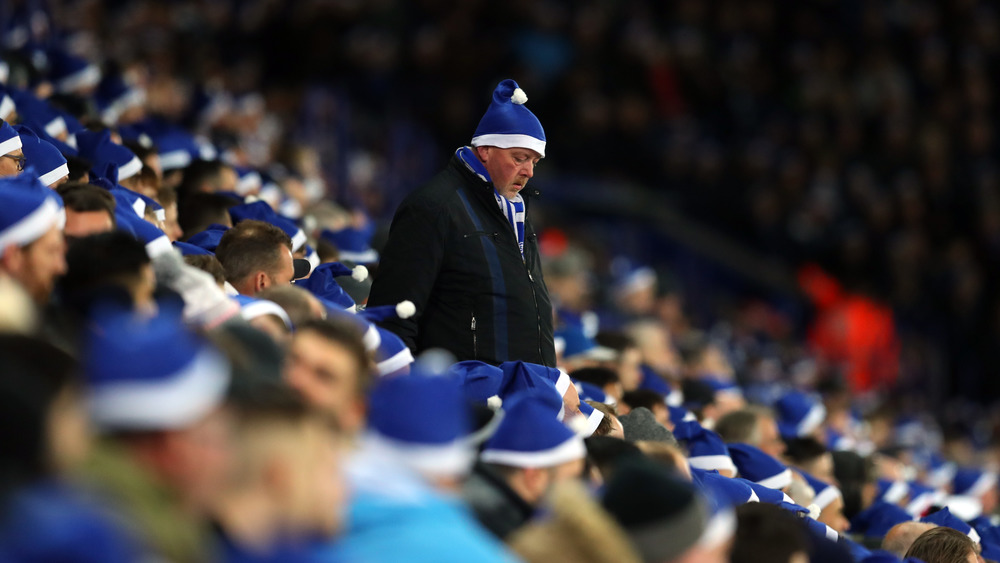 Catherine Ivill/Getty Images
And now, back to the sports fans. Every year in the city of Liverpool, there's an event called the Santa Dash, which has been running for 17 years already. The Santa Dash, virtual this year for obvious reasons, reports BTRLiverpool, is a 5K run for charity with participants wearing Santa suits. Because there are two big football teams in Liverpool, some people wanted the option of wearing their team colors. Fans of the team Liverpool have it easy; their team already wears red and white. Everton supporters, on the other hand, absolutely refused to wear anything remotely related to Liverpool.
To get more runners, the organizers of the Santa Dash decided to offer a blue Santa suit for any Everton fans who want to participate. Runners can collect their costumes, either in red or blue, from the organizers before the start of the race. It's an interesting picture: Hordes of Santas in blue and red running down a busy English street. They even give out blue medals. Talk about fan commitment.
Stores in the area saw a big opportunity, too. The Liverpool Echo reported that the supermarket Asda created a Santa suit split in half — half red, and half blue, the suit was supposed to appeal to people's better angels and stop football rivalries. Asda said it commissioned a survey and found that 29 percent of British people would never wear their rival team's colors, and 17 percent would not do so on match day.
Police officers wear them too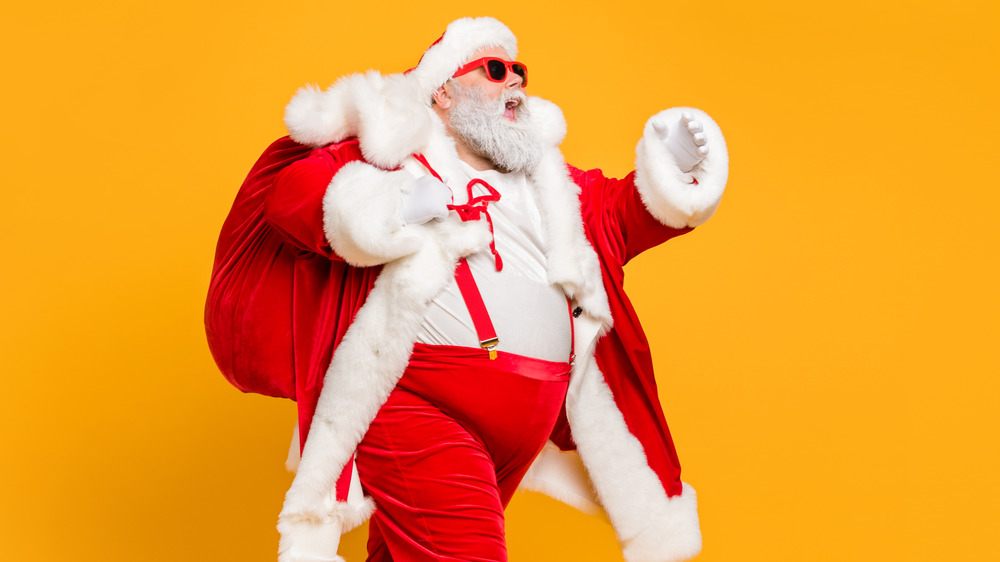 Shutterstock
Asda decided to offer the half-red, half-blue Santa suit as a token of friendship. Football fans often wear scarves emblazoned with the colors of two different teams to show there are no hard feelings for their rivals. The Santa suit was supposed to do the same. Asda only sells the costumes in Liverpool and Manchester, where the two rival teams, Manchester United and Manchester City, also wear the same colors (but light blue for City). Walmart, which owns Asda, is even thinking of selling similar half-half Santa suits for New York and New Jersey, per The Liverpool Echo.
While Everton fans wear most blue Santa suits, other people use blue suits for charity purposes. In Texas, the Austin Police Department, Austin Fire Department, and the Texas National Guard started Operation Blue Santa in 1972, said Time. The group gives out toys and meals to needy families in the Austin area. They wear blue Santa suits and their police-issued boots.
Santas wearing blue have a more historical origin, too. NPR said German immigrants that settled in Ohio brought with them a figurine of Santa Claus wearing blue. A toy factory in Akron, Ohio, has produced these blue Santa toys since the 1800s.
So if you see a blue Santa suit, don't be alarmed. It's probably a very loyal sports fan showing their true colors.