The Truth About The Lost Episode Of Drunk History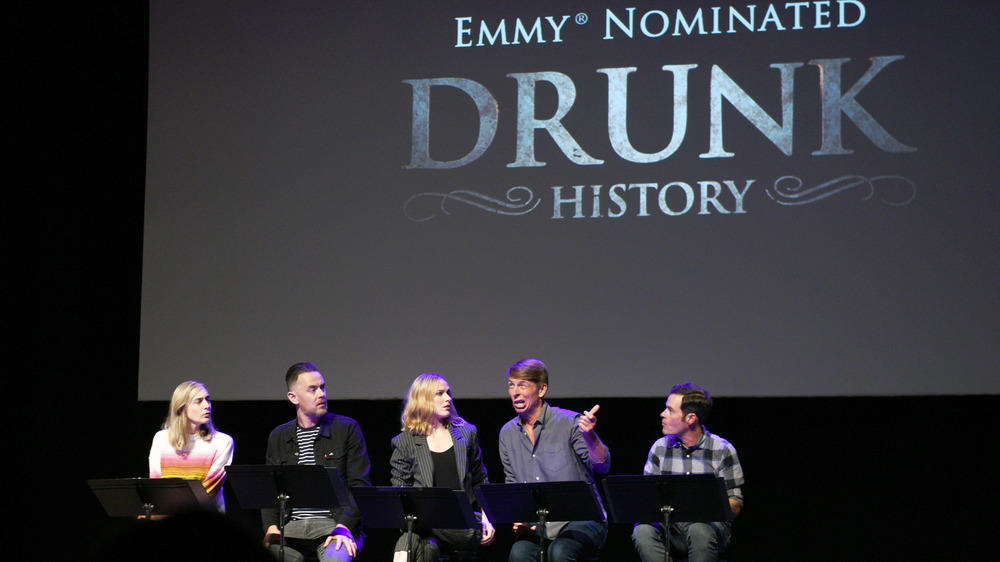 Andrew Toth/Getty Images
There are many things to love about Drunk History. It combines the best things about drunk people and history and mixes it with unintentional comedy. Yet, despite narrators passing out in what is probably a TV producer's nightmare, the show manages to impart lessons to its audience.
Unfortunately, Comedy Central, where Drunk History airs, canceled the show last August, despite previously renewing it for a seventh season, reports TV Line. Production on the season was already underway — they had shot all the drunk narration parts, and was supposed to begin filming the re-enactment scenes before COVID-19 forced productions to halt.
Creator Derek Waters now sits on a bunch of footage that fans of the show won't be able to see. But there is one episode we can consider lost in the ether that Waters had been waiting for years to make. And unfortunately, this episode will remain a pipe dream.
Drunk History began in 2007 on YouTube for the channel Funny or Die, explained Vulture. Waters and Jeremy Konner made six short videos for YouTube, all talking about historical facts with a narrator getting sauced. They managed to attract some A-list comedians to do reenactments for the videos. The first episode included Michael Cera and Ashley Johnson. It recounted the story of Alexander Hamilton and Aaron Burr's duel (later, Drunk History will feature Hamilton writer Lin-Manuel Miranda as a narrator for one episode). Waters then pitched the show to Comedy Central. It began airing in July 2013.
It started with Hamilton
According to Complex, Waters got the idea for the show after hearing his friend actor Jake Johnson recounting the tale of Otis Redding, who knew he was going to die when he boarded the plane that ultimately crashed and killed him. Johnson had been drunk, and Waters thought it was hilarious how he was stumbling over his story. (Johnson would later become famous himself for a different TV show: New Girl.)
Even though Drunk History now had a network budget, many aspects of the production remained very low-budget. Waters said this was part of Drunk History's charm. Over the years, the show produced six seasons and 70 episodes. It also picked up 17 Emmy nominations, winning for Outstanding Costumes in a Variety Series. Not bad for a show that used second-hand costumes back in the day. 
The show has spawned several international versions that follow pretty much the same format. As the host, Waters often drinks with the narrators, because he doesn't want them to feel like their drunkenness is being exploited. Waters is often called the "drunk whisperer" since he can coax out facts from the increasingly inebriated storytellers. And yes, they are totally drunk. Some episodes have featured narrators falling off their chairs mid-history lesson, still somehow able to talk about Thomas Edison in the middle of vomiting. It sounds disgusting, but for fans, it's comedy gold.
It would've ended with Hamilton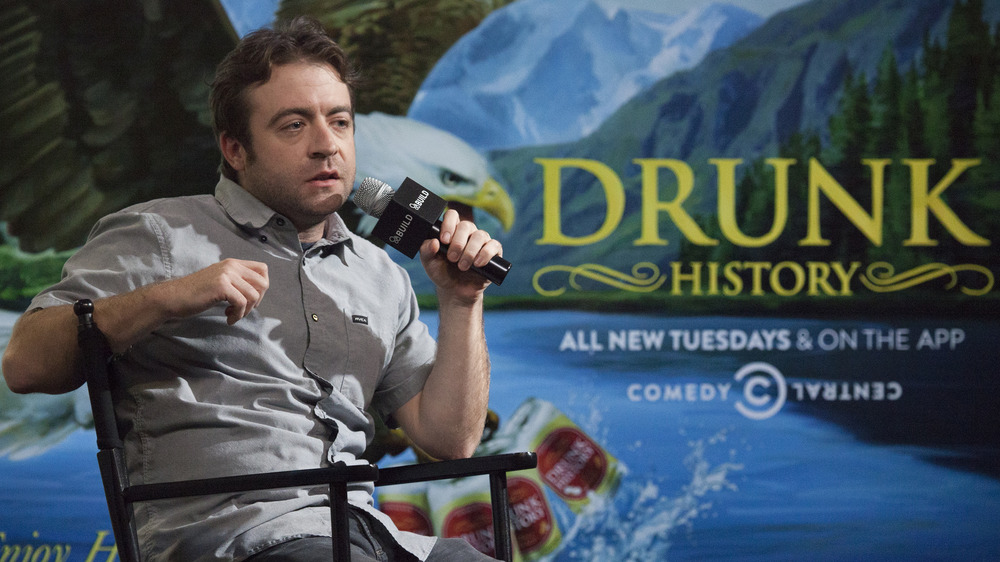 Santiago Felipe/Getty Images
The seventh season of Drunk History would have told stories about Bruce Lee, the Harlem Hellfighters, Stagecoach Mart, 1930s actress Thelma Todd, abolitionists Lewis Hayden and James Armistead Lafayette, Glenn Burke (baseball's first openly gay player), and the battle to build the largest ball of twine, wrote Variety, added to the over 200 historical tales presented over the years.
Drunk History grouped its episodes based on themes. In previous seasons, the show retold important historical events in different cities in the United States. It's also had election-themed episodes and the requisite Halloween editions that told the story of how American Halloween celebrations began.
The one episode that Waters truly wanted to do was supposed to be part of the now-lost seventh season. The theme was to be Teacher's Appreciation, and the narrators talked about their favorite teachers before launching into an historical education story. For the episode, Waters invited his favorite history teacher from high school, Mr. Stange, and gets him drunk while teaching TV audiences about Hamilton and the Whiskey Rebellion.
Unfortunately, that episode wasn't meant to be. Waters said the episode with his old teacher was one of his favorite moments, so he doesn't want that to go to waste. The Drunk History team is trying to figure out how to salvage its season, maybe even going back to its roots in YouTube.