This Is What The Royal Family Eats For Christmas Dinner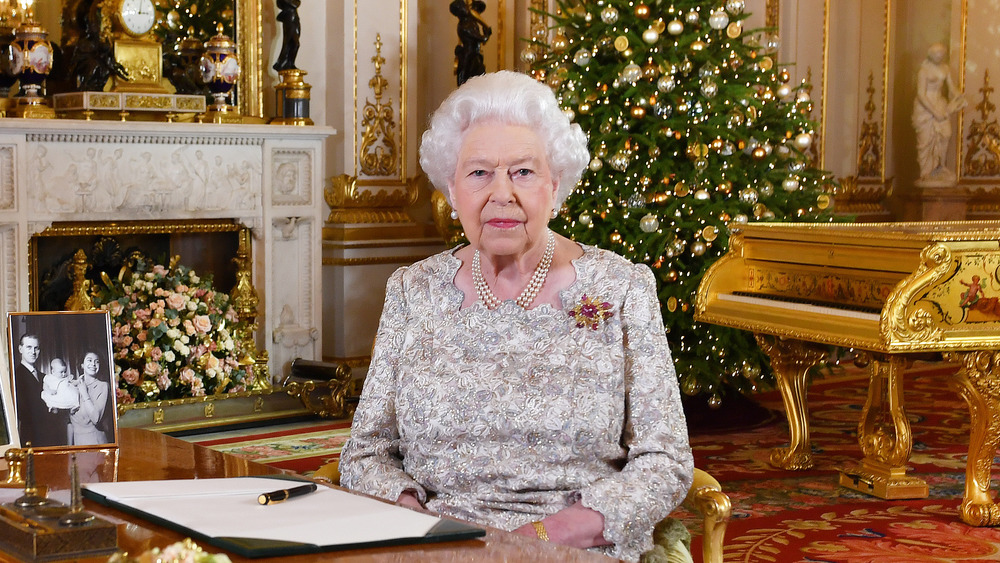 Wpa Pool/Getty Images
The British Royal Family is steeped in tradition, from how they dress to how they interact with people. Celebrating the holidays is no different, even though they are also just a family who wants to be together for Christmas and eat the food that comforts them. When the Queen, her husband, Prince Philip, her children, grandchildren, and great-grandchildren gather at Buckingham Palace and Sandringham House for Christmas, they usually choose some of their favorite foods.
First off, festivities begin the day before. According to the Independent, the family opens presents on Christmas Eve, in keeping with their German roots. This usually happens after afternoon tea. While there are undoubtedly very sentimental things among the pile, the family adds a few gag gifts as a tradition. Now that the gifts are out of the way, the family can then travel to the Queen's estate in Sandringham — about 110 miles. The Queen always rents out a whole train carriage, so she, her family, and staff can have it all to themselves.
They have traditions there, too. The family has Christmas breakfast, goes to Church, which often attracts many well-wishers, and then has lunch. Breakfast, wrote Delish, is a buffet, although former Royal Family chef Darren McGrady said the family's male members prefer to have a proper English fry-up of eggs, bacon, and mushrooms. And, as always, there is afternoon tea.
It's the dinners that are more family-like (though formal) meals.
Turkey with all the trimmings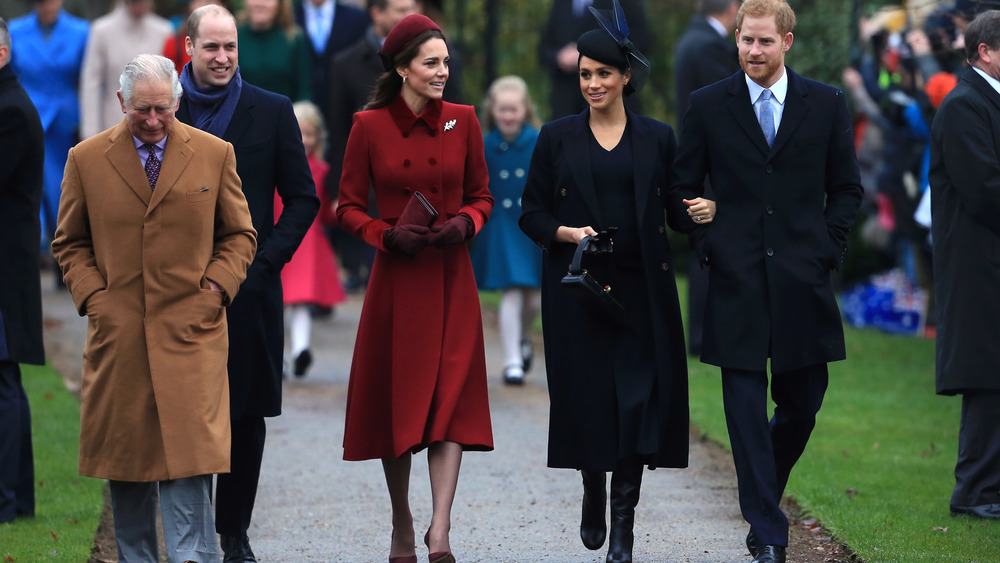 Stephen Pond/Getty Images
McGrady told the BBC the holidays include two dinners the Royal chefs prepare for, Christmas Eve and Christmas at Sandringham. Christmas Eve is usually a Black Tie event: the men are in tuxes, and the women wear gowns and pull out their expensive jewelry and family tiaras.
The food for the Christmas dinner rarely changes, McGrady said. The entree is always a roast turkey with all the trimmings. Yes, they eat turkey on Christmas much as Americans do on Thanksgiving, though the Queen doesn't participate in a turkey pardon or anything like that. The sides include stuffing made with onion and sage, Brussels Sprouts with bacon and chestnuts, and some other vegetables. McGrady said it varies year to year, but he's served carrots and parsnips, mashed potatoes, roasted potatoes, and mushroom gravy. Sometimes, there'd even be ham or a rib roast on the menu. These dinners can be lavish, he said.
The Christmas dinners are most likely also a buffet, per Marie Claire, since the Royal Family is rather large. And the head chef participates in a small ceremony right before everyone goes to stuff themselves silly. The chef goes into the dining room to carve up the turkey or the ham. Once the carving is done, the Queen offers them a glass of whiskey and gives a toast thanking them for their hard work. McGrady said those are the only moments the chef goes into the dining room, and it's his favorite tradition.
Lots of sweets, and alcohol, too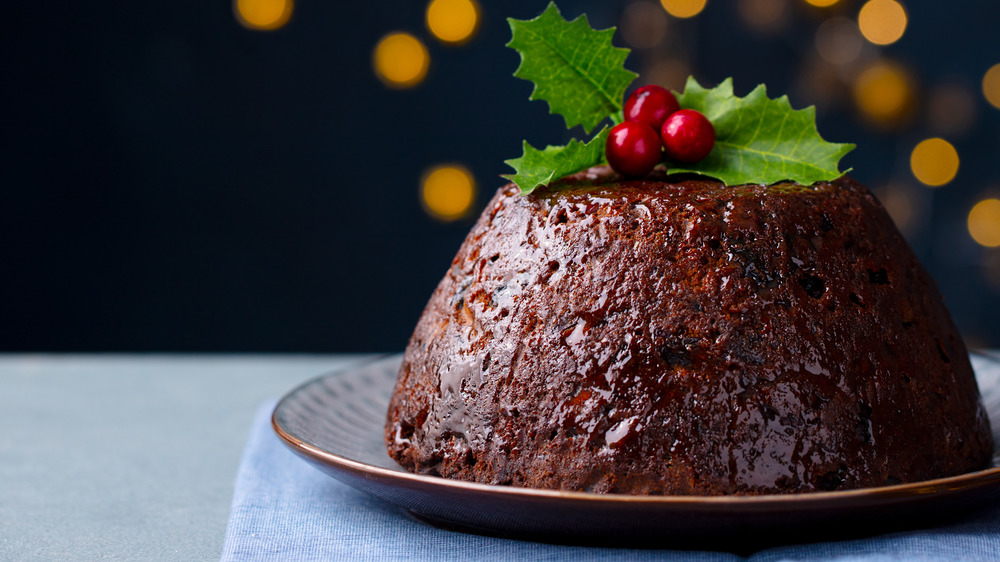 Shutterstock
But what about dessert? The Royal Family doesn't skimp on that either. But don't expect fancy modern pastries to be served up; they mostly stick with traditional British puddings. Royal chefs conjure up a dessert spread of mainly chocolate things, including chocolate pastries, a chocolate Yule Log (which is not a burning piece of wood but rather a cake that looks like, you guessed it, a log), and a Christmas Cake. Afternoon teas and Christmas lunches often feature fruitcake as well, since the dense cake most people keep forever is a favorite of Queen Victoria's.
Of course, no British Royal Family holiday dinner will be complete without Christmas pudding with brandy sauce. The BBC, however, confirmed the pudding does not have the requisite hidden coin that usually signifies luck for whoever bites in it. Former Royal chef McGrady said ever since the Queen Mother almost choked on a fish bone, they'd all been afraid to kill the monarch with a coin accidentally.
As for alcohol? Queen Elizabeth offers up a variety of choices, though she always starts the festivities with a Christmas Eve martini. After church, she'd often have gin and Dubbonet and a sip of champagne, while Prince Philip drinks beer. At dinner, she prefers Gewürztraminer, a sweet, aromatic white wine.
For many, Christmas is a time to just be with family, and the Royal Family isn't any different.