The Story Behind Paul McCartney's Latest Album, McCartney III
When The Late Show host Steven Colbert asked Paul McCartney in September 2019 how he became such a prolific and consistently high-quality artist (posted on YouTube), the former Beatle went through a whole spiel about his musical family, his pianist father, the library of old-timey songs he was exposed to on family jam nights. "When I finally came to write, I think I had a lot of clues as to how to write," he said, then added matter-of-factly: "Plus, I'm a genius." The joke killed in a funny-cuz-it's-true kind of way, and the interview continued swimmingly.
Fast forward a year, and once again Paul McCartney has been putting that genius to work, this time on the third installment of a recording tradition he began back in the tumultuous last days of the groundbreaking rock band that took the world by storm in the 1960s. In 1969 and 1970, as the Beatles were going through their messy breakup, Paul had been in the studio, secretly recording the songs that would make up his first solo album, McCartney. Written, performed, recorded, and produced entirely by Paul alone, the album was a sharp departure from his work with the Fab Four, and it gave the world the classic "Maybe I'm Amazed." He released the record a month before the Beatles' swan song LP Let It Be, signaling to the world that a new phase was coming in what would be an epic, decades-long career for the singer/songwriter.
McCartney II was recorded during another band breakup
McCartney II came a decade later. Similar to the preceding all-Paul album, this second installment was recorded during the dissolution of Wings, the band he formed after the Beatles. But in contrast to the first, McCartney set aside the soft, melodic sounds of acoustic instruments and put his genius musical experimentation mind to work on synthesizers, keyboards, sequencers, and other electronic equipment to create a funky synth-pop sound that didn't receive too much critical acclaim, but did give the world the gem of a single, "Temporary Secretary" (also on YouTube).
Another four decades would pass before Paul got the gumption to take on a whole album all by himself again. According to American Songwriter, McCartney III was planned for release on December 11, 2020, but was delayed a week due to "unforeseeable production delays." The album was finally released on December 18. Recorded during what Paul called "rockdown," McCartney III is the fruit of the former Beatle's work during the isolation imposed on society due to the COVID-19 pandemic. Having already had some work to do on a soundtrack for an animated short film at the beginning of the pandemic, Paul started to get that old feeling of creating a fully DIY album and decided that creating the third installment in his McCartney series would be a great way to pass the time, since no one would be buying concert tickets any time soon.
Paul McCartney gives the details about his latest solo album, McCartney III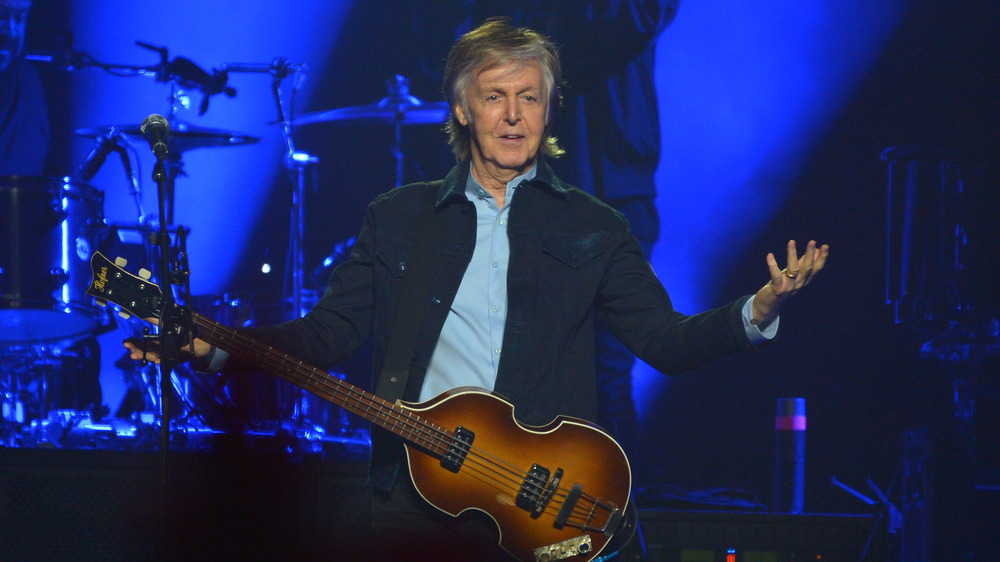 Jim Dyson/Getty Images
"It was kind of unintentional," Paul told Loud and Quiet. Even as he was going along tinkering in the studio, recording "bits and bobs," he assumed he was just passing the time while he waited for the world to heal. Then came a moment of clarity when he said to himself, "Wait a minute, this is a McCartney record." He realized what he'd been doing was exactly what he'd done on the first two McCartney albums, so it was only logical to release a third. "That was a little light bulb going off, and I thought, 'Well, at least that makes a point of explaining what I've been doing, unbeknownst to me.'" He said that in the four decades after the release of McCartney II, it had never occurred to him to make another until that moment.
Although this third installment did not come during another band breakup, what it had in common with the first two was that Paul suddenly found himself with a lot of extra time on his hands. He was supposed to tour Europe, but when the coronavirus stopped the world in its tracks, he suddenly wasn't so busy. "And with me, when I've got a lot of time, my go-to situation is, 'Well, write and record,'" he said. Despite the dark days in which it was recorded, the album is ultimately hopeful. "The old themes are there," said Paul, "of love and optimism."