The Tragic Death Of Liberace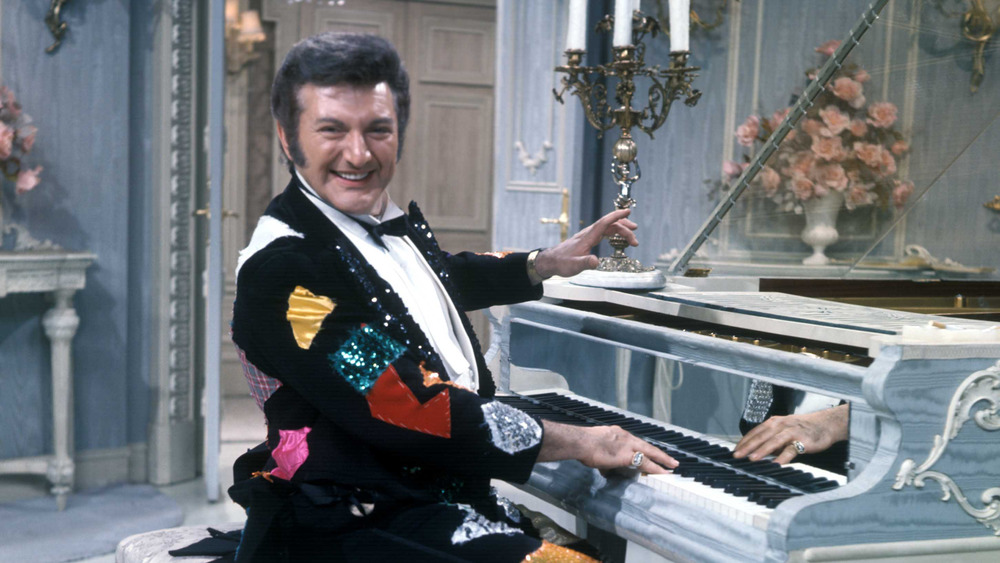 Photoshot/Getty Images
The fabulous and flamboyant pianist Liberace was at one point the highest-paid entertainer in the world. He defined excess and the Las Vegas lifestyle. His whole persona relied on extravagance, but underneath it all was a man who felt he needed to hide a part of himself. And when he died, some of his secrets came spilling out.
Liberace, born Władziu Valentino Liberace to Polish and Italian immigrant parents in 1919, began playing the piano at a young age. Despite his parents' reluctance, he started performing professionally at clubs in Wisconsin to earn some money during the Great Depression. Even as a teenager, Liberace showed an interest in all things beautiful. Of course, this being the 1930s, he was teased mercilessly for acting effeminate.
Nevertheless, Liberace pursued a career in entertainment by performing in clubs and hotel lobbies. He also played in what was called Soundies, early music videos of sorts. He leaned into his extravagant persona and started selling out Madison Square Garden and getting his own television special. Eventually, he landed a residency in Las Vegas, thanks in part to his friendship with a Las Vegas hotel's entertainment director, said USA Today, and became known as "Mr. Showmanship."
From then on, his celebrity started growing. He had a television show, starred in movies, and his regular gig in Las Vegas. He had several homes and hobnobbed with other stars. But even then, rumors about his sexuality were growing. He denied them and laughed when someone confronted him about it.
He had many secrets
V&a Images/Getty Images
Liberace was actually quite conservative and sought legal action against many people to protect his reputation. He sued two newspapers, the UK's Daily Mirror and the American magazine Confidential in the 1950s for insinuating that he was gay.
In reality, he did invite men to his home and had romantic relationships with several of them. People around him told stories about his conquests and how he sometimes wasn't discreet about whom he slept with. USA Today reported that once, a man he invited to his house had stolen money from him. He told a friend who had introduced them not to call the police. Liberace said he didn't want the public to know the man had been in his bedroom, since that's how the money was stolen.
Liberace then met 17-year old Scott Thorson. The New York Times wrote that Liberace treated Thorson as a lover, a son, and employee — Biography describes Thorson as Liberace's "former bodyguard and chauffeur" — paying for cosmetic procedures, shopping sprees, and gifts.
In 1982, Thorson sued Liberace for palimony and asked for $113 million. That year, Liberace's entourage kicked Thorson out of his Los Angeles house, possibly because of his drug habit and the pianist's promiscuity. It was a hard battle, mainly because Liberace still denied he was gay. They settled in 1986 because, as Thorson said, he knew Liberace was dying.
And it was true. Liberace died on February 4, 1987, from cytomegalovirus pneumonia, a complication from HIV.
It all comes out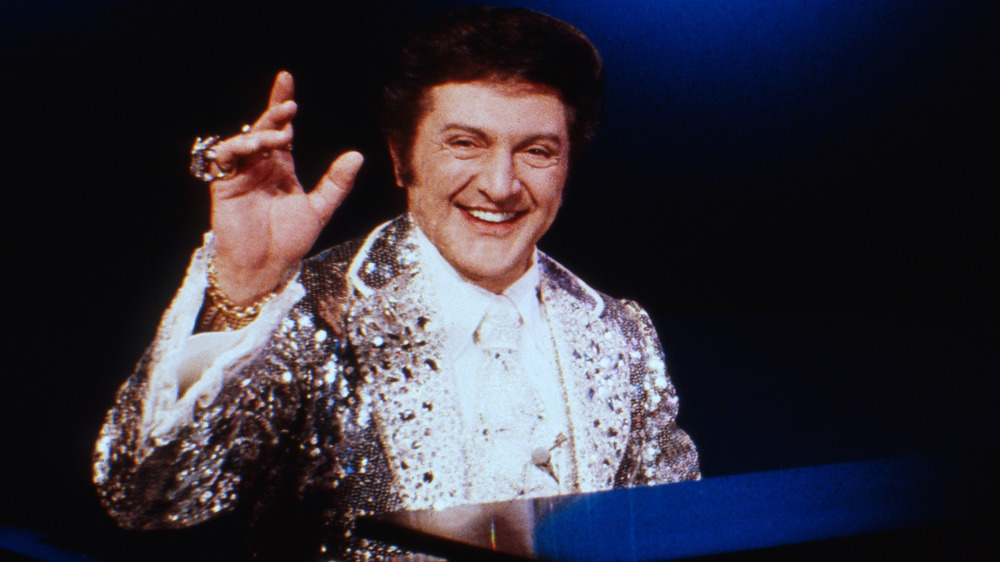 United Archives/Getty Images
According to The Wrap, Liberace's estate continued to deny the rumors. They sued the coroner's office for declaring he died due to HIV. Liberace had looked unwell before his death. The public was concerned, but his doctor announced it was only because he was on a "watermelon diet." When Liberace died, his doctor released a statement stating the cause was a heart attack. An autopsy performed by the LA County Coroner disputed that claim.
The end was not kind to Liberace. He rapidly lost weight and had trouble breathing. He checked into the hospital but was eventually told to go home. In reality, he had been diagnosed with HIV a few years prior. His partner at the time of his death, Cary James, later confessed they promised not to tell anyone about their diagnosis. James died of the virus in 1997.
Liberace fought tooth and nail to protect his privacy and keep his closet door firmly shut. The public might have been ignorant of the reality if it weren't for the ugly battle for his inheritance. The Los Angeles Times said a battle to remove his long-time lawyer as executor of his will forced his friends, family, and staff to testify on his behavior and state of mind near the end of his life. No secret was left unturned.
Liberace's death was tragic, and made even more so because for years afterward, his estate kept denying the real cause of his death.