The Tragic Death Of Thomas Nast, The Man Who Created Santa Claus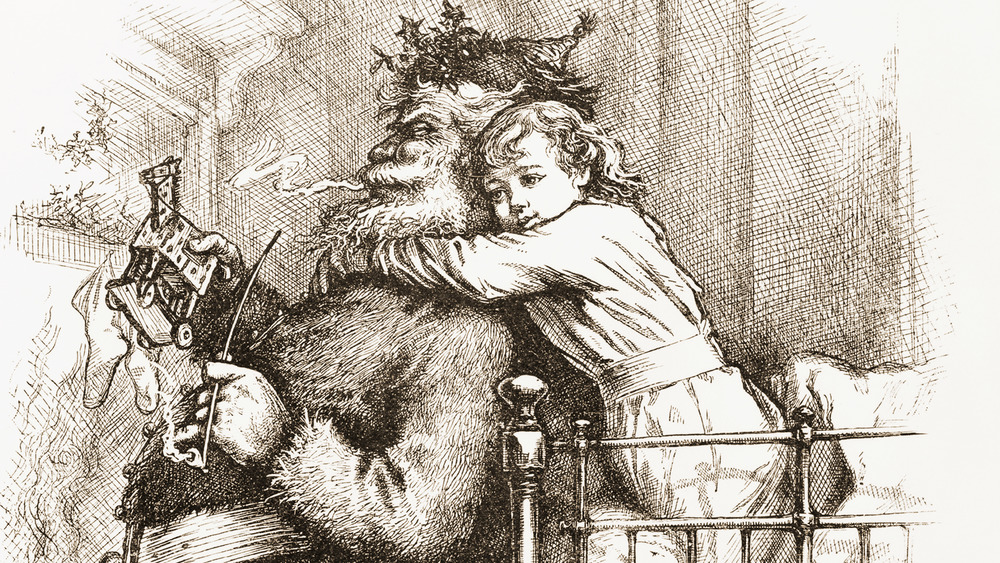 Graphicaartis/Getty Images
We may receive a commission on purchases made from links.
Ever wonder who first came up with the jolly, rather rotund man who delivers presents by reindeer each year? A few theories swirl about this piece of Christmas lore. Some say Coca-Cola's illustrator Haddon Sundblom and his 1931 picture of a white-bearded, red-suited Santa cemented the character — something the beverage company won't overtly promote, although its website admits that "Coca-Cola advertising did play a big role in shaping the jolly character we know today." 
Smithsonian reports that the real inventor of the image of Old Saint Nick we all love is cartoonist Thomas Nast, whose version of Santa appeared in the January 3, 1863 edition of Harper's Weekly. Nast did two illustrations for the issue: one, of the jolly man visiting a Union Army camp, wearing "a jacket patterned with stars and pants colored in stripes" as he displays a toy puppet, which looks an awful lot like Confederate president Jefferson Davis, with a rope circling his neck. (Hmm ... subtle.)
The other picture continues Santa's political exploits as he appears in a sleigh and slides down a chimney in art that frames the main images of a woman praying and a soldier posed against a tree. This imagery helped continue Christmas's journey from strictly a religious holiday to a more commercial celebration, starting during the Industrial Revolution and continuing as Clement Clarke Moore's 1823 poem "A Visit from St. Nicholas," whose verses also inspired Nast's drawings, became popularized, according to the Smithsonian.
Twenty-plus years of Santa Claus drawings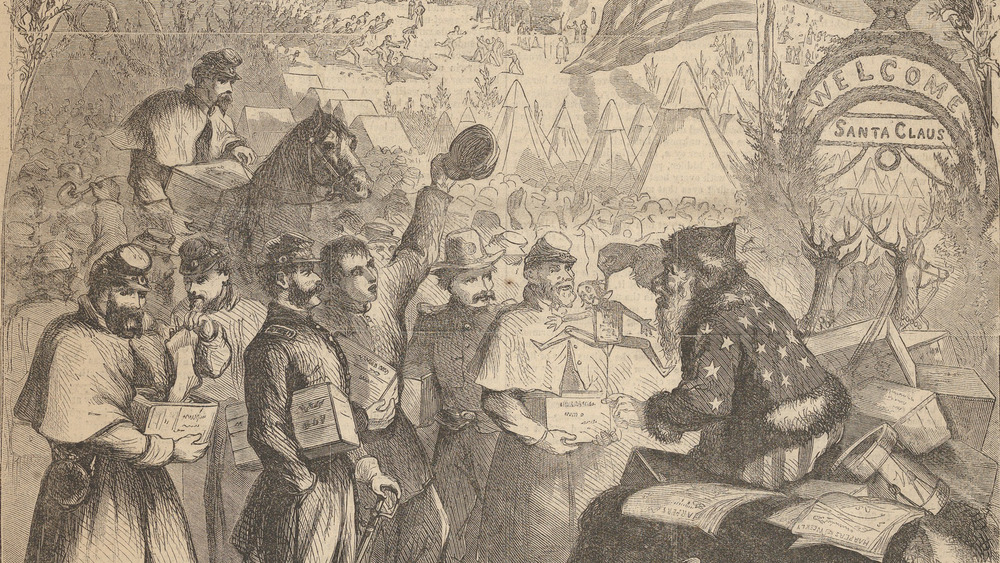 Heritage Images/Getty Images
Nast's yearly Santa drawings continued to decorate Harpers Weekly until 1886. The 33 pictures continued to reinforce the image of the man we all love today, and Nast, who believed in abolition, civil rights and other causes, used Santa's visage to make various political commentaries along the way. Nast also "suggested that Santa could be found at the North Pole and that kids could send him their wish lists there," according to Biography. 
Besides a vision of Santa, Nast created the Democrats' donkey, the Republican's elephant, and an popularized an iconic image of the nation embodied as Uncle Sam, relates the National Museum of American History. His political cartoons helped topple New York City's corrupt Boss Tweed and his Tammany Hall cronies.
The cartoonist gained fame and wealth from his work. As American Heritage reported, "To his contemporaries Thomas Nast was unquestionably American's greatest and most effective political cartoonist, attacking corruption with a brilliant and often vitriolic pen." 
Unfortunately, the talented artist knew little about finance and a series of bad investments, including a failed silver mine and a Wall Street firm, caused money problems. Then Harper's Weekly, the publication that had nurtured his career, ended their collaboration with him in 1886. Nast lost his paycheck and his mouthpiece.
The death of Thomas Nast
Heritage Images/Getty Images
He started a newspaper, but that failed, too, and Nast was forced to make ends meet by selling possessions, firing employees, and taking a mortgage on his house. In 1889, he and Harper's reunited to produce a book, Christmas Drawings for the Human Race, published in 1890, which featured past images he had created of Santa Claus along with new work. Nast wouldn't work with Harper's again, but he continued to produce art, painting in his studio, and taking commissions, although the amount he earned was often not enough to support his family.
President Theodore Roosevelt, a longtime fan of Nast's, appointed him as consul general in Guayaqull, Ecuador. The job ensured that his bills were paid, but the conditions in the country challenged Nast, as did his loneliness, since all his loved ones remained so far away. Yellow fever raged through the country when Nast arrived in July 1902, and he would die from the disease in December at the age of 62. A sad end for a man who took down scoundrels, created the modern mythology of Santa Claus and Uncle Sam, and is considered one of the most influential political cartoonists of all time.