The Tragic Death Of Eazy-E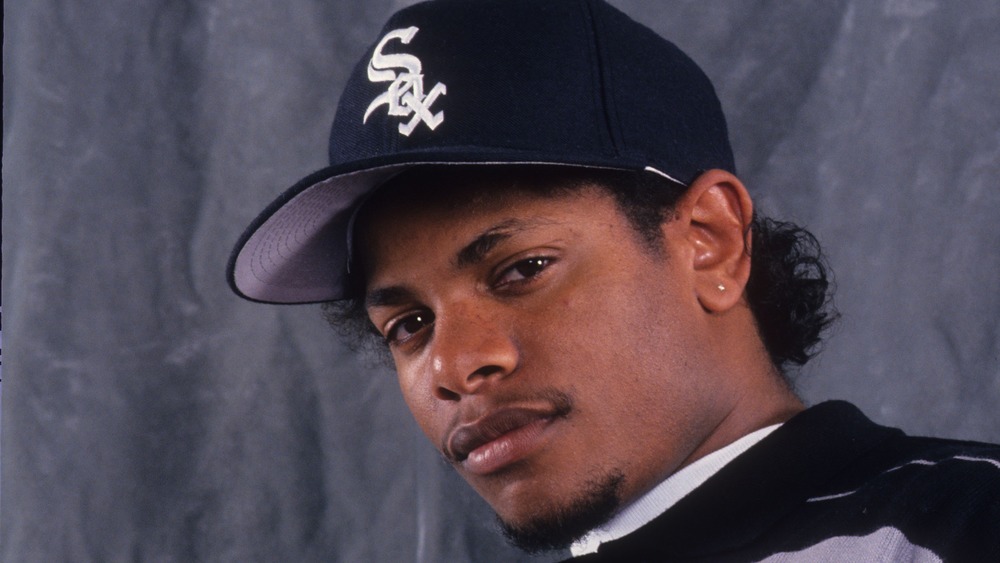 Al Pereira/Getty Images
Just as the rap genre began earning mainstream acceptance and subsequent radio play thanks to the likes of Run-DMC and the Fresh Prince in the early 1990s, California-based group N.W.A. rose to prominence as a more aggressive, provocative alternative to popular rappers of the genre's pop infancy. More specifically, N.W.A. helped to solidify the gangsta rap subgenre that so gruesomely detailed the violent life of those living in inner-city Los Angeles. The group also helped develop a new kind of storytelling approach to the mainstream canon with cult classic albums like Straight Outta Compton, eventually launching members like Dr. Dre, Ice Cube and Eazy-E to stardom.
Per UPI, born Eric Lynn Wright, Eazy-E touted what was perhaps N.W.A.'s most distinctive voice, spiritually and literally, contributing to rap milestones like "F*ck tha Police," "Gangsta Gangsta," and "Boyz-n-the-Hood." In his teens and early 20s, Wright was allegedly making as much as $250,000 from dealing drugs on L.A. streets. However, after his cousin was shot and killed, he decided that he could make a better living in the Los Angeles music scene, which was spiking in popularity. He started recording songs during the mid-1980s in his parents' garage, thus starting Ruthless Records, which led to the formation of the successful rap group.
After inner turmoil saw N.W.A. part ways, Eazy-E embarked on a very successful solo career. However, the talented gangster-turned-rapper didn't enjoy the limelight for very long.
Eazy-E's undiagnosed disease
Michael Ochs Archives/Getty Images
On February 24, 1995, Eazy-E (who had long suffered from asthma) checked himself into the ICU of Los Angeles' Cedars-Sinai Medical Hospital, assuming he was suffering from that medical condition. As UPI reports, the rapper was listed as in "critical but stable condition" by medical staff. However, the rapper soon learned that his problems weren't related to asthma. Doctors diagnosed the rapper with AIDS, which was believed to have been contracted from a sexual partner. Ten days later, Eazy-E died at the age of 30 from AIDS-related pneumonia.
"People will talk and say evil and vicious things," music industry head Greg Cross said in a bittersweet eulogy to the rapper, according to the Los Angeles Times. "But [Wright's] legacy will survive in a type of music that promoted reality and awareness and also by how you paved the way for brothers in the 'hood with your creative aspirations."