Inside The Tragic Life And Death Of MF Doom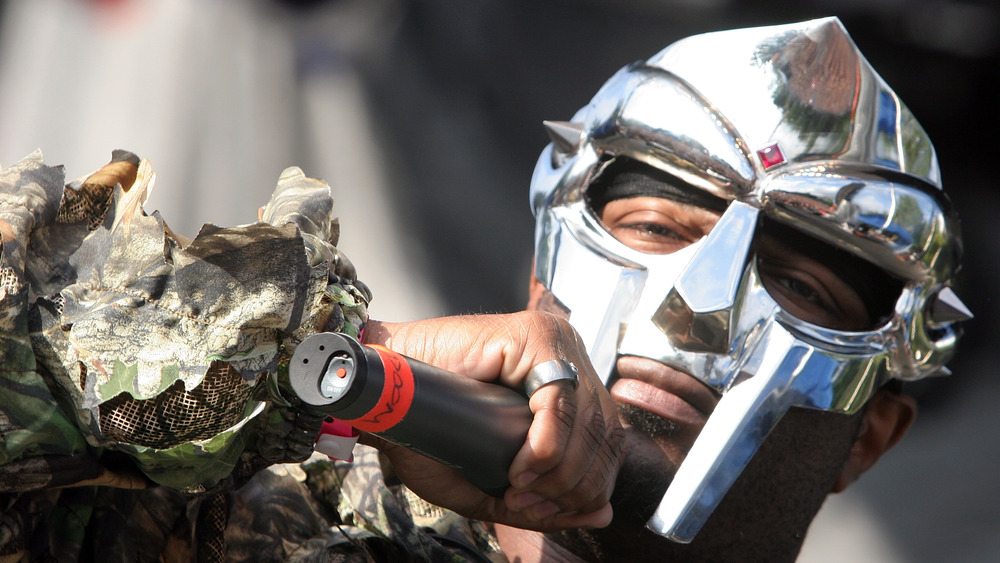 Roger Kisby/Getty Images
On December 31, 2020, while the world said good riddance to a year already fraught with doom and gloom, news dropped of the death of underground rapper MF Doom. It was broken by his wife Jasmine in a post to Instagram.
Addressed "To Dumile," the last name of the rapper behind the mask, she wrote: "The greatest husband, father, teacher, student, business partner, lover and friend I could ever ask for. Thank you for all the things you have shown, taught and given to me, our children and our family. Thank you for teaching me how to forgive beings and give another chance, not to be so quick to judge and write off. Thank you for showing how not to be afraid to love and be the best person I could ever be. My world will never be the same without you. Words will never express what you and Malachi mean to me, I love both and adore you always. May THE ALL continue to bless you, our family and the planet."
But in a move most likely fitting for a rapper who wore a mask designed after the Fantastic Four evildoer Dr. Doom, Daniel Dumile's death went under the radar for two whole months before the rest of the world heard about it. His wife ended her post with the news: "Transitioned October 31, 2020." Just as enigmatically, she did not tell the world what caused his transition.
MF Doom's start in the rap world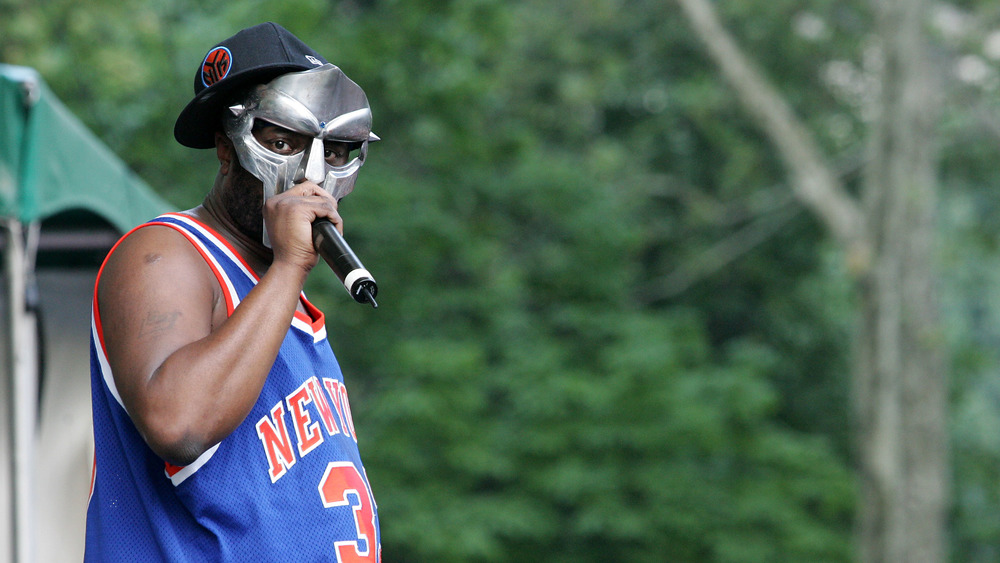 Peter Kramer/Getty Images
Writing in The New Yorker, Ta-Nehisi Coates called Dumile's rap style "vibrant and freewheeling." Before he was MF Doom, Dumile got his start as Zev Love X on a 1989 track called "The Gas Face," by a group called 3rd Bass. He was 18 years old at the time.
A couple years later he returned as a member of KMD, who had a moderately successful song called "Peach Fuzz." The comedic element that would go on to define MF Doom's lyrics later in life was already apparent in self-deprecating lines like: "By the hairs of my chinny chin chin, gots many plus plenty / String by string, I think I counts like twenty." But after tragedy struck the group and the Dumile family in 1993, KMD found its career in the rap game cut short. Dumile's brother Dingilizwe, who was also in the group, was struck by a car and killed that year. The group's label, Elektra, then refused to release its second album due to issues with the cover art.
Dumile then stepped away from the national music scene. But he wasn't done yet. He told Stones Throw that he spent the rest of the '90s being "damn near homeless" and working on what would be his comeback. In 1999, he released the solo record titled Operation: Doomsday under his new persona: MF Doom.
MF Doom used his mask to 'control the story'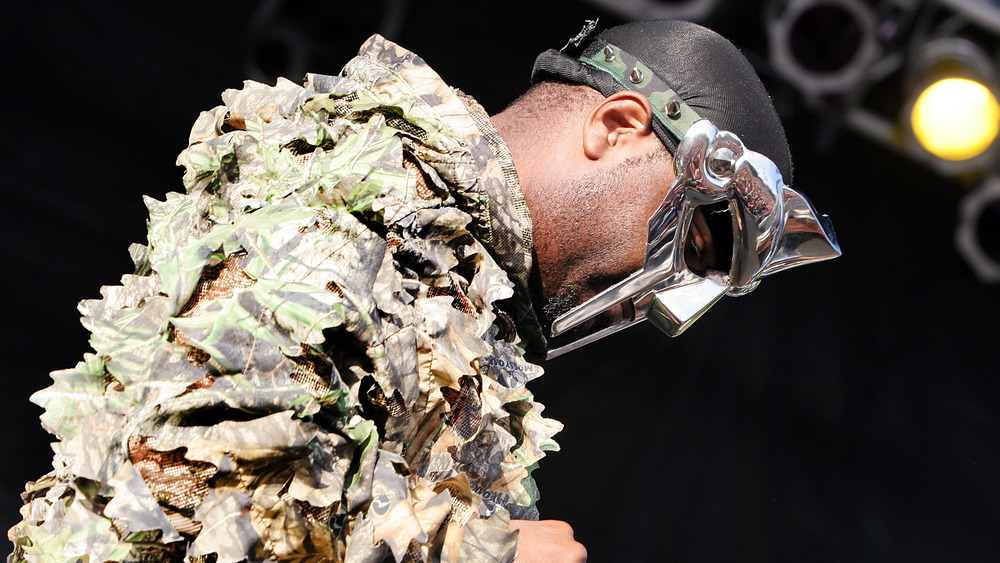 Roger Kisby/Getty Images
Unlike other popular rappers of the day, who flaunted their money and machismo, MF Doom stuck to his humorous, often self-critical lyrical attitude, and added in a good helping of nerd knowledge. In addition to basing his new persona on a Marvel supervillain, he rapped about sci-fi movies and TV shows like Logan's Run and Star Trek. As CBS News reported, Dumile's new character shunned the limelight, using his mask to ward off any fame that came his way.
Dumile said that wearing the mask was a way for him to "control the story," subverting the public's ability to judge him before hearing what he had to say (via The New Yorker). In fact, his aversion to the spotlight was so strong — he spoke of performing live as something he did with reluctance — that he often didn't even get on stage at all. He sometimes sent one of the members of his entourage on stage in the mask to lip-sync his shows. He saw these so-called "Doomposters" as apropos of the kind of musical persona he had created, but his fans often didn't see it that way and complained online after shows where they'd paid to see him.
So maybe laying low for months before telling the world he was dead was the perfect way for MF Doom to go. As he told Coates back in 2009, "Fame never helped the situation. Fame, in the streets, is something you don't want.