The Truth About The Prodigy Singer Keith Flint's Marriage
Simone Joyner/Getty Images
British electronic dance band The Prodigy ended the last millennium playing the likes of major festival circuits worldwide. It's a sharp contrast with the group's humble beginnings in Essex during the early 1990s. The Prodigy started as a rave band, playing giant dance parties in England that were usually very loud and very drug-fueled, sometimes held at secret locations. They took the rave world by storm, clearly standing out with their fusion of dance and punk, which were seen as rival genres in the music industry at the time.
The Prodigy slowly migrated to larger stages throughout the decade and became international sensations, earning nominations for top music prizes, including the U.S. Grammy Awards and a string of Brit awards.
According to the Irish Examiner, Prodigy frontman Keith Flint married Japanese DJ Mayumi Kai (maybe you know her by her stage name, DJ Gedo Super Mega Bitch) in December 2006. Although Flint reportedly couldn't speak Japanese and Mayumi couldn't speak English, it didn't stop the couple from having a lavish wedding with a star-studded guest list, including Liza Minnelli's estranged husband David Gest and Liam Gallagher from Oasis.
His wife helped him with sobriety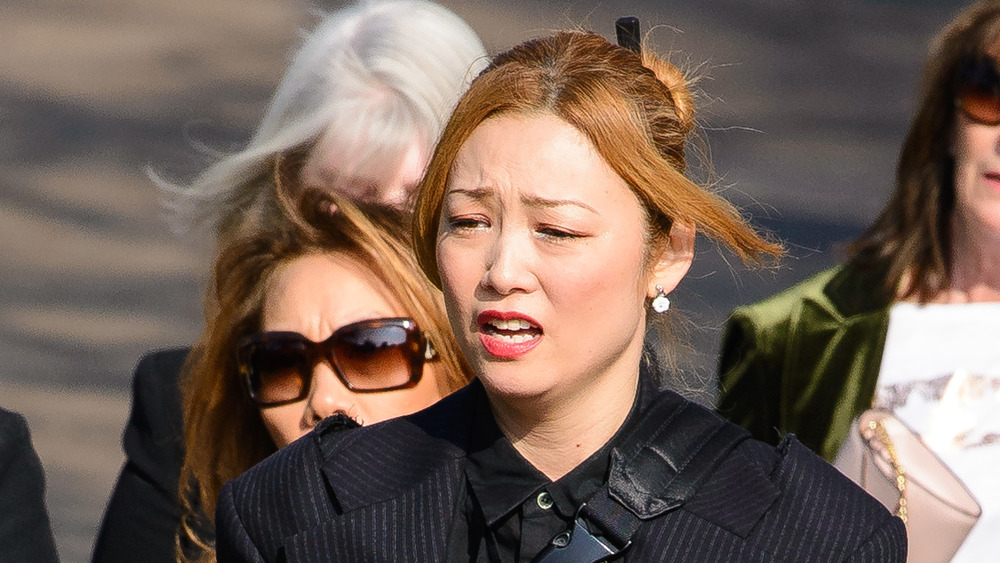 Joe Maher/Getty Images
As reported by Heavy, Flint said that his wife helped him to get sober from drugs: "We were touring and she just walked into this room we were in, and you know how it is, I just couldn't talk, I was overwhelmed. I'd done my share of drugs and sh****** around," Flint said, calling Mayumi "beautiful, f****** cool." The Tokyo-based DJ was often seen with the vocalist at motorbike events and even opened for The Prodigy during a 2012 tour. Flint has called Mayumi a co-owner of his pub The Leather Bottle. The couple had nine dogs and restored a mansion together in the English countryside.
The couple was separated at the time of Flint's death in 2019. According to The Irish Mirror, Flint reportedly begged Mayumi to come home days before he tragically passed away at the age of 49.
"Keith always hoped they could make it work and he made various phone calls to her, pleading with her," one source told the publication. "But she didn't change her mind and insisted they sell the house. It broke Keith."
At the time of Flint's death, Mayumi was back in Japan and had nothing public to say about her husband's passing beyond retweeting a news story. Heavy reports that her Twitter feed had no other references to her husband of 12 years.