A Look At Joe DiMaggio's Ties With The Mafia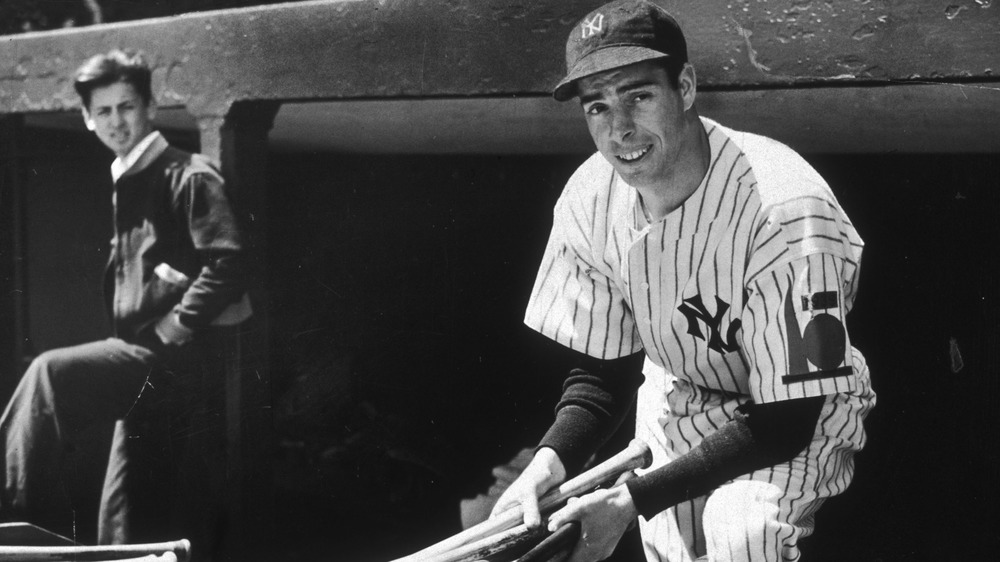 New York Times Co./Getty Images
Throughout his lifetime, while at the peak of his game as a New York Yankee, and even during his retirement, baseball legend Joe DiMaggio made connections with some very interesting people. DiMaggio's position at the top of the world eventually led him to ties with those in the underworld. According to the Tampa Bay Times, Pulitzer Prize-winning author Richard Ben Cramer detailed DiMaggio's ties to the mafia in his book, Joe DiMaggio: The Hero's Life. Yes, even "Joltin' Joe" was made offers he couldn't refuse, and such offers were able to help DiMaggio walk away from his $100,000-a-year salary as a New York Yankee.
According to Cramer, mobster Frank Costello set up a "trust fund" at the Bowery Bank, which was consistently added to every time DiMaggio made an appearance at nightclubs like the Copacabana, Stork Club, and El Morocco. "Costello loved Joe," Cramer told the New York Daily News, "and he felt it was the gentlemanly thing to do _ to put a couple of bucks in the Bowery for Joe's retirement. Of course, the irony of this arrangement is that years later, Joe did all those commercials as the spokesman for The Bowery. When he told us how safe your money was with The Bowery, he knew what he was talking about."
Joe DiMaggio's ties to other famous mafia members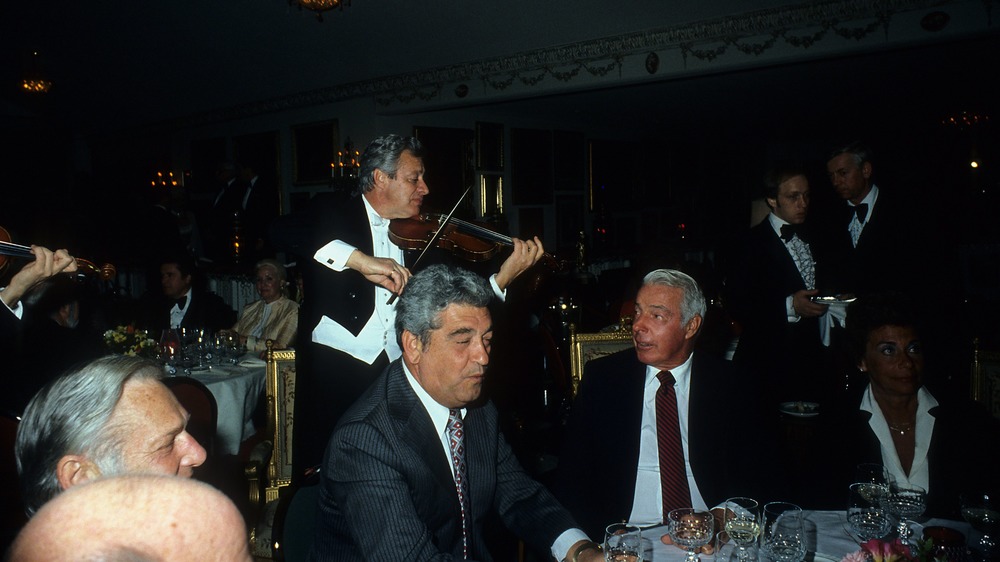 Donaldson Collection/Getty Images
The baseball legend also shared ties with other mafia crews outside of New York, such as the New Jersey mafia and the Chicago mafia. In an excerpt from Joe DiMaggio: The Hero's Life on ESPN, Cramer explained how DiMaggio was good friends with Chicago crime boss Sam Giancana. DiMaggio would play golf with Giancana and would help out his girlfriends when they came to New York, getting them into places like the Plaza Hotel. New Jersey mobster Abner "Longy" Zwillman would frequently leave suitcases full of money at people's places he knew were safe bets — one of those safe bets was none other than the "the Yankee Clipper." Longy would sometimes leave up to three suitcases full of hundreds of thousands of dollars at DiMaggio's, saying: "This is my money. When I need it I'll be back for it."
Longy never came back to get his money. The mobster was later found hanging from a chandelier in West Orange, New Jersey, after hijacking a truckload of beef that was being delivered to Petey Castellano in Brooklyn. DiMaggio still had three of Longy's "boxes" — and certainly wasn't going to the cops. The baseball legend was also known for being very quiet his whole life, often saying very little or nothing at all to even members of his team. Mobsters knew he wouldn't talk to the cops or the FBI, which is one of the reasons they liked him. And in this case, it paid off for DiMaggio, who was able to use the money he kept for his friend in the mafia.