Why Arnold Schwarzenegger Was Told To Spend Time In Military Prison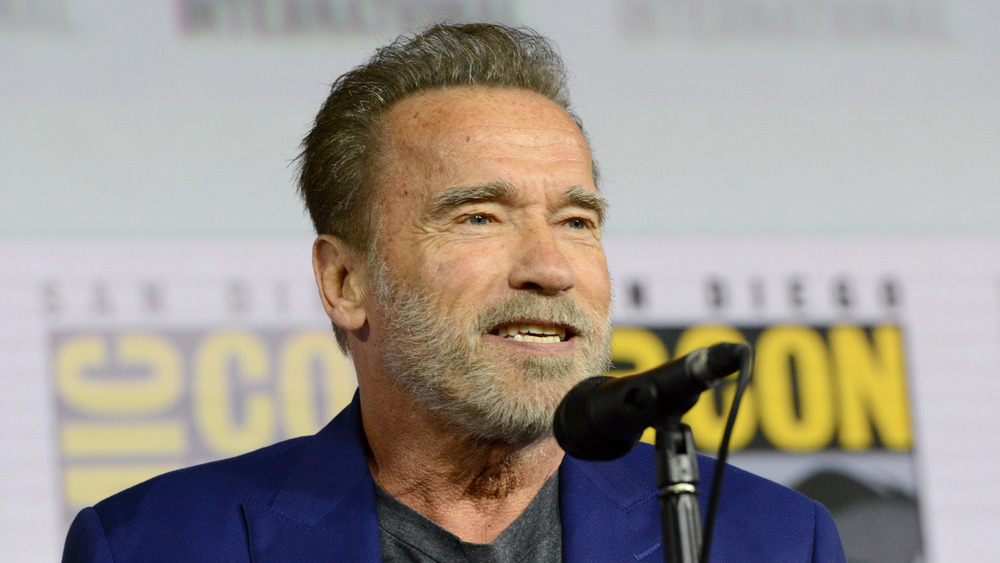 Albert L. Ortega/Getty Images
No matter how many people do funny Arnold Schwarzenegger impressions, there will only ever be one Arnold. The former Mr. Universe and Mr. Olympia, two-term Governator of California, and undisputed emperor of cheesy action flick one-liners, Schwarzenegger has defied the odds at every turn and come to embody the power of relentless motivation. 
Born in 1947 in Thal, near Graz, Austria, Schwarzenegger grew up in a poor household with no plumbing or phone. His father Gustav was a policeman, an alleged former Nazi, and often pitted Arnold against his older brother, Meinhard, in athletic competitions, per MentalFloss. Never academically inclined, Schwarzenegger excelled at sports from a young age. As CNN cites, though, Arnold  "disliked it when we won a game and I didn't get any personal recognition. The only time I really felt rewarded was when I was singled out as being best." Hence his decision to go into bodybuilding.
On She Knows Arnold says, "I never saw a 'no' as a 'no.' I always heard 'yes.' Whenever someone said 'It's impossible,' I heard 'It's possible.' What was important to me was that I had a very clear vision of where I wanted to go. Since I was 10 or 11 years old I wanted to come to America, I wanted to be a body-building champion, the strongest man in the world..."
It's this attitude that drove Arnold Schwarzenegger in those early days and defined his future life. It's also the reason why he ended up in prison.
The Austrian Oak goes AWOL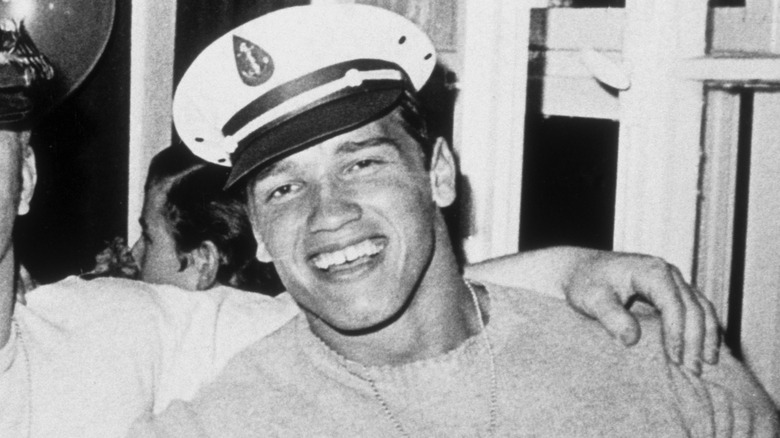 Michael Ochs Archives/Getty Images
Arnold Schwarzenegger didn't just talk about his objectives from a young age, or wish for them; his singlemindedness allowed him to follow them through, as Christian Science monitor points out. As a teenager he started hanging out at Thalersee Restaurant, a local hangout for weightlifters, despite his father's objections that bodybuilding was "the pursuit of homosexuals." Arnold went so far as to build his own weights at a local metalworking shop, and as his training intensified, he set his eyes on the Junior Mr. Europe contest.
His plans were interrupted in 1965, though, when at the age of 18, his one-year mandatory military service in the Austrian army began. Arnold's goals wouldn't be waylaid, though, and he decided to sneak out of camp one night and slip over to Germany to participate in the contest. As he says on James Nicolson's blog, "Participating in the competition meant so much to me that I didn't carefully think through the consequences." Foresight notwithstanding, Arnold wound up placing 1st, as the bodybuilding site GMV shows.
Upon winning the competition, Arnold was remanded to "two or three days in army jail" but was released because military officials felt "uncomfortable" about their decision. In fact, these officials were among Arnold's earliest superfans. As soon as Arnold was back with his troupe, they built a homemade gym for him and supplied him with nutrition he needed to pack on 25 pounds of muscle over the next year.
The rulebreaker makes it big in Hollywood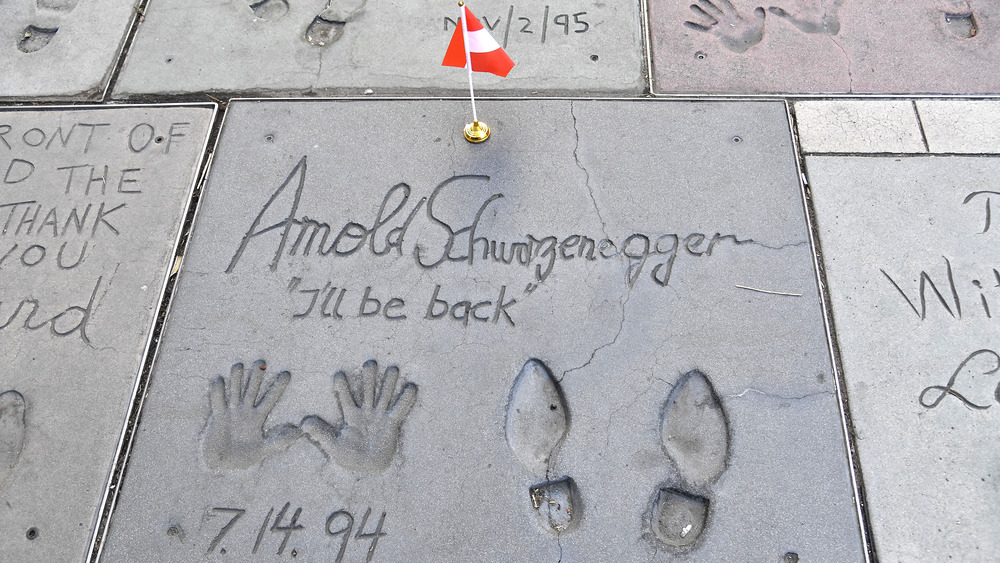 Frazer Harrison/Getty Images
Arnold's defiance paid off because he went on to win numerous other bodybuilding competitions through the mid-60s, including multiple powerlifting championships. As Britannica says, he came to be known as the Styrian Oak, or Austrian Oak. In 1967, at age 20, he beat out fellow contender Dennis Tinnerino to become the youngest person in history to become Mr. Universe, as Web Archives chronicles. This competition proved an invaluable lesson to Arnold, who recalls psychologically beating Tinnerino – who had the superior techniques and experience – by locking eyes with him and saying, "It's the kind of day when you know you're going to win."
After this, Arnold Schwarzenegger moved to California in 1968 and went on to win five Mr. Universe titles total, as well as Mr. Olympia six years in a row (1970 – 1975). He was already a millionaire by the time he pursued his career in acting. His first role in 1970, Hercules in New York, saw Arnold's signature accent overdubbed, but after that, we all know how well things went: Conan the Barbarian (1982), The Terminator (1984), Commando (1986), Predator (1987), Total Recall (1990), True Lies (1994) – the list goes on and on. Arnold even refused to change his last name and "lose his accent" on advice from Luke Skywalker himself, Mark Hamill, regarding breaking into Hollywood, as Business Standard tell us.
As Arnold wrote on Twitter, "I just happen to be a rule-breaker."