A Look At Joe DiMaggio's Time In World War II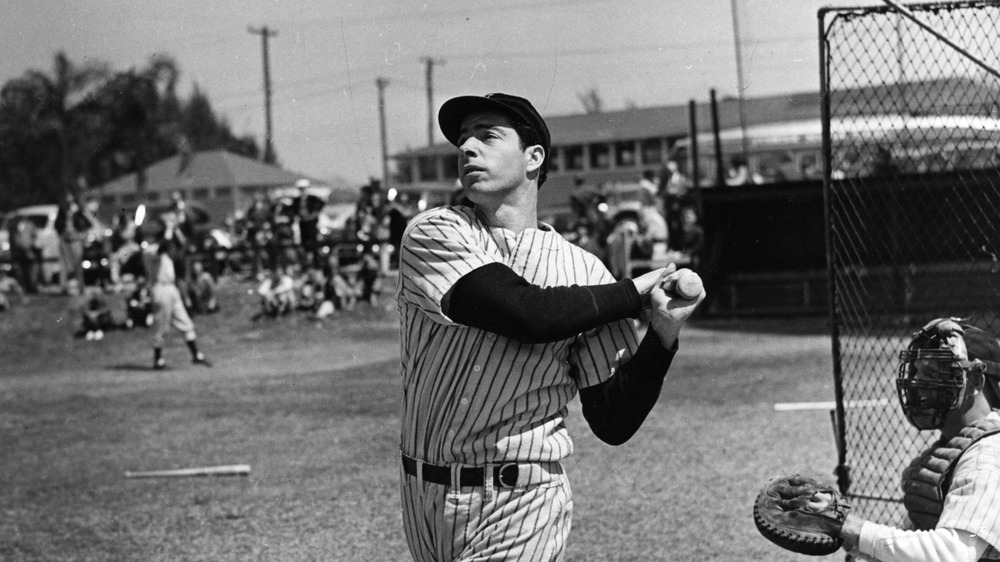 Hulton Archive/Getty Images
During World War II, President Franklin Roosevelt urged baseball club owners to keep America's favorite pastime going to help boost morale, per the Baseball Almanac. Roosevelt even wrote then Commissioner and Judge Kenesaw Mountain Landis, saying: "I honestly feel that it would be best for the country to keep baseball going. There will be fewer people unemployed and everybody will work longer hours and harder than ever before. And that means that they ought to have a chance for recreation and for taking their minds off their work even more than before."
While Major League Baseball was still there for fans to enjoy, nearly 500 baseball players enlisted in the military, according to Slate. Among those who joined was "The Yankee Clipper" Joe DiMaggio, enlisting on February 17, 1943, per JoeDiMaggio.com. Upon joining, "Joltin' Joe" gave up being paid $43,750 by the Yankees for only $50 per month by the military — and, while never deployed, he ended up missing three seasons of his prime. According to the New York Post, DiMaggio served as a physical instructor in the U.S. Army's Special Services division and eventually reached the rank of sergeant.
Joe DiMaggio's troubled times while serving in the U.S. Army
According to Bleacher Report, upon his enlistment, DiMaggio never asked for any special treatment and wanted duties where the Army felt he'd "do the most good." And, as one would imagine, the Army felt The Yankee Clipper could best use his talents by playing baseball with the troops. While Joe DiMaggio worked as a physical instructor, he was assigned to military baseball teams such as the Seventh Army Air Force team, writes JoeDiMaggio.com. However, according to military records retrieved from the Freedom of Information Act, Joe DiMaggio wasn't happy about playing ball for the Army. He felt "exploited" and displayed an "aversion to the use of his special skill," according to the New York Post report.
DiMaggio also complained of having ulcers, but Major Emile G. Stoloff wrote that there was no evidence of him having such a medical condition. DiMaggio was also going through a difficult time in his personal life after recently getting divorced. According to Bleacher Report, DiMaggio wanted to help the war effort by serving the country. However, he felt that his personal troubles had been causing an interference, saying: "This desire to join the Army isn't anything recently born. I seriously entertained the thought immediately after the World Series last fall, but private and domestic troubles curved my mind a little away from the Army." DiMaggio served until September 1945, and the following year, returned to the Yankees. One year later, The Yankee Clipper ended up becoming the American League MVP and won the Yankees another World Series title.