Jared Goff: Where Does The Rams QB Live And How Expensive Is His House?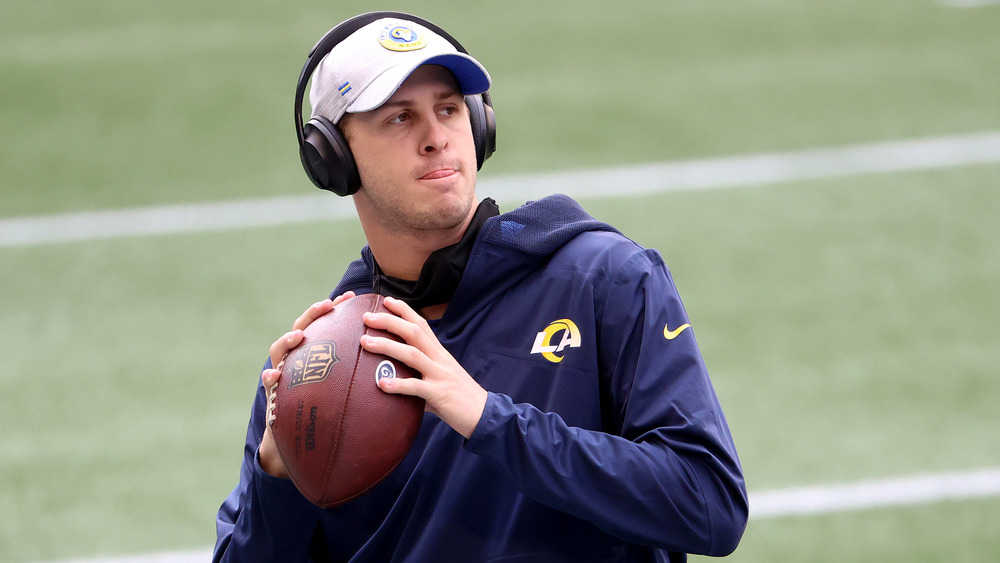 Abbie Parr/Getty Images
Quarterback Jared Goff led the Los Angeles Rams to a spectacular victory over the division-champ Seattle Seahawks in a wild-card NFL playoffs game on Saturday, January 9, 2021, throwing for 155 yards and completing a touchdown pass. And according to ESPN, he did it all with a broken thumb. The California native had recently had surgery on his throwing thumb, coming onto the field with it bandaged up after back-up QB John Wolford was pulled out of the game for a neck injury. The Seahawks had beaten the Rams just two weeks earlier to come away with the NFC West division title. "Two weeks ago you saw them smoking cigars and getting all excited about beating us and winning the division and we're able to come up here and beat them in their own place," said Goff said after the wild-card win. "It feels good."
It probably also feels good to be able to return to one of his several southern California homes to relax after such a big win. According to Velvet Ropes, Jared Goff lives in one of the most exclusive neighborhoods in Los Angeles County, surrounded by a Who's Who of celebrity neighbors, including Drake, The Weeknd, Kylie Jenner, LeAnn Rimes, Jessica Simpson, French Montana, Angelina Jolie, and many more. And of course, such exclusivity and luxury doesn't come without a hefty price tag. But, exactly how much did Jared Goff's Hidden Hills, California, home set him back?
Jared Goff's super-expensive southern California home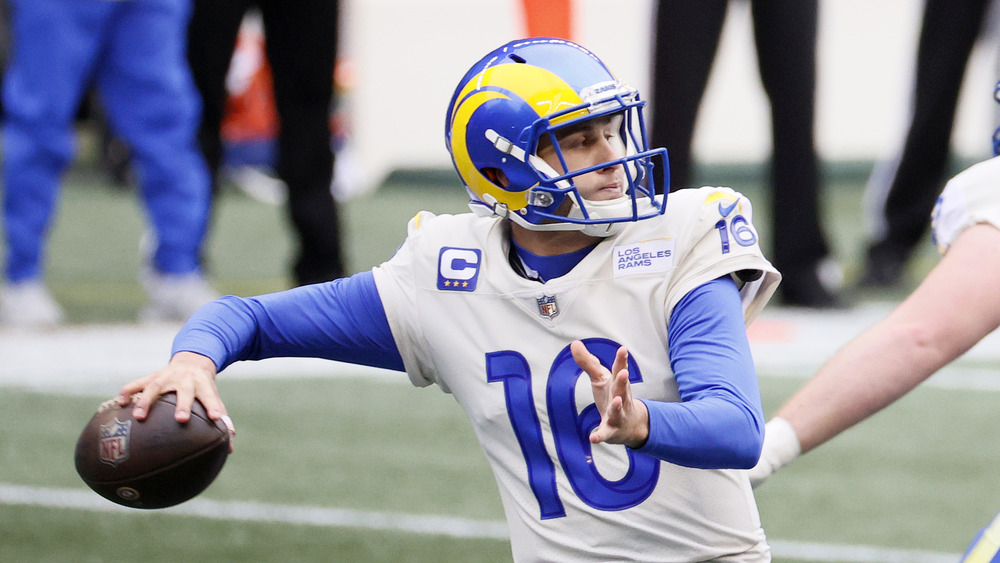 Steph Chambers/Getty Images
The L.A. Times reported in April 2018 that Goff was moving on up from his starter home in Agoura Hills, California, in search of the bigger and the better. When you're a Pro Bowl QB, your "starter" home is a measly $1.8 million shack, and soon it's time for an upgrade. Because really, it was only 4,315 square feet with five bedrooms, 5.5 bathrooms, multiple fireplaces, high ceilings, and a game room, and a man really needs to be able to stretch his legs after a hard day's work on the gridiron.
So he moved the Goff family operation to the gated "city" of Hidden Hills, California, where he bought a 4,992-square-foot home for just over $4 million. His top-notch corner property spreads for about 1.24 acres. The swimming pool is actually kind of basic for houses in the area.
But if Goff ever starts to feel cooped up, he need not worry. He can always head out to his $5.8 million beach house in Hermosa Beach, California. The 3,282-square-foot home is just a block away from the ocean. Velvet Ropes says that the house was bought off-market, so not much is known in the way of specifics, but the developer is known for a "contemporary take on interior decor, with chic gourmet kitchens and open-plan living spaces, plus plenty of large windows for an abundance of natural light."
Jared Goff's Hidden Hills home was in danger from wildfires in 2018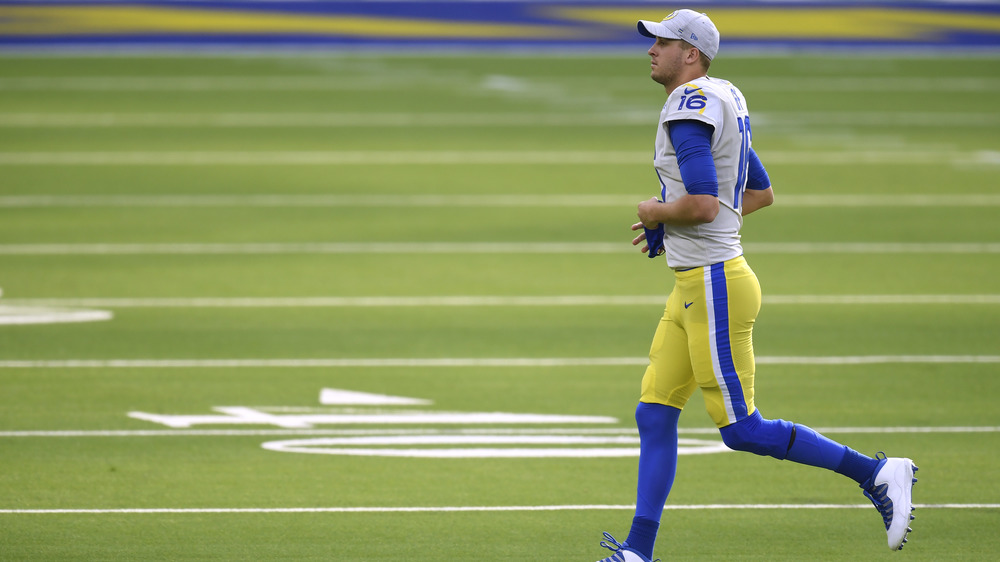 Harry How/Getty Images
If you're wondering if Goff might have trouble with the mortgages, worry not. According to Spotrac, he recently signed a four-year contract with the Rams for $134 million with a $25 million signing bonus. But if climate change continues to worsen, his bank account might be the least of his worries.
According to CBS News, the Rams QB was forced to evacuate his home in November 2018 when wildfires that ravaged the landscape threatened to burn it down in a wall of flames. And he wasn't the only Ram who was forced to flee. Linemen Aaron Donald and Andrew Whitworth, cornerback Nickell Robey-Coleman, defensive coordinator Wade Phillips and GM Les Snead also had to evacuate their southern California homes, but none were said to have lost them to the fires. CBS said, "The fact that several key Rams players and staffers were still able to go out and help contribute to a victory this weekend with that all that going on is pretty impressive."
Of course, it would be a huge bummer to lose a home to fire, but when you've got multiple multi-million-dollar properties, it's not like you're going to be out on the street if one burns down. Goff would surely be able to rough it just fine in his $6 million beach house until he could find another place to live and hide away.