Bridgerton: Who Was The Real Queen Charlotte?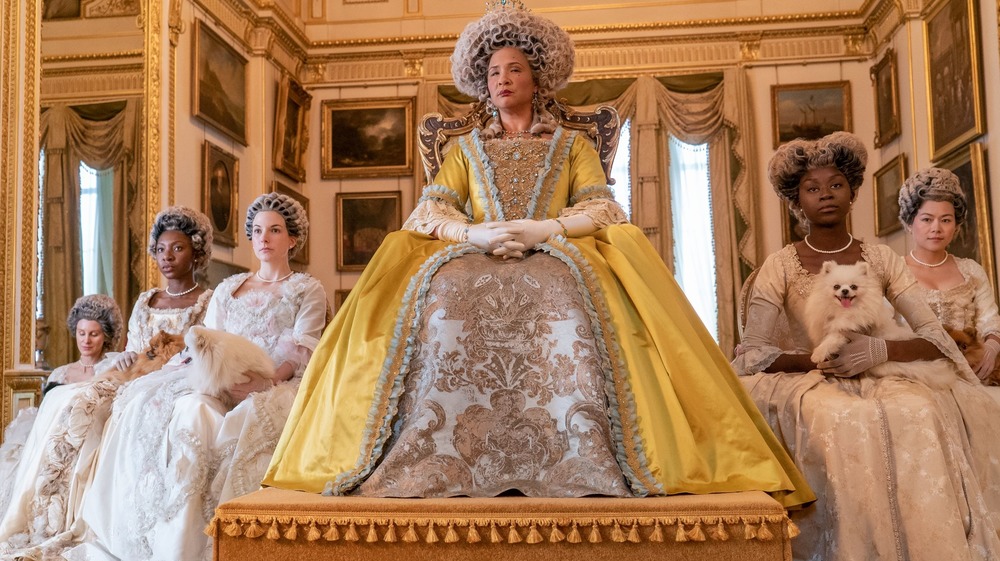 LIAM DANIEL/NETFLIX
Netflix's Bridgerton has become a serious hit, and even more good news for Bridgerton fans was Queen Charlotte getting her own spinoff show. The show drew in viewers with all the excitement of Britain shortly after the revolutionary period, and raised questions about the royal family that hadn't been asked in popular culture for a long time. It's hard to tell what's real and what's fiction, and the show brings us back to a time period we've never experienced.
One character in particular has rekindled old debates, and probably has people scratching their heads. We're talking about Queen Charlotte, who in the show is portrayed by Golda Rosheuvel. The first thing viewers realize about Charlotte, besides her chillingly cold stares, is that she's Black. With everything the layperson may know about British royals from the period, a Black queen may seem a little out of place. It's one of the many things that might lead viewers to think the character isn't real, but Bridgerton's Queen Charlotte is most definitely based on a real queen of the same name. Here's what you need to know about the real Queen Charlotte.
A patron of the arts and an amateur botanist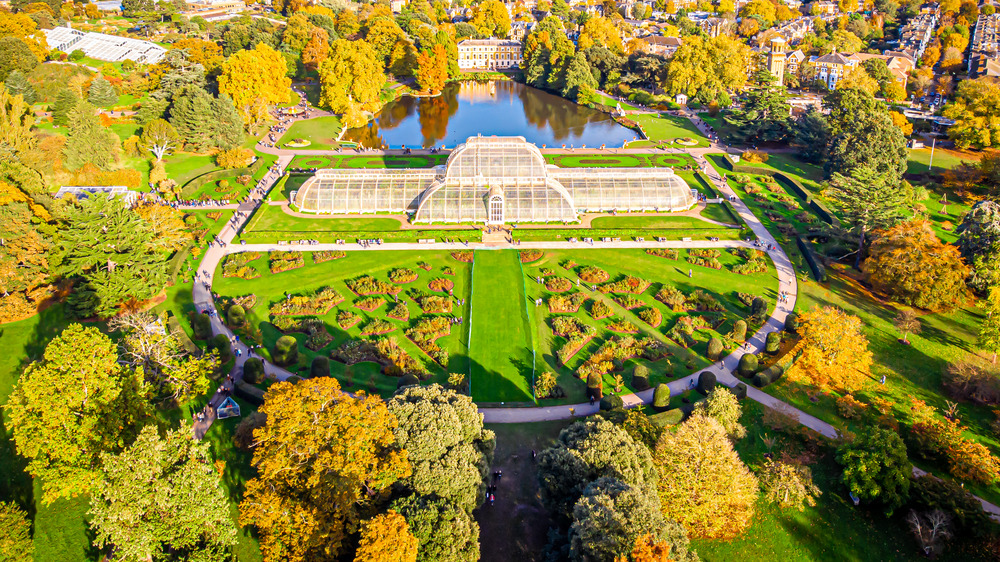 Shutterstock
Bridgerton points this out, and it may seem like pure fiction to viewers, but it's quite possible that Queen Charlotte discovered young Mozart and his world-changing musical talents. If not, she at least utilized them, which isn't surprising since she was a true patron of the arts.
According to Royal Central, Mozart visited London a grand total of one time, where he stayed from 1764 to 1765. During this time, Mozart was welcomed into the palace where he played for King George III and Queen Charlotte, leading to the famous composer dedicating his Opus 3 to the queen. Charlotte also hired one of Johann Sebastian Bach's sons as her music master, according to ATI.
Music wasn't Queen Charlotte's only special interest, either. She had a love for botany, and is responsible for the famed Royal Botanic Gardens at Kew Palace. As Royal Central points out, explorers would bring her plants from all over the world, and Charlotte made sure they were tended to and kept safe in the royal gardens. Another of her interests was philanthropy. ATI notes she was responsible for founding several orphanages and providing patronage for London's General Lying-in Hospital, and she managed to do all of this while dealing with a mentally unstable husband during a time when the monarchy was bumpy, to say the least. 
Her distance from England was a plus for her marriage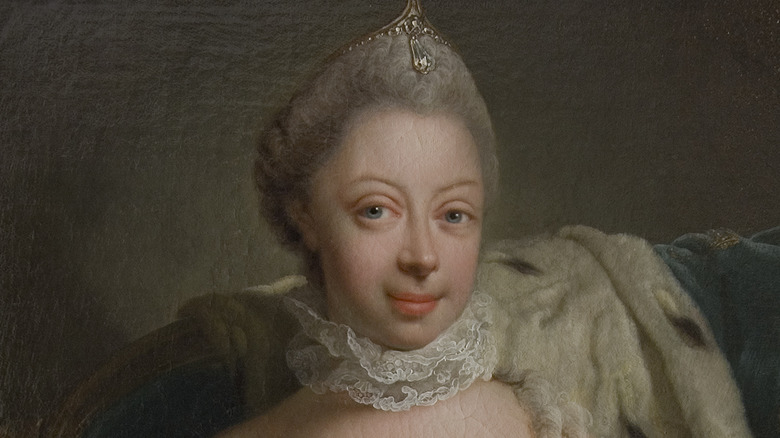 Heritage Images/Getty Images
The future queen of Britain was born Sophia Charlotte of Mecklenburg-Strelitz, a minor German duchy. It was so minor, in fact, that the rest of Europe's nobility looked at it as a backwater province.  But even this minor ruling family still had its palace — the Palace of Mirow, according to Historic Royal Palaces – built in a wooded spot near a scenic lake. This is where Charlotte grew up, learning music and French, and inspiring generally favorable assessments of her character by royal observers.
Charlotte's good-natured and undemanding nature was considered a plus for any potential bride of King George III of Britain. The fact that she was from a Protestant family helped too. But another factor in her favor, so far as George's ministers were concerned, was the unimportant status of the duchy she came from. A princess from such a place was seen as unlikely to harbor her own political ambitions, or to have meaningful connections with anyone else who might. This would mean that, after the wedding, the royal family would have no reason to consider any fortunes beyond Britannia's shores.
She and George III had a happy marriage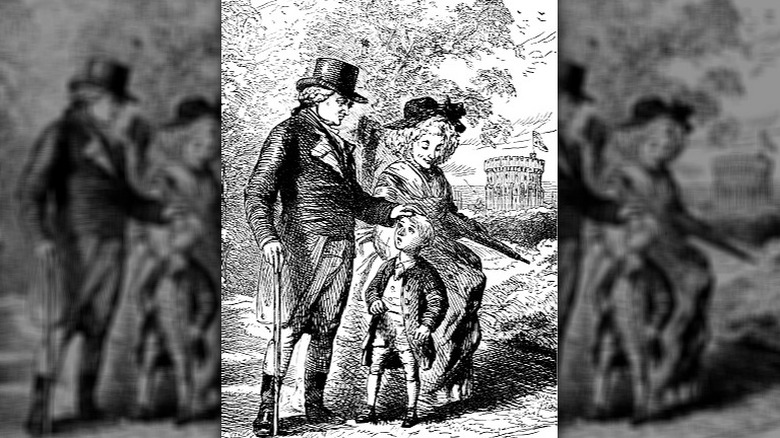 Cannasue/Getty Images
At the time they were married, Sophia Charlotte of Mecklenburg-Strelitz and King George III of Britain had never met before. The search for a royal consort had been done by advisors, and an intermediary sent the proposal. Charlotte had never seen Britain before arriving on September 8, 1761 — the same day as her wedding. She and George were given no time to settle into married life; their joint coronation was held within two weeks.
Despite the nonexistent courtship and rushed beginnings, George III and Charlotte would have a happy marriage, at least for most of their time together. George was his wife's best friend in Britain, helped her adjust to the language and customs, and they shared mutual interests in farming and music. An evening's entertainment with the royal family often featured husband and wife playing together.
Besides enjoying one another's company, George and Charlotte had a fruitful marriage. They had 15 children together, with all but two making it to adulthood, though their relationship with their son and heir, George IV, grew strained in later years. And George and Charlotte took an unusually involved hand in bringing up their brood: They saw their children every day, Charlotte kept a close eye on their progress at school, and George played with them.
She clashed regularly with her mother-in-law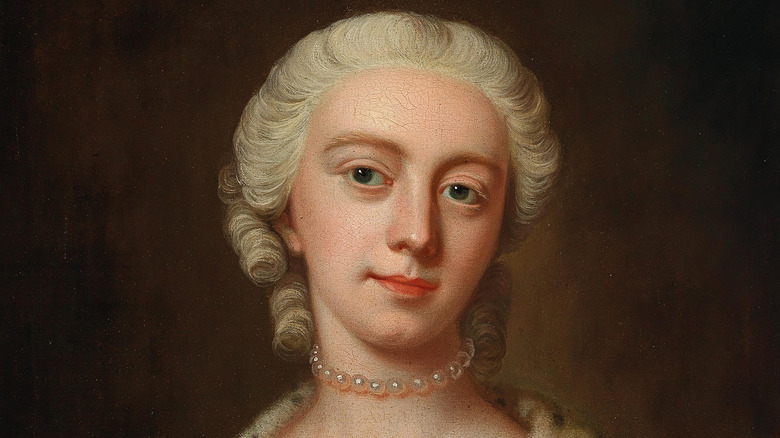 Heritage Images/Getty Images
When she was being assessed as a potential bride for George III, it was considered two points in Charlotte's favor that she was apolitical and unconnected. Neither was true of her mother-in-law, the princess dowager Augusta of Saxe-Gotha. She was said to have been an obedient and deferential wife when she first came to Britain, but after her husband's death, she exercised a pronounced influence over the education and policies of her son, the future George III. Augusta had aimed to have her son's wife come from her own family's house, one of several potential alliances discussed that came to naught. And according to Percy Hetherington Fitzgerald's "The Good Queen Charlotte," when Charlotte was finally chosen as wife and queen, Augusta was quick to exert a measure of control over her by installing her own people around Charlotte.
A certain amount of court intrigue might be expected among royalty, but there wasn't much in the way of warm family feelings to offset it in the case of Charlotte and Augusta. While the new queen was apparently overfond of tradition and etiquette, the princess dowager insisted on using it to isolate Charlotte from English women and frustrate some of her favorite pastimes from back in Germany. Augusta's general attitude toward her daughter-in-law was frosty, but a rebuttal of sorts came indirectly: When George III's mental illness prompted questions of whom within the royal family would take on the regency, and who was even considered to be formally part of the royal family, Augusta was left out of consideration altogether.
She was almost queen regent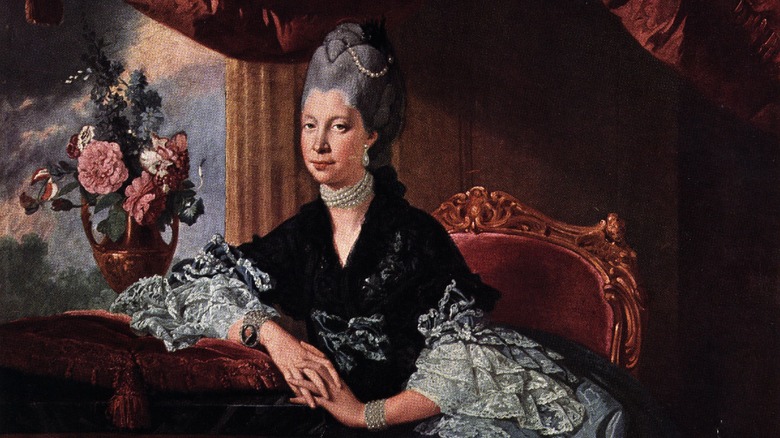 Hulton Archive/Getty Images
The happiness of Queen Charlotte's marriage began to fail in 1788, when George III suffered his first bout of mental illness. Contemporary theories for his condition range from porphyria to bipolar disorder, but at the time, no one knew what was wrong or how to treat to the king. Manifestations of his illness included accusing Charlotte of adultery, making advances toward female servants, and possibly assaulting his wife and daughters.
George's condition deteriorated enough throughout 1788 that a regency was considered. George himself foresaw the possibility of needing a regent, after a bout of illness in 1765 (per the Georgian Papers Programme), and Charlotte was named as a possible candidate. While there were questions as to whether she could be considered a naturalized Briton, the Minority of Heir to the Throne Act confirmed her as regent should it be necessary, though Charlotte was left uninformed that the king had been ill.
George's lapse of 1788 couldn't be hidden, and Charlotte was much more involved in deliberations over what to do in the event of the regency. By then, her eldest child, the future George IV, was old enough to seek that power, and pursue a political agenda opposed to his father's. Mother and son fought, directly and through proxies, over whether to have the king declared insane. Charlotte was even accused of manipulating reports of the king's health, in order for her to be named regent. George IV and Charlotte wouldn't reconcile until 1791, when George III had recovered.
Caring for King George III damaged her own health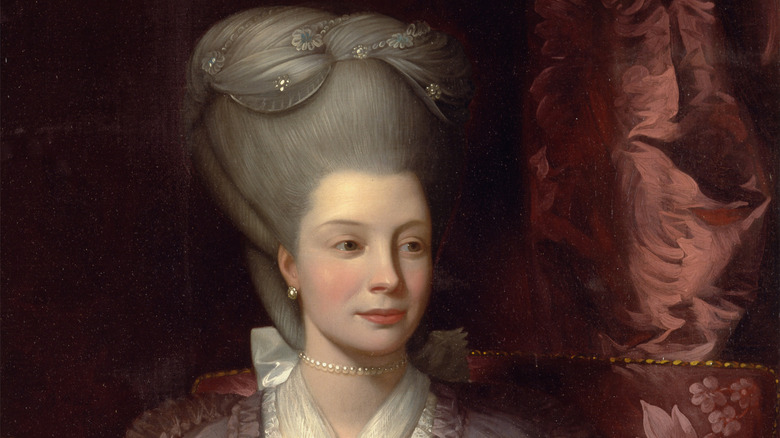 Heritage Images/Getty Images
George III's declining mental health, the strain of his care, and the nation's needs, badly affected Queen Charlotte. In two of his episodes, evidence suggests that he turned violent, possibly sexually violent, to her and their daughters. Charlotte reportedly refused to be left alone with George, and took the precaution of locking him out of her rooms. At the same time, she grew frustrated with the way her husband was being cared for by his doctors. According to Historic Royal Palaces, her hair was white by 1789 from dealing with George's condition, and her own health steadily declined due to stress and dropsy. She predeceased her husband by one year, dying in 1818.
Before that, the physical toll of her illness and responsibilities badly affected her personality and her relationships with her children. She and her son, the future George IV, were at odds over a potential regency for George III, and with her daughters, Charlotte became cold, with occasional bursts of temper. Towards the end of her life, according to Flora Fraser's "Princesses: The Six Daughters of George III," Charlotte confided in her daughter Augusta that she recognized and lamented how her temper had changed, and that she tried to control it through such admissions and through prayer.
She and George III brought Buckingham Palace into the royal family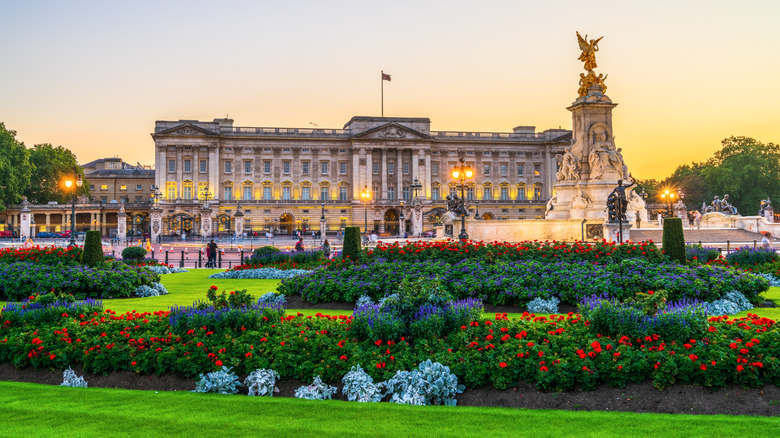 Pajor Pawel/Shutterstock
Tourists and royal enthusiasts who enjoy Buckingham Palace can thank King George III and Queen Charlotte for bringing it into the count of British royal households. It was originally Buckingham House, built for £7,000 by the Duke of Buckingham when he took over the surrounding land. The estate was a replacement for an older house the duke didn't care for, but his descendants in turn weren't so attached to the new house he'd built, and they were willing to sell it.
George bought Buckingham House in 1762, and he bought it for Charlotte. It was intended as a private dwelling for her and the couple's children (who, with one exception, were all born there), with St. James's Palace serving as the official residence of the royal family. Charlotte was so fond of Buckingham House that it was informally known as the Queen's House. Affection for the home was one thing she and her son had in common; when George IV took the throne, he undertook the work of turning Buckingham House into Buckingham Palace.
Buckingham wasn't the only royal residence George and Charlotte acquired. In 1792, they bought Frogmore House (not to be confused with Frogmore Cottage).
She brought Christmas trees to Britain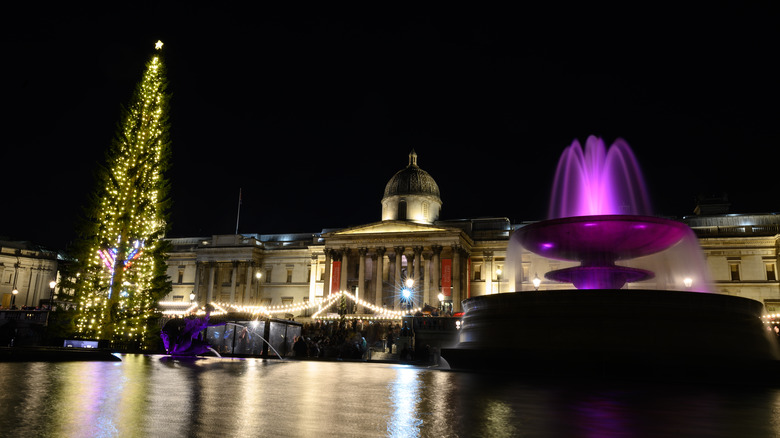 Leon Neal/Getty Images
Credit for bringing Christmas trees to Great Britain is often given to Prince Albert, and it is true that he and Queen Victoria helped to popularize them among a wide swath of Britons. But the real innovator of the tradition was Queen Charlotte, and it wasn't even a tradition she had grown up with.
Christmas trees were a widespread custom among German kingdoms and duchies by Charlotte's time, tracing their origins to a legend about Martin Luther attempting to imitate starlight shining through the trees by lighting his own with candles. But in Mecklenburg-Strelitz, where Charlotte was born, the custom was more modest; just one yew branch was brought inside and decorated for Christmas, and Charlotte brought the custom with her to Britain. To mark the end of the 18th century, however, she decided something grander was called for. By her direction, a tree was mounted and decorated, and it was such a hit that the aristocracy adopted the custom, leaving Albert with something to build on decades later.
Her racial heritage has inspired controversy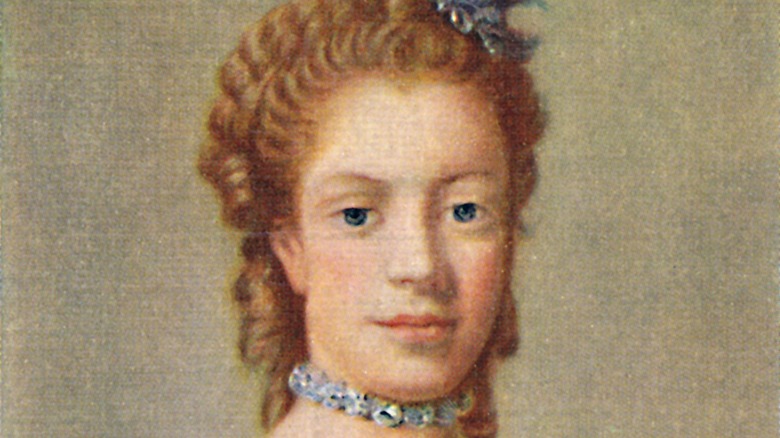 Print Collector/Getty Images
Long before "Bridgerton," some historians have suggested that Queen Charlotte should be counted as the first and, as of 2023, only Black queen of Britain. In 1997, historian Mario de Valdes y Cocom advanced the theory through PBS's "Frontline." He traced Charlotte's ancestry to illegitimate children of King Alfonso of Portugal by his mistress Madragana, who Valdes maintained was Black. Certain descriptions of Charlotte, not always flattering, were interpreted as evidence of her racial heritage and the prejudice she might have faced in Britain. Lastly, Valdes said that many of the portraits of Charlotte, done by anti-slavery advocate Sir Allan Ramsay, showed features more common to those of African ancestry, features other artists would have sought to cover up.
As popular as Valdes' theory is, it isn't widely supported by other historians. His contention that Madragana was Charlotte's ancestor can't be confirmed, nor can Madragana's own racial heritage. She lived 600 years before Charlotte, meaning any genetic influence would be distant. Valdes has pointed to the use of the term "Moor" to describe Charlotte, but that word covered a wide range of people in the 18th century. And Ramsay's portraits didn't vary wildly from those of other artists. Caricaturists who weren't fond of the royal couple also never seized on any racial prejudice in their depictions of her.