The Hilarious Change Someone Just Made To The Hollywood Sign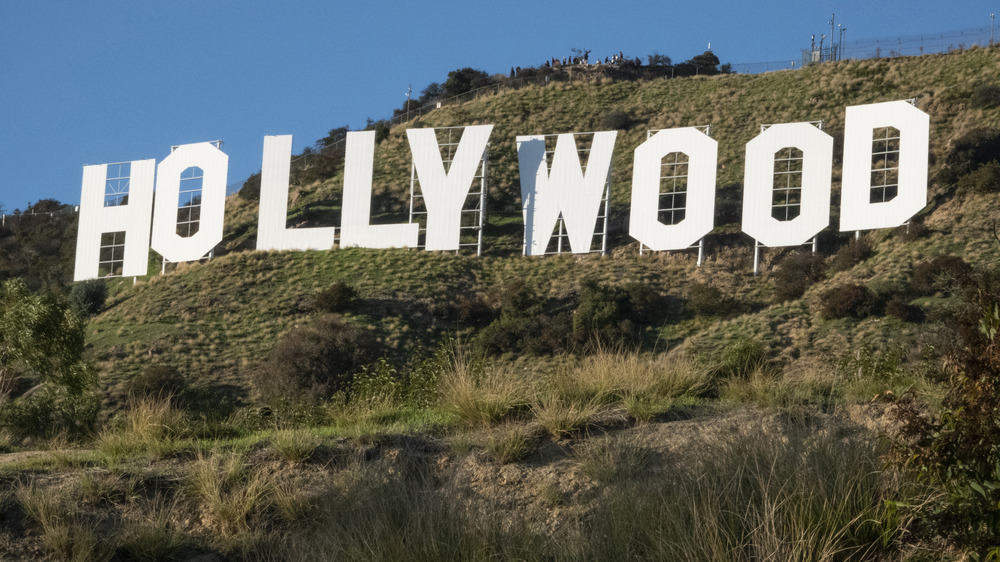 Paul Rovere/Getty Images
Individuals in Los Angeles on the morning of February 1 were met with quite a surprise when they glanced up at the iconic Hollywood sign that overlooks the city. Rather than the letters spelling out "Hollywood," as one would expect, the sign had been altered to read "Hollyboob," according to CBS Los Angeles.
A group of five men and one woman had climbed to the top of Hollywood Hills, where they draped a white tarp depicting the letter "B" over the sign's "W." A white dash was also added to the final letter to turn the "D" into a "B."
Police were promptly alerted to the change, and an LAPD chopper was dispatched to the sign, where authorities apprehended the six individuals responsible before they could leave the scene. The six were charged with trespassing and issued citations at Hollywood Station before being released, per NBC Los Angeles.
"A few hours ago, a group attempted to vandalize the Hollywood sign. Los Angeles landmarks are precious to those of us @LAPDHollywood and this was way uncool (not to mention the terrain is quite steep & dangerous). Hollywood patrol officers have arrested all six individuals," Los Angeles Police Captain Steve Lurie said in a tweet.
The Hollywood Sign has a long history of illicit alterations
The individuals involved claimed they changed the sign's message as a way to support breast cancer awareness, CBS Los Angeles reports. "They didn't commit any permanent damage," Los Angeles Police Department Sgt. Leonard Calderon confirmed to NBC Los Angeles.
This is hardly the first time the sign has been defaced. The iconic cultural landmark has a long history of guerrilla alterations, with the most recent change happening on January 1, 2017, when an unknown prankster used a tarp to turn the sign's double "O"s into "E"s after the law legalizing recreational cannabis use in California went into effect, per CNBC. The alteration was a throwback to the similar 1976 prank, when Cal State Northridge art student Danny Finegood and three friends changed the sign to read "Hollyweed" after the state legally decriminalized marijuana, per LAist.
In 2010, the nonprofit group The Trust for Public Land covered the sign with banners reading "Save The Peak" as a show of protest against nearby real estate development, according to the Los Angeles Times.