Terrible Old Music Videos Hiding Huge Stars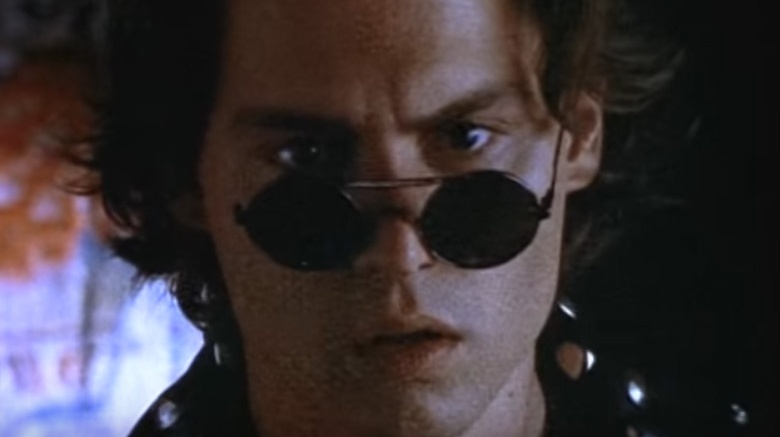 Remember the '90s? Cabbage Patch Kids, markers that smelled like fruit, Bill Nye before he wanted us to care about politics ... man, it was a magical time, and not just because we sniffed all the strawberry Sharpies. But if you had to pick the main stain on the decade, it would have to be the cheesy, terrible music videos. Yeah, people pine for the days when MTV still played music, but honestly, do we really want that? Because some of those old music videos were bad. The only redeeming factor is that some of them happened to feature young actors and actresses who went on to become huge stars. And you can bet that they want us to forget about these videos.
Keanu Reeves in Paula Abdul's "Rush Rush"
In 1991, Paula Abdul released her second album along with its hit single, "Rush Rush." In interviews, she's said that she wanted the video to be an homage to the James Dean classic Rebel Without a Cause, a decision she thought would work with the song's slow, ballad-like style. But there was only one problem: she needed someone to play the part of James Dean. Who got the nod? A young, up-and-coming actor named Keanu Reeves, fresh off his first hit, Bill and Ted's Excellent Adventure.
The video is just as cheesy as you'd expect from an early '90s pop song, full of slow dances and a soft glow that's more lighting than nostalgia. Keanu Reeves, for his part, still manages to laugh about the whole thing. As he said in one interview, "It was a good weekend ... I got to make out with Paula Abdul." Can't argue with that.
Jack Black in Beck's "Sexx Laws"
Known best for a string of '90s hits like "Loser" and "Where It's At," Beck became something of a counterculture icon who went on to win five Grammys, including a 2015 Grammy for Best Album of the Year. By 1999, Beck was selling enough albums that producers were more than happy to throw more money into the music videos that went with them. And, naturally, a little star power in the form of Jack Black, who showed up in Beck's 1999 single "Sexx Laws."
The surreal video that resulted was directed by Beck himself and features, among other things, space pirates, a refrigerator dry-humping an oven, and Jack Black being completely himself. It's like a visual manifestation of the smell inside a pillowcase full of crayons and Fruit Loops. A longer cut of the video had about ten minutes of the therapy group in the beginning, according to author Neil Strauss (who's also in the video), but that part was cut for the official video.
Robin Williams in Bobby McFerrin's "Don't Worry, Be Happy"
There's a common misconception that this is a Bob Marley song, but "Don't Worry, Be Happy" was actually written and performed by Bobby McFerrin. It picked up the Grammy for Best Song of the Year in 1989, then made millions of kids go crazy (and drove millions of parents actually crazy) when it was used in those singing fish plaques. Fun fact: your uncle still has one. Another fun fact: Bobby McFerrin's accent in the song is fake, and so are the instrumentals — every sound you hear in "Don't Worry, Be Happy" was made by some part of McFerrin's body. The guy is an instrument.
The video for the song is just as delightfully corny as the song itself, all the way down to the insets of Bobby McFerrin popping up in a little circle to remind you — just in case you forgot — to be happy. But the best part of the video is definitely the mustachioed, prancing Robin Williams, already a rising star at the time after the success of Dead Poets Society and Good Morning, Vietnam. Together, they made the happiest song ever even more happy, and that takes serious happy skills.
Courteney Cox in Bruce Springsteen's "Dancing in the Dark"
Bruce Springsteen's first chart-topping hit was the synth-heavy power-ballad "Dancing in the Dark," the first single from 1984's Born in the U.S.A. The song earned Springsteen a Grammy that year and kicked off a career that's still trucking today. The entire album smashed down over the heads of America like a chandelier made of patriotism, and the studio execs commissioned Brian De Palma (director of Scarface) to direct most of the music videos.
With the video for "Dancing in the Dark," De Palma went for the classic stage performance — Springsteen in front of a stadium full of cheering fans. In full, tight-pantsed '80s glory, Springsteen catches the eye of a pretty young girl in the crowd and invites her onstage to dance with him. At the time, that girl was just a random actress who was lucky enough to get the part, but the world soon came to know her as Courteney Cox (maiden name "Monica from Friends"). This video actually launched Cox's career, but it may have an even greater legacy — it was the inspiration for the Carlton dance on The Fresh Prince of Bel-Air. That's right. In one fell swoop, Bruce Springsteen created the '90s.
Angelina Jolie in The Rolling Stones' "Anybody Seen My Baby?"
Remember when The Rolling Stones kept releasing albums after the '80s? No? That's okay, we don't either. But they did, and in 1997 they came out with a new album called Bridges to Babylon, along with a new single: "Anybody Seen My Baby?" It was a tepid song with tepid reception, but the video gave it new life for featuring a young, pre-stardom Angelina Jolie. Jolie plays the part of the "baby," a stripper who leaves the show to wander New York City.
It's not uncommon for stars to show up in a few music videos prior to hitting their stride, and Angelina Jolie was no exception. In 1994, way before "Anybody Seen My Baby?" a 19-year-old Jolie also starred in the video for Meatloaf's "Rock and Roll Dreams Come Through." That one was a lot better.
Eddie Murphy in Michael Jackson's "Remember the Time"
Michael Jackson pushed a lot of boundaries in his time. Love him or hate him, he definitely changed the face of music in the '80s and '90s. Most of his influence was purely musical, but he also played a huge part in turning the music video into something more than an extra vehicle to showcase a song. "Thriller" is a classic, and one that's been mimed and parodied a bazillion times by now. But one of Michael Jackson's innovations that never quite caught on was the music-video-as-a-film gimmick that he tried in the early '90s.
With the 1991 release of Dangerous, Michael Jackson put together a nine-minute short film to go along with the single "Remember the Time." The film was set in ancient Egypt and starred Eddie Murphy as the pharaoh. It's weird to say it, but that year was probably the height of Eddie Murphy's career. He'd already done Coming to America and the first two Beverly Hills Cop films, while Doctor Dolittle and Pluto Nash were still nothing more than terrifying fever-dreams that had yet to be plucked from the aether. At the time, the video for "Remember the Time" was a solid hit, but these days it's painfully dated.
Michael Fassbender in The Cooper Temple Clause's "Blind Pilots
The Cooper Temple Clause was a British indie rock band that enjoyed some genre fame but no real commercial success. They formed in 1998, and in 2003 they released an album called Kick Up the Fire, and Let the Flames Break Loose, which became their biggest success before their dissolution in 2007. One of the singles from that album, a song called "Blind Pilots," is about a man going out to party with friends while he slowly turns into a goat.
That man? Michael Fassbender. Long before X-Men, Steve Jobs, and Prometheus, Michael Fassbender was a struggling actor (weren't they all?) taking gigs in commercials and whatever else he could get to pay the bills. When he was offered the part in the music video, he took it because he liked the song and "had some down time." It makes a part of you wonder, though, if maybe now he might prefer to go back in time and stop the video from happening, Days of Future Past style.
Elijah Wood in The Cranberries' "Ridiculous Thoughts"
Typically, the sentiment with The Cranberries is either you dig them or you've never heard of them. Known for hits like "Zombie" and "Linger," the Irish band honed a unique style with their female vocalist Dolores O'Riordan. Their first demo album release sold a whopping 300 copies, but they bounced back in 1993 with a more polished album that included the single "Linger" and became an international hit almost overnight. In 1994, they followed up with another album, No Need to Argue, and just beat the world to pieces with its main single, "Zombie."
But the video for another single from that album, "Ridiculous Thoughts," is notable for another reason: a young Elijah Wood, oddly shirtless and doing strange things with a megaphone. A few years after this video, Elijah Wood starred in Deep Impact and The Faculty before spending the rest of his career first being a hobbit and then trying not to be typecast as a hobbit. Hey, at least it wasn't as bad as that Pizza Hut commercial he was in.
Johnny Depp in Tom Petty's "Into The Great Wide Open"
Into the Great Wide Open gave Tom Petty and the Heartbreakers two of their biggest singles: "Learning to Fly" and the title track, "Into the Great Wide Open." The latter is a narrative ballad that tells the story of a young man named Eddie moving to Hollywood and gradually getting into a life of stardom — with all the pitfalls that come with it. He starts drinking more, gets an attitude, fights with his wife, and eventually becomes part of the same Hollywood machine that ruined his own innocence.
Pretty heavy stuff, the kind that goes straight for the gut. Unfortunately, the music video doesn't quite hit the mark. The video tells the exact same story, with a young Johnny Depp in the role of Eddie. It's not a terrible video, but it definitely falls more on the side of cheesy. The video came out in 1993, not long after Edward Scissorhands, so maybe Tom Petty was hoping to give the video a little extra star power when he chose Depp. If that's the case, it didn't work out as well as he hoped.
Jennifer Connelly in Roy Orbison's "I Drove All Night"
Where would the '60s have been without Roy Orbison? "Oh, Pretty Woman" was one of the biggest songs of the decade, and it's still played on the radio just as much now as it was then. Elvis Presley went so far as to call Orbison "the greatest singer in the world." That's high praise, but as the '60s rolled into the '70s, Orbison's records stopped selling and his career went into a slump. He pushed hard for a comeback in the '80s, and just when it seemed success was on the horizon, he had a heart attack and died.
After Orbison's death, Virgin Records put out a posthumous album with a smattering of Orbison's unreleased tracks. One of those was a cover of "I Drove All Night." For obvious reasons, Roy Orbison's only appearances in the video come from archived footage. Instead, the main star of the video was 22-year-old Jennifer Connelly. At the time, Connelly was pretty famous from Labyrinth, but she still hadn't become a household name. The video is a pure '90s experience, for better or worse.
Everybody in Bree Sharp's "David Duchovny"
In college, Bree Sharp had a crush on David Duchovny. Most girls in 1999 did. But Bree Sharp took her crush a step further and wrote a little song about it ... and inadvertently created one of the first nationwide viral sensations of the internet. Appropriately called "David Duchovny," the song somehow found its way to the ears of Duchovny himself, who — let's be honest — freaking loved it. "I found myself playing it in my car now and then," he admitted at the time. From Duchovny, the song found its way to some of the producers at The X-Files, who decided to make a video about the song to show the X-Files cast at a Christmas party. And overnight, a college girl who had a crush on David Duchovny became a superstar.
When you start watching the video, you wonder what's going on. It seriously looks like a cheap school presentation filmed on a camcorder with random X-Files scenes recorded on a VCR. And then, out of nowhere, the Smoking Man sings a line. It starts getting interesting. And then you see Director Skinner do the same thing. Then the Lone Gunman, then Scully. Maybe it's not a cheap rip-off, you think to yourself.
And then the stars come out. George Clooney, Whoopi Goldberg, Kevin Nealon. Alex Trebek on the Jeopardy set. Brad Pitt in Tyler Durden's clothes. If you had to choose one thing to sum up the '90s, the single bit of pop culture that bridged the divide between the old millennium and the new, it would be this video. If you grew up in the '90s, even if you didn't love The X-Files (but especially if you did), you'll want to have babies with this video. At the very least, you just might find yourself singing your love to David Duchovny in the shower tomorrow. You're welcome.