Where Does Kyle Busch Live And How Big Is His House?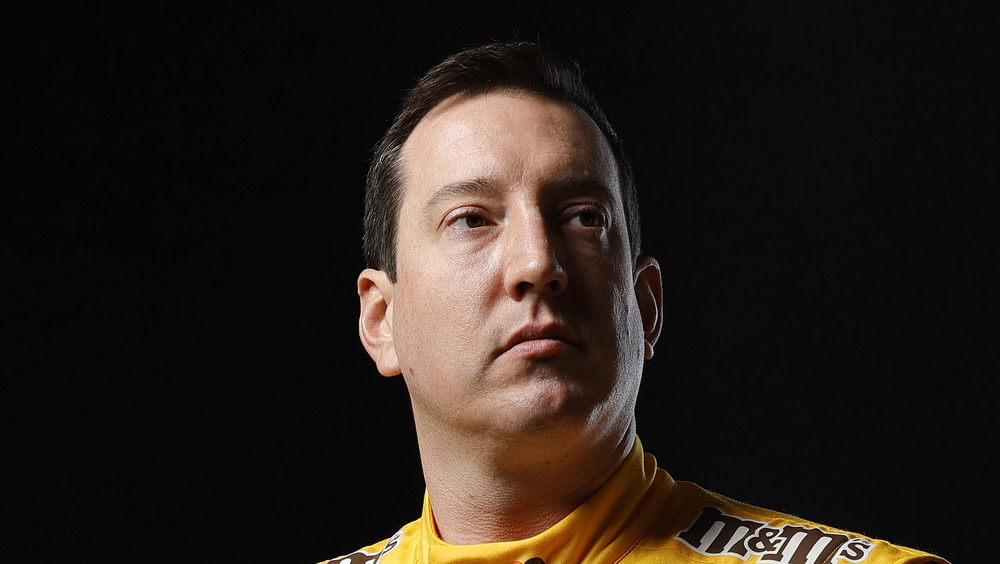 Jared C. Tilton/Getty Images
Chances are you'd never find it within your budget filters on Zillow, but Kyle Busch's North Carolina mansion is still worth ogling if for no other reason than it makes for a good daydream. Kyle, the stock car racing, team-owning younger brother of racing phenom Kurt Busch, is a superstar on the NASCAR circuit in his own right. Kyle shares the 13,000-square-foot expansive home on the shores of Lake Norman with his wife, Samantha, and their young son, Brexton. And according to a 2019 story on Entertainment Tonight, Brexton has plenty of room to roam. 
The home's sale price set a record for the Charlotte area when Busch purchased it in 2009 for $7.5 million, according to the Charlotte Business Journal. If you watched the 2019 CMT reality TV show Racing Wives, which chronicled the day-to-day lives of Samantha and other prominent drivers' wives, you've probably seen some of what makes the home so special, but let's delve into the particulars.
Lakefront luxury for Kyle Busch in North Carolina
While his brother Kurt may have placed his Lake Norman home on the market in 2018, per Southern Living, Kyle and Samantha appear to be staying put. And why wouldn't they? 
Reportedly, the Tudor stunner comes equipped with six bedrooms and eight baths, according to ET, and its strategic location near the racing mecca of Charlotte means Kyle is never far from work (though we suspect his commute is pretty quick, no matter where he lives). The family can walk out to their convenient boat slip or simply admire the "180-degree views of Lake Norman" from indoors. All that plus an outdoor kitchen, gazebo, and "floor-to-ceiling stone fireplaces," and you've got a perfect place to unwind after driving at 200 miles an hour all day. 
It's a pretty luxe home for sure, but the younger Busch can afford it. According to Celebrity Net Worth, Kyle Busch has an estimated $80 million fortune, the majority of that coming directly from his salary and wins. We get it — the faster you get around the track, the sooner you're home relaxing in the heated swimming pool.