Chase Elliott's Net Worth May Take You By Surprise
Brian Lawdermilk/Getty Images
When it comes to the uber-rich athletes most people will probably list basketball or football players as the ones with the most bucks. And though it does not cross a lot of minds, there is a lot of money in racing, too. So for the athletes who don't touch a field or court, how much are they making?
Take young NASCAR driver Chase Elliott for instance. Elliott was born on November 17, 1995, in Dawsonville, Georgia. He got his start racing at a mere 13 years old and at the time was featured in Sports Illustrated. At 19, he became the youngest racer to win the NASCAR Xfinity Series, per Alt Driver. The teenager quickly became a rising star in the world of auto racing and was one of the visible young faces. Just last year, he joined the list of the youngest drivers to win a NASCAR Cup, according to ESPN.
Like Father, Like Son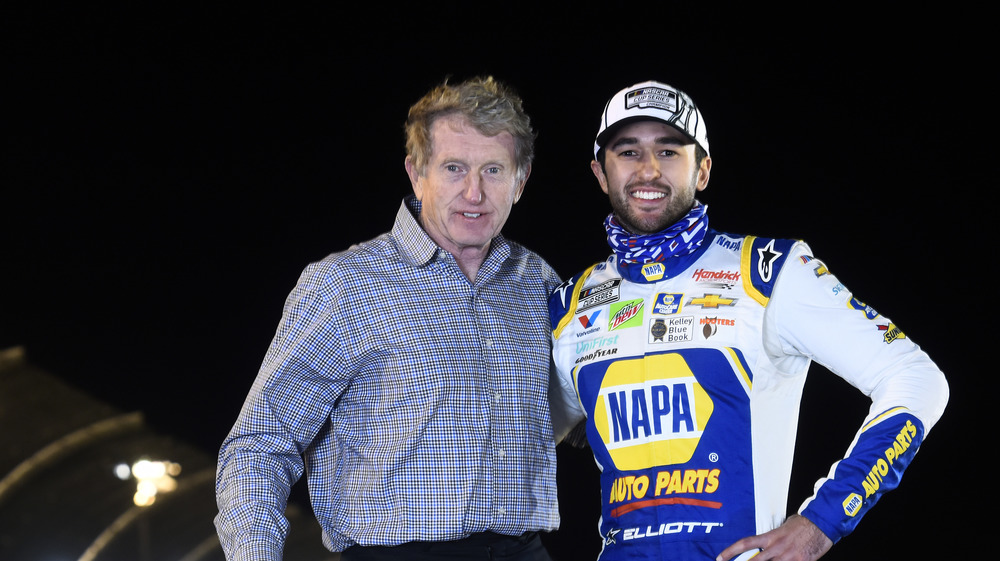 Jared C. Tilton/Getty Images
Chase Elliot is the son of Bill Elliott — also a race car driver and 2015 NASCAR Hall of Famer. So naturally, Elliott was already exposed to competitive racing and more than likely reaped many benefits in being the child of a champion professional racer. His father was dominant in the racing world for most of the '80s and up until the early 2000s. He still races today though not as much, and his net worth is an estimated $7 million dollars, according to Celebrity Net Worth. 
At 25 years old, the pro racer's net worth is an estimated $12 million dollars, reports Celebrity Net Worth. Which means, Elliott has even surpassed his father. But how did he make this happen?
Since entering professional racing, Elliott has already earned himself 11 racing titles. His most recent win was the Season Finale 500 last fall. In 2020 alone, he won five top awards. Elliot earned three titles both in 2018 and 2019. Still in his youth and nearing his prime, Elliott is on track to rack up more wins (and prizes), so this is only the beginning.