Inside The Sad Death Of Rush Limbaugh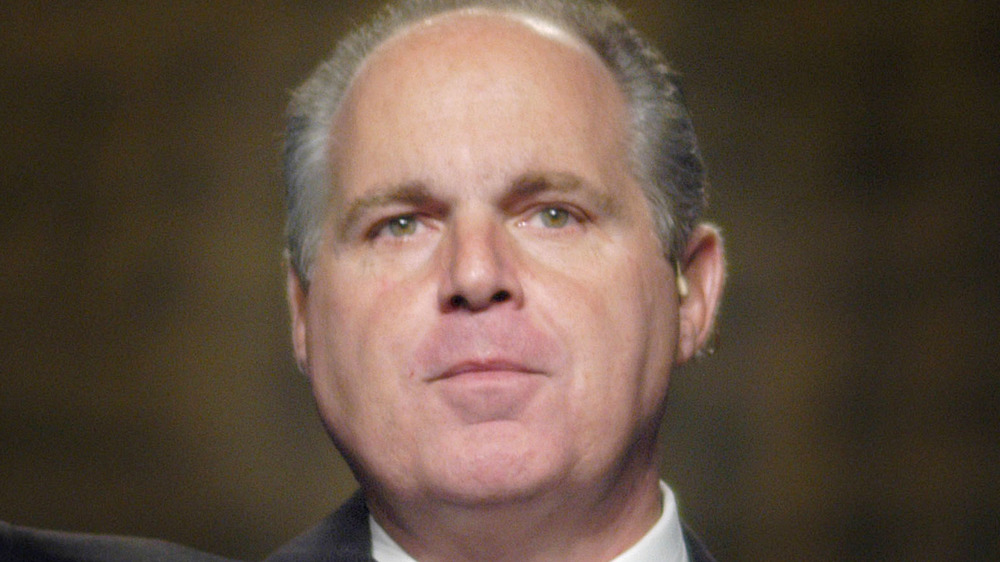 William Thomas Cain/Getty Images
The radio waves got a little less caustic on February 17, 2021, when news broke that longtime conservative talk show host Rush Limbaugh had died. He was 70 years old. According to The Washington Post, Limbaugh had succumbed to a yearlong battle with lung cancer. He announced his diagnosis on his radio show in February 2020. Limbaugh made a name for himself in the 1990s as a crude, abrasive, and sardonic voice in American conservative politics. Although he was a college dropout, thrice divorced, and a drug addict, over 20 million conservatives turned to him for political opinions at the peak of his popularity.
No group that thought differently from him was out-of-bounds when it came to his vulgar and vindictive ire. Feminists were "feminazis," environmentalists "tree-huggers," and Sandra Fluke, who testified before Congress about contraception coverage in health insurance policies, was a "slut" and a "prostitute." According to Forbes, he even derided his own listeners, calling them "Dittoheads" because they readily agreed with whatever opinion he chose to spit into the microphone each day. They ended up wearing the insult as a badge of pride, calling each other "Dittoheads," as well.
Rush Limbaugh claimed that tobacco was safe
Limbaugh was praised by Cigar Aficionado in 1994 for his "no-holds-barred brand of commentary." He was an avid cigar smoker and long-time defender of tobacco, even going as far as saying that the practice of smoking it is harmless. According to the New York Daily News, Limbaugh denied that secondhand smoke is injurious to people's health during a call with a listener in 2015. He called secondhand smoke's dangers "a myth," claiming that a World Health Organization report proving him correct had been "suppressed." For Rush, even "firsthand smoke" wasn't that bad. "Firsthand smoke takes 50 years to kill people, if it does," he said. "Not everybody that smokes gets cancer. Now, it's true that everybody who smokes dies, but so does everyone who eats carrots."
Limbaugh viewed his tobacco use as another aspect of society that was being vilified by snowflake liberals. And he was smoking's undaunted champion. "I would like a medal for smoking cigars, is what I'm saying," he said. Limbaugh did get a medal — the Presidential Medal of Freedom from President Donald Trump in 2020, as CNN reported – but not for smoking cigars. For that, he got cancer. Who'd a thunk it?