Former Olympian's Involvement In Cult-Like Church Explained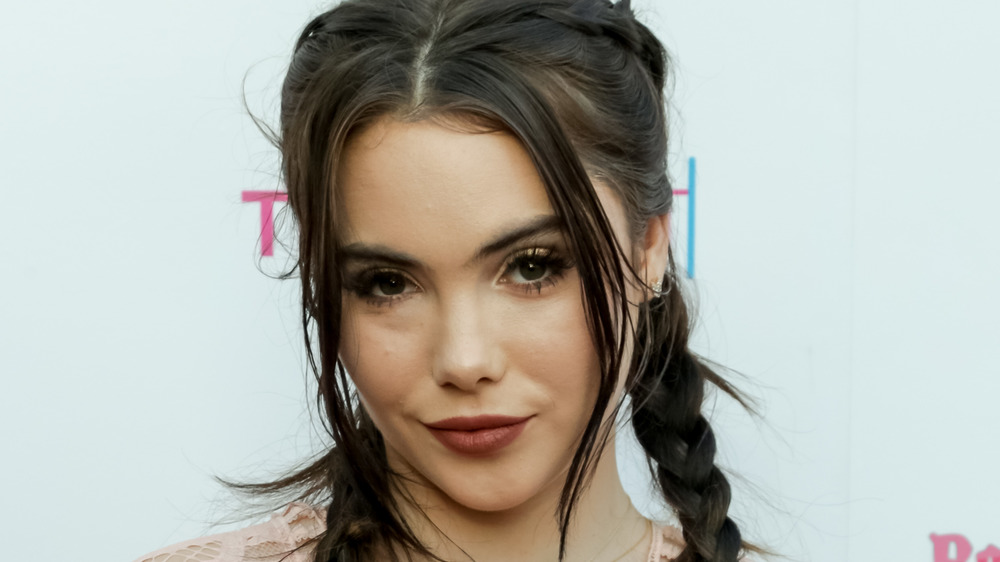 Greg Doherty/Getty Images
U.S. gold medal gymnast McKayla Maroney came into fame during the 2012 London Olympics as a member of the United States' "Fierce Five" female gymnastics squad, not only for her athletic abilities (Bleacher Report described her as the "best vaulter in the world"), but for her now-famous "I'm not impressed face" that she pulled when ultimately placing second (per NBC Sports). She was 16 at the time and had joined the Olympic team at age 13 under the purview of Dr. Larry Nasser, who has since been condemned to 175 years in jail as a result of the testimonies of nearly 160 sexual abuse victims — including members of the U.S. female gymnastics team, as cited by the BBC. Maroney herself was subjected to "hundreds" of his "treatments," as she said on NBC News, and tried to raise the alarm bells about Nasser in 2011, before ultimately quitting gymnastics in 2016, the same year he was revealed as a serial abuser. 
Since then, Maroney's life hasn't exactly gotten any easier. She vanished from Instagram in September 2017 because of the entire Nasser affair and retreated out of the public eye before telling the story of her abuse in April 2018 after Nasser was convicted that January. A year later in January 2019, Maroney's father passed away while trying to detox from his opioid painkiller addiction in a hotel room, per the Daily Beast.
And now? Well, it looks like Maroney may have pledged fealty to an honest-to-goodness cult leader.
A follower of the 'Church of the Master Angels'
McKayla Maroney appeared on Instagram in September 2019 in a fairly cheerful post where she said, "blessed to have u, and happy to be back." Around her neck? A pendant recognized as belonging to the Church of the Master Angels (CMA).
On the surface, the tenets of this so-called church — founded in 2017 — appear like a word salad of new-agey buzz terms chopped up into a snake-oil satire of coherence. They welcome "all seekers of truth, cosmic awareness and soul-realization, regardless of belief, tradition, creed, or religious affiliation that promotes the selfless worship of God through the teaching of God's Masters, Angels, and Holy Saints," per the CMA website. One of those "masters," church leader John Douglas, at 9 years old "received a complete clairvoyant activation, allowing full vision of the energetic or spiritual dimension." Now, he and "his Angelic companions are working to create profound change on the quantum 'invisible' level to be experienced as healing on the gross physical plane."
Also on sale on the CMA website? "Silent Faith Remote Healing Directed Prayers" and "Karmic Mitigation Blessing Directed Prayers" for $250 a pop, "repair discs" (coins) for $150, supplements, CDs, pendants up to $2,000 (like Maroney's), and $10,000 "elite" in-person workshops at Heavenly Mountain, North Carolina.
The blog Descent from Heavenly Mountain contains a picture of Maroney and some college-age looking folks wearing glowsticks at a CMA event. Here's hoping the former gymnast keeps her head on straight.