The Untold Truth Of Criss Angel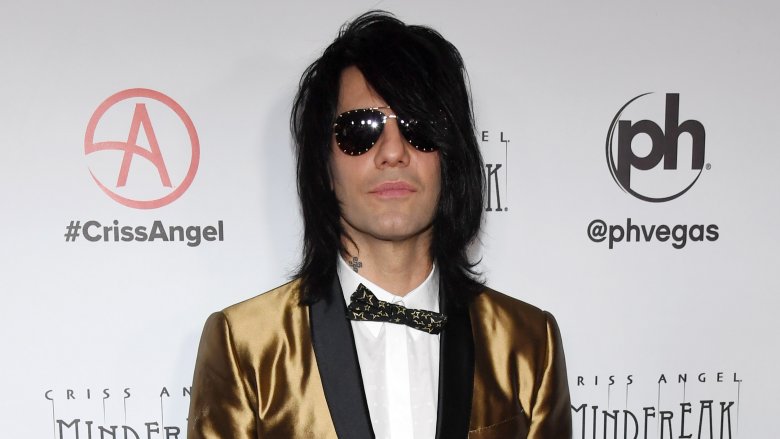 Getty Images
For some reason, we dig magicians, even though there's something kind of creepy and weird about them. It's like if you had a friend who is constantly lying to you, and you know that everything that comes out of that person's mouth is a lie, and yet you keep asking for more lies because the lies are just so dang interesting. Yeah, magicians are creepy and weird that way.
Occasionally, though, a magician makes a name for himself that grows beyond that miserable little casino where he got his start in that one corner of Vegas no one ever goes to. And the biggest name among the handful of magicians whose names you can actually remember is probably Criss Angel, who claims he has logged more primetime hours on television than any other magician, ever. Which actually doesn't seem to be saying much since the sum total of all magicians who have ever been on television is like him, David Blaine, David Copperfield, and maybe one or two other guys. But anyway Criss Angel is famous, sorta, and that's why he deserves his own untold truth article.
He could do magic before most kids can spell magic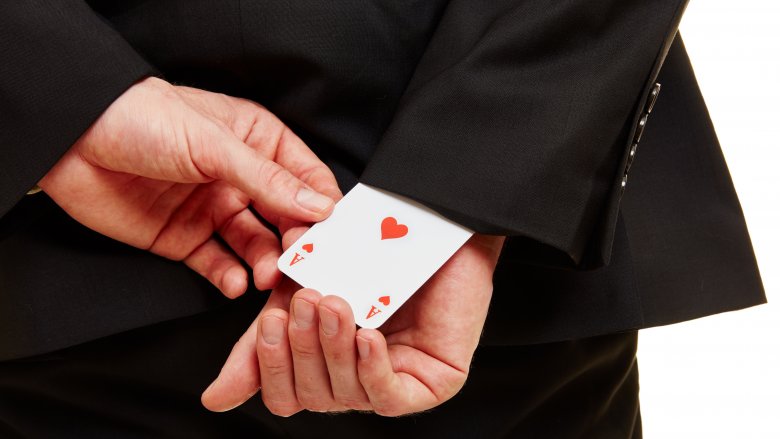 Shutterstock
Most magicians get their start as small children, probably because when you're a small child the adults around you will always clap delightedly even though they're totally onto the fact that you just switched the cards around behind your back. But some kids have parents who continue to enthusiastically support those amateur magic shows long enough for them to actually develop skills. Criss Angel appears to have had wildly supportive parents because he started doing magic at the age of 7 and never gave up on it.
According to Biography, Angel, who was still called Christopher Nicholas Sarantakos in those days, first became interested in magic after his aunt showed him a card trick. He later said he was drawn to the "incredible sense of power, that an adult didn't understand how it worked, but I did."
Angel practiced until he had enough material for a whole show, and at age 12 he was ready for his first performance, and evidently was also cocky enough that he was able to collect a $10 fee for his services. So to sum up, Criss Angel became a magician because he liked having power over other humans and he was pretty much always in it for the money. It's the American dream.
How many doughnuts can you bench press?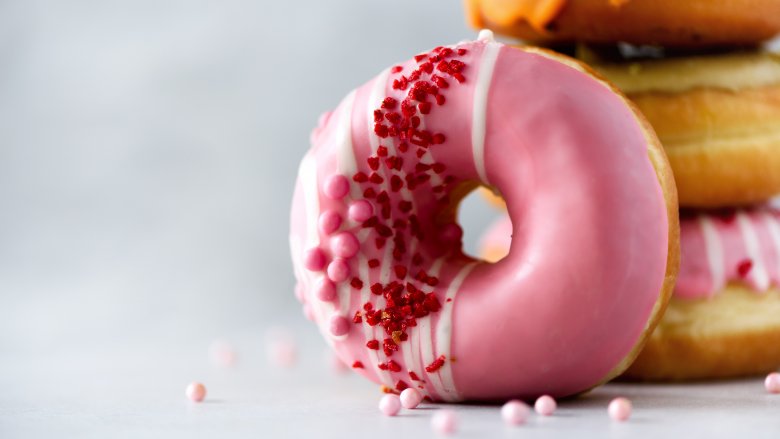 Shutterstock
Criss Angel's dad was a fitness junkie who owned a doughnut shop. Wait, what? How exactly does one simultaneously become a doughnut shop owner and fitness junkie?
Angel's dad, John Sarantakos, must have had a pretty impressive work ethic and a whole lot of self-control to simultaneously commit to a fitness regimen and also surround himself with chocolate glazed doughnuts, maple bars, and apple fritters seven days a week, 365 days a year. But who knows, maybe all those doughnuts were the reason he needed the fitness regimen in the first place.
Anyway, according to Biography, the elder Sarantakos taught the younger about hard work, perseverance, and the difference between a glazed cruller and a cake doughnut. All important life skills. Presumably, Angel also learned some stuff about fitness.
Sarantakos was more than just a role model for work ethics and doughnut avoidance, though, he was also Angel's greatest inspiration. He died from stomach cancer, but he lived three years after doctors told him he'd probably only hang on for three weeks. For Angel, that was a lesson not only in perseverance but in the power of positivity. "Each and every moment of his life he had a smile on his face," Angel said. "He had such an incredible attitude and outlook and was such an inspiration not only to myself but to people he didn't even know."
And then Hogwarts sent him a letter. Just kidding.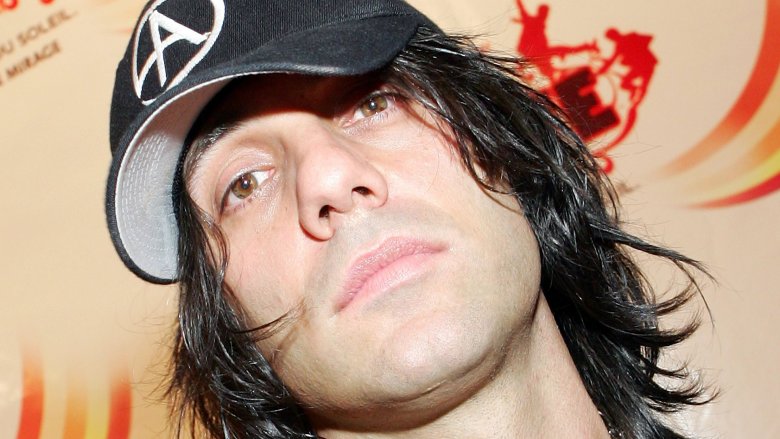 Getty Images
By the age of 14, Angel had become such a skilled magician that he was performing professionally in bars and restaurants. At 14. According to the Las Vegas Sun, Angel was a favorite at a bar slash restaurant called the Wine Gallery and has since claimed that he could make $100 a night in tips alone, which is pretty danged lucrative for a 14-year-old, even today. That and the love of the muggles ... err, the locals ... probably just fueled his magician ambitions and inspired him to learn bigger and better magic tricks, including a levitation trick he performed on his mom in the family den.
Sadly, that letter from Hogwarts was never forthcoming, so Angel was forced to remain in a muggle high school, where he evidently found some support for his hobby. "The teachers saw my passion," he later said. "They allowed me to create a schedule that let me spend a lot of time on my love of magic, and that really guided me in the right direction."
So uh, we don't want to misinterpret what that means or anything but having your teachers allow you to pursue your non-scholarly passions sounds a little odd. His parents must have loved that.
Wait you're going to do WHAT professionally?
Getty Images
Criss Angel's parents were evidently deeply remorseful of the fact that they supported his cute little magic hobby when he was 7 years old because when he grew up he was all, "Guess what Mom and Dad, I'm going to be a professional magician!" and they were all, "What the what now?"
Shockingly, Angel's parents were not supportive of his decision to forego college in favor of a career on the road. "The thought of my becoming a professional magician was unbearable for them," Angel said in a Las Vegas Sun profile. "They had hoped their three sons would go to college and become doctors or lawyers — but not a magician!" How outrageous of them.
Like most kids, Angel didn't give a flying crap what his parents wanted him to do, so he joined a traveling performance act (is that just a fancy term for circus?) and studied magic at the University of Whatever Public Library Happened to Be in the Neighborhood. Do take note though, kids, things totally worked out for Criss Angel but for 99 percent of children who want to become magicians, that life on the road turns into a spiral of despair and poverty so seriously, maybe stay in school.
Maybe I'll just be a rock star instead
In the 1980s, while he was still honing his craft, Angel evidently decided that he needed to supplement his magic show income because surprise, magic wasn't turning out to be very lucrative. Now, most people looking to supplement their starving artist salary do practical things like wait tables or drive a delivery truck or get a job as a store clerk, but Angel went, "Hey, you know what would be even more lucrative than being a magician? Being a musician!" And the sound of his parents' facepalm reverberated across the land.
According to Metal Injection, Angel's attempt at a music video back in the '80s was "a Poison knock off video" with "100% more magic tricks." And it is truly a remarkable thing to behold, what with the ginormous hair, rainbow spandex, and vanishing doves.
Angel didn't give up on his dreams of being a rock star, though, even after he became a famous magician. In 1998 he formed an industrial band called Angeldust, which is in no way a pretentious name at all. Between that band and other projects, he's released a few albums. Angeldust hasn't done much since the early 2000s, which is probably for the best because the world really doesn't need a Criss Angel rock band. Dude, you're a magician.
A magician never reveals his secrets, except for on DVD and in that one bestselling book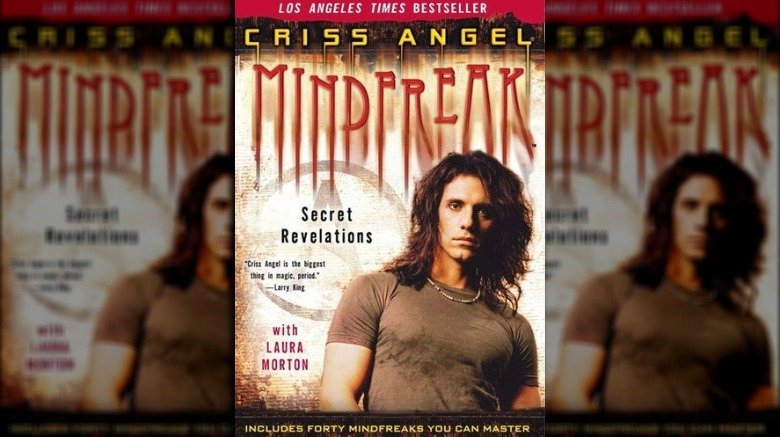 Okay, so we've spent some time making fun of Criss Angel but really, the guy is okay. In fact he's one of the only magicians in the world who doesn't seem to mind revealing his secrets. Some of them, anyway — it would be seriously lame if he revealed all of them.
Angel told Cinemablend that "the trick doesn't make the magician, the magician makes the trick." So he's actually released a couple of DVDs and a book that teach people how to do magic, which is kind of like a gift to 7-year-olds everywhere with the side effect of also being a financial gift to Criss Angel himself. The book spent some time on the LA Times bestseller list, so its publication wasn't entirely altruistic. To his credit, though, he does seem to genuinely enjoy helping other people learn to do magic, and that's pretty cool. "When I was getting into the art of magic I couldn't find material that had my sensibilities, that had things that appealed to me," he said. "I feel everyone should know one good joke and one good effect. It's an icebreaker."
Angel was kung fu fighting, and also wu-shu, karate, kenpo and taekwondo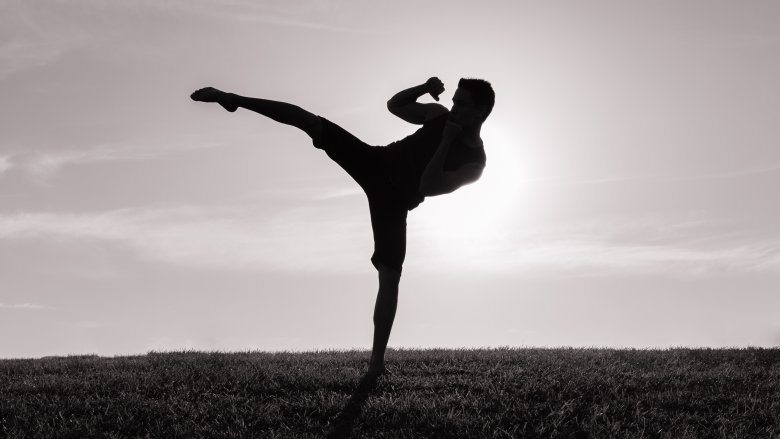 Shutterstock
Somehow, while Criss Angel was traveling around the country honing his magic skills and putting on spandex so he could star in awful music videos, he also found time to study not one style of martial art but at least five of them, which sort of makes you wonder how he had time to study magic at public libraries.
According to Cinemablend, Angel knows kung fu, wu-shu, karate, kenpo, and taekwondo, which is pretty impressive especially if you don't believe that whole "jack of all trades, master of none" garbage that your parents and pretty much every adult human being ever has tried to poison your mind with.
All over the internet, you'll find people saying that Angel is a seventh-degree black belt, which appears to maybe not be true — the Las Vegas Sun does say he practiced with a seventh-degree black belt, though, which is maybe where this confusion started.
To be fair, most of his martial arts training appears to have happened during adolescence, which explains how he managed to find the time not only for five different schools of martial arts but also for dance, music, and "mysticism."
He's a bad boy, he swears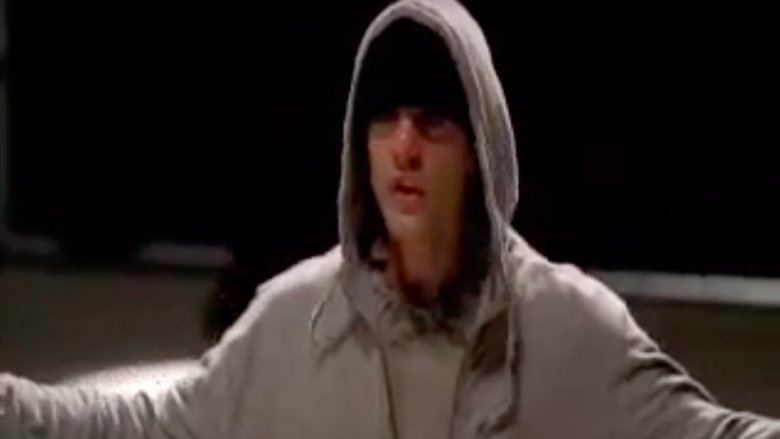 YouTube
The bad boy thing is definitely part of Criss Angel's image, although someone needs to go back in time and tell 1980s Criss Angel that spandex in bright colors really doesn't scream "bad boy." Anyway he does pull off the black leather, punk rock look okay and he appears to enjoy the image because he once even starred in an episode of CSI: NY as — what else — a bad boy (above).
"I got a call from the creator/producer of CSI and [he] asked me if I was interested in participating," he told Cinemablend. "I said, 'Yeah, provided I'm the killer.'" And then he went on to brag about how the episode he was on was the number one show in its time slot that night, even beating out Lost. So not only is Angel a bad boy, he's also not super modest, which to be fair is sort of a bad boy thing, so points for that.
It is possible to take the bad boy thing too far, though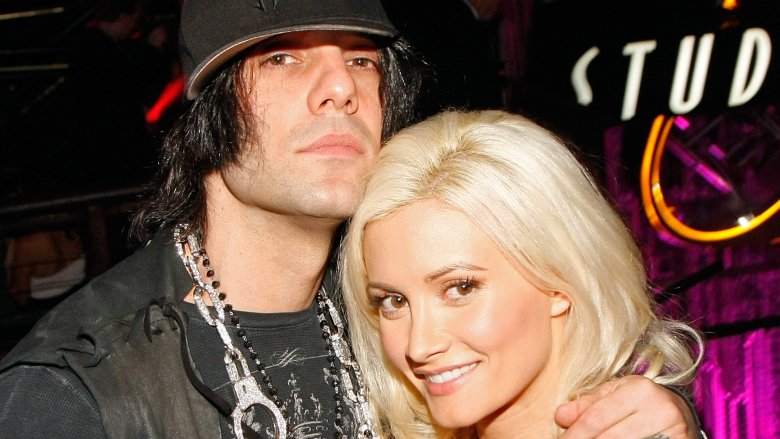 Getty Images
Criss Angel's temper is almost as legendary as his rainbow spandex. Okay his rainbow spandex aren't exactly legendary, but we extra-like talking about them.
According to the Las Vegas Sun, one of Angel's famous rows was with Las Vegas Review-Journal columnist Norm Clarke, who had publicly accused Angel of inappropriately approaching a Miss USA pageant judge. According to Clarke's column, Angel was trying to pressure the judge into giving his then-girlfriend, a Miss USA contestant, high marks in the competition.
After the story ran, Angel got into an argument with Clarke, who wears an eye patch, outside a Las Vegas casino. Angel threatened to take out Clarke's remaining eye, and the dust-up ended with him giving the finger to the NBC cameras that were filming everything.
He's evidently got some anger management issues in private, too — ex-girlfriend Holly Madison (above) told E News that he had an "explosive temper" and was jealous and possessive. All part of the bad boy image, though, right? Because jealousy and possessiveness are so sexy.
He made Ice Cube lose his cool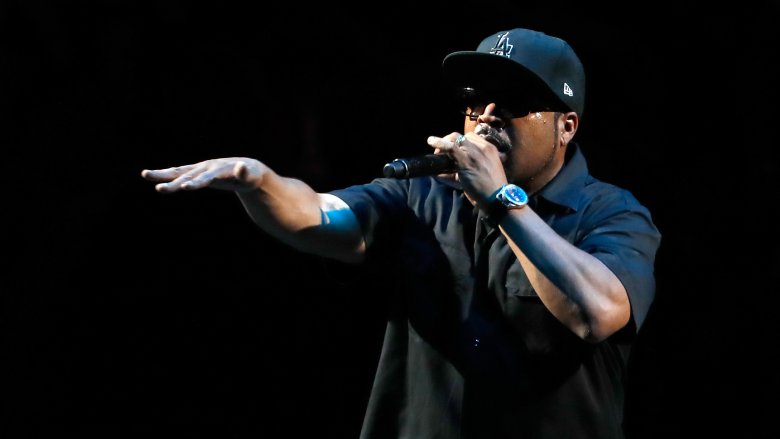 Getty Images
We can't lose sight of the fact that ultimately, the bad-boy kung fu, wu-shu, karate, kenpo, taekwondo musician with a background in dance and mysticism really is just a magician, and he's quite good at what he does. He's so good that he once freaked out Ice Cube with a card trick, and everyone knows that freaking out Ice Cube in general is not an easy thing to do.
According to MTV, the second season of Angel's show Mindfreak featured a spot with the legendary rapper — there was one trick involving a record store and another one with a deck of cards. "I asked him think of a card and then go through the deck to find it," Angel told MTV. "He opens it up, goes through the deck two times. There's one card missing, the one he's thinking about. I told him to look for it in his pockets, and he went into his wallet. Inside, with his money, is the card he was thinking of. He lost his mind."
What's especially impressive about this trick, when you think about it, is that somehow Angel was able to get the card into Ice Cube's wallet, when the dude is constantly surrounded by four giant bodyguards. So yeah, there's no denying that Angel knows what he's doing.
His toddler son was diagnosed with leukemia in 2015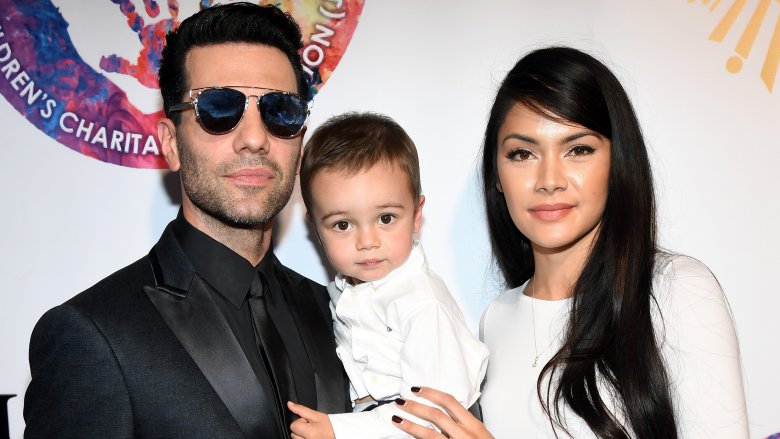 Getty Images
Criss Angel's personal life hasn't been as magical as his career has — his second wife, Shaunyl Benson, divorced him in 2016, but they remained close not because they're really soulmates deep down inside but because their son was diagnosed with acute lymphoblastic leukemia in 2015, shortly before the couple split.
Johnny Crisstopher was just a toddler when he developed cancer, and he's had to undergo years of chemotherapy. Happily, Angel announced that the boy was cancer-free in January 2019. Also, it appears as though their ordeal maybe did make Benson and Angel realize they belonged together — in January 2019 they announced the birth of their second child, Xristos Yanni Sarantakos, which by the way is just a different spelling of Criss because evidently it wasn't enough to have the name just as the middle name of the first kid.
Still, everyone is pleased that Johnny Crisstopher is well because even the world's greatest magician is helpless against the horrible specter of childhood cancer.
He founded a great charity with a stupid name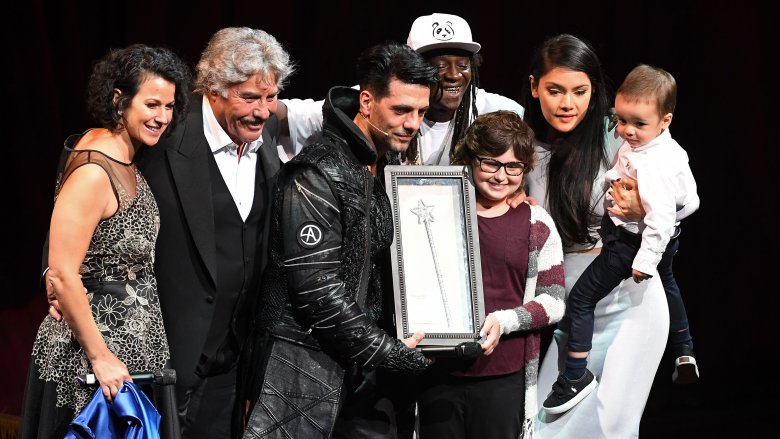 Getty Images
When you see someone you love fight for his life against a horrible illness, it can change you in really profound ways. In 2016, the year after his son Johnny was diagnosed with acute lymphoblastic leukemia, Angel founded the Criss Angel Heal Every Life Possible (HELP) charity. Now, granted, it's a pretty weak acronym, in fact it's not even an acronym, it's a backronym, which the Oxford Dictionary says is an acronym that's been deliberately created to suit a particular word or words. You know, like the USA PATRIOT Act, which rather stupidly stands for "Uniting and Strengthening America by Providing Appropriate Tools Required to Intercept and Obstruct Terrorism," and Congress had all their best people working on that one.
But whatever! It isn't about the name, and you have to admire the guy for this particular accomplishment. In September 2016 he brought more than two dozen big name acts — including comics, musicians, and athletes — to a charity event for HELP. Angel's website promises that all money raised through the organization will go directly to pediatric cancer research and awareness. And that's something you've really got to respect.
But still, magician of the freaking century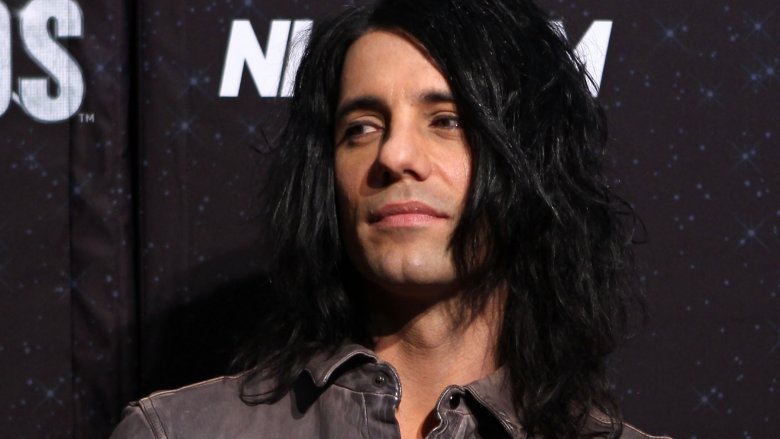 Getty Images
Regardless of what you think about Criss Angel's hair, or the rainbow spandex, or his bad temper, or the kung fu, wu-shu, karate, kenpo, taekwondo stuff, it's clear that he can do some pretty amazing things. And for $69 to $246 a ticket, he'd better be doing amazing things.
According to Biography, Angel was given the International Magicians Society's prestigious "Magician of the Year" award five times in the 2000s, which is really impressive until you realize that all the other world's magicians are probably 7 years old. Just kidding. We're pretty sure there are also some adults. Anyway, he also got "Magician of the Decade" in 2009, and in 2010 they just went "what the heck" and named him Magician of the Century, which frankly seems really unfair since there were still 90 years left in the century. He also received the 22nd Louie Award for outstanding achievement in the art of magic, so clearly Angel isn't the only one who thinks he's pretty awesome.
Not everyone thinks he deserves it, but whatever. When you devote your life to an art, you earn some accolades. Now we're just waiting for the kung fu, wu-shu, karate, kenpo, taekwondo guy of the century award to finally drop.