Why NOFX Was Banned In The USA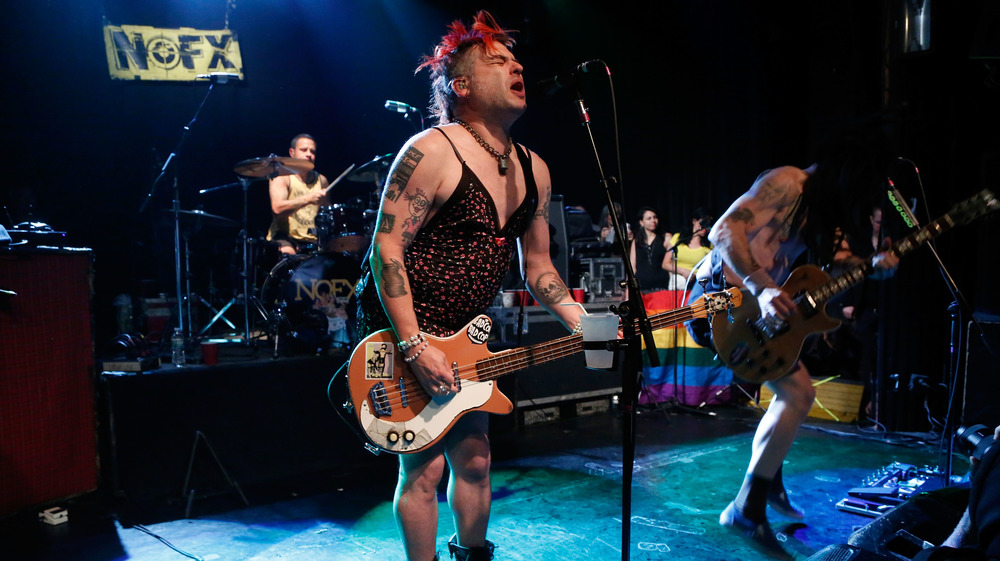 Taylor Hill/Getty Images
Punk rock veterans NOFX are no strangers to controversy. Through the years, the band has used their music to touch on topics ranging from drug use to BDSM, and their live shows are known to be peppered with between-the-songs banter that often veers into the crude. But in 2018, the band appeared to face a reckoning for their signature offensive behavior after their off-the-cuff jokes about the 2017 Las Vegas mass shooting that left 59 people dead and 530 injured, per Louder.
"I guess you only get shot in Vegas if you're in a country band," guitarist Eric Melvin joked.
"At least they were country fans and not punk rock fans," Fat Mike responded.
A backlash and apology followed, but it appeared the damage was done. In an Instagram post about the incident, Fat Mike revealed that all of NOFX's shows in the United States were banned due to their remarks.
"NOFX has effectively been banned in our own country. This is not our choice, but it is our reality," he wrote.
Still, while the band was kicked from their own Punk In Drublic festival and lost their Stone Brewing Co. sponsorship, the ban doesn't appear to have held up — Concert Archives reveals that they went on to play shows in America the following year.
NOFX has landed themselves in hot water before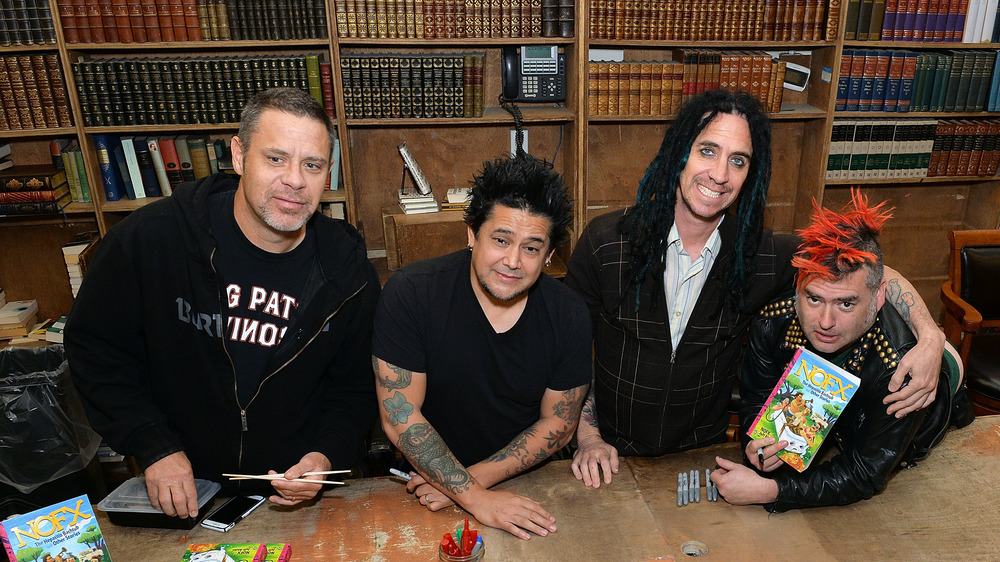 Slaven Vlasic/Getty Images
While the band's remarks on the Las Vegas shooting were shocking to many, NOFX has landed itself in trouble before. As reported by Loudwire, singer Fat Mike notoriously kicked a fan in the face during a 2014 Sydney, Australia show. Unlike the Las Vegas remarks, the incident was quickly resolved — the fan was allowed to get "revenge" by kicking the frontman in the shin and got to sing along with NOFX during one of their shows.
The controversy has rippled outside of NOFX as well. Fat Mike's notorious 2010 Emo's show under his alter ego, Cokie the Clown, drew a great deal of backlash after he used the uncomfortable one-off to pretend that he served fans shots of urine disguised as tequila. Although Exclaim! reported that the incident turned out to be a prank, it resulted in the frontman's banning from the Austin, Texas venue.