The Truth About The Made Up American Holiday, St. Urho's Day
If March 16th comes and goes without you realizing it's a holiday, you're not alone. But to the Finns in Minnesota, it's better known as St. Urho's Day. Created by Finnish-American Richard Mattson in 1953, The Mesabi Tribune quotes him as saying, "Winters are long and cold in Virginia, Minnesota, on the Iron Range. Gene McCavic, a co-worker at Ketola's, chided me in 1953 that the Finns did not have saints like St. Patrick... So I fabricated a story."
According to the fictional legend, St. Urho drove the grasshoppers from the vineyards of Finland, shouting, "Heinäsirkka, heinäsirkka, mene täältä hiiteen," (via UpSupply) which, according to St. Urho.com, loosely translates to "Grasshopper, grasshopper, go to hell!"
To celebrate this made-up patron saint, people wear the color purple. There was a heavy settling of Finns in the areas of Minnesota, Wisconsin, and the Upper Peninsula of Michigan, reports ThoughtCo., in the end of the 19th century and beginning of the 20th, so the area has a large Finnish population and the cultural heritage is very evident there. For that reason, the region is replete with St. Urho's Day parades, feasts, street markets, and, of course, consumption of wine, notes Wired.
St. Urho's Day is not your normal holiday celebration
Finns themselves are known for some creative, funny, and unusual events. For example, every year the town of Sonkajarvi hosts a Wife-Carrying Contest. Reuters reported on the 2019 race, where first prize winners take home the wife's weight in beer. So likewise, Minnesota Finns take everything just a little over the top when celebrating St. Urho. Along with the standard celebratory events like street fairs and food stalls, you can join a St. Urho lookalike contest, bar stool races, human foosball contests, Viking bowling, and other silliness, notes the Park Rapids Enterprise. You can look up St. Urho's events at St. Urho's Day.
The Duluth News Tribune reported that the town of Finland, Minnesota in 2012 started a Green and Purple Party, and held a national convention on St. Urho's Day to elect an honorary mayor for the event. In the party rules, they noted, "Votes by grasshoppers will not be counted," and offered "Family planning for moose," and free beer on Sundays and Mondays as part of their party platform.
And Minnesota Finns take St. Urho seriously. Along with the multitudes of celebrations that take place each year, in 1975, then Minnesota Governor Wendell Anderson declared Minnesota to be the official home of St. Urho (via St. Urho).
However, Finland today has tons of grasshoppers... and not many grapes.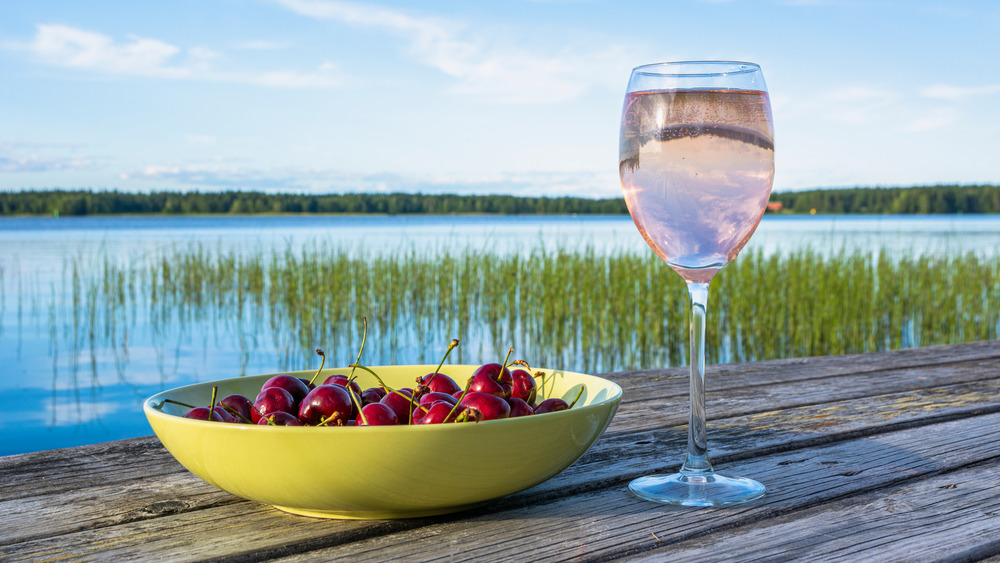 Shutterstock
The irony of the legend of St. Urho is that grasshoppers are apparently thriving in Finland, according to the new book Suomen Heinäsirkat Ja Hepokatit (The Grasshoppers and Crickets of Finland). And while there is wine produced in the country, most of it is made from berries and other fruits. Finland has also chosen to not be designated as a "wine-growing country" according to EU rules, reports The New York Times, primarily because of a dispute over farm subsidies. Because of that, they cannot label grape-based fermented liquids as "wine," but instead must be labeled as a "mild alcoholic beverage made from grapes" (via Foreigner.FI). Notes Foreigner.FI, the first wine in Finland available for purchase commercially was only released in 2007.
It's challenging to grow grapes in the country's climate anyway. As vintner Kaarlo Nelimarkka told Lifestyle Inquirer, "The winter is not a problem. The biggest problems are too short summers and the strong spring sun which can make the vine shoot out sprouts even when the soil is still frozen." There are currently only about 25 wineries in operation in Finland. Vincarta's report on unusual wineries includes a small vineyard in Finland at a power plant on Olkiluoto Island. Located within the Arctic Circle, they are only able to grow grapes because they use leftover water from the plant to heat the soil.
So loads of grasshoppers, but not much wine. Time for St. Urho to visit again!