You Probably Didn't Know There Is A Grasshopper Trapped In A Van Gogh Painting
Vincent van Gogh really suffered for his art, but he never sealed himself into a painting. Unfortunately, the same cannot be said for a grasshopper that somehow embedded itself into one of his works.
For years, no one knew an insect snuck its way into van Gogh's Olive Trees, painted in 1889, explained Smithsonian Magazine. It wasn't until 2017 when a curator from the Nelson-Atkins Museum of Art in Kansas City, Missouri, noticed the poor grasshopper. And now, new research from the museum revealed more information about the painting.
Curators and conservationists from the museum studied Olive Trees and found other plant material stuck to the work. And the grasshopper didn't accidentally crawl onto the painting. Researchers concluded that the insect was already dead when the wind blew it into the thick paint.
Van Gogh created Olive Trees while undergoing treatment in a mental health facility nearby Saint-Rémy-de-Provance. He moved there in 1889 under instructions from his brother, who was worried about his mental state. His brother asked his doctors to allow van Gogh freedom to paint outside as much as they could.
During his time at the facility, van Gogh made over 150 paintings, including the famous Starry Night, before he died by self-inflicted gunshot in 1890.
(If you or anyone you know is having suicidal thoughts, please call the National Suicide Prevention Lifeline​ at​ 1-800-273-TALK (8255)​.)
A very windy day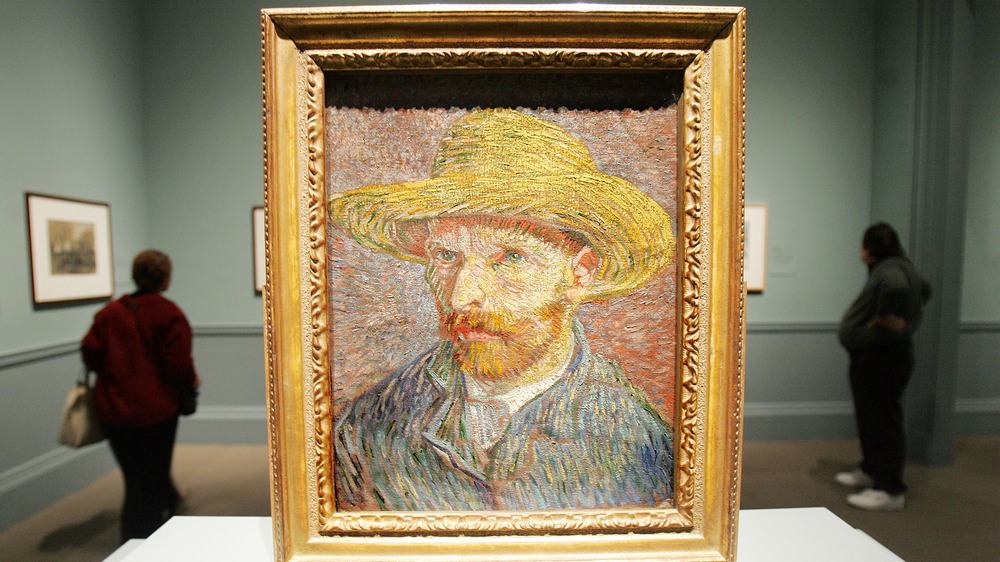 Mario Tama/Getty Images
The new study of van Gogh's paintings determined the artist may have begun work on Olive Trees on a windy day. It wasn't unusual to find pieces of plants or soil in his art because he liked being outside, but the amount of nature embedded in this particular painting points to the kind of weather on that day.
Conservationists also learned that Olive Trees originally had a more red hue than the blue we see today. Shadows in the painting used to be more of a red-violet, but the color faded over time.
According to NPR, it's hard to determine the exact season during which van Gogh painted Olive Trees, based on the insect. Since the grasshopper didn't have an abdomen, it's almost impossible to figure out where in its lifecycle it was before it got stuck in the painting. The grasshopper isn't exactly obvious to anyone looking at the painting, which is why it wasn't until 2017 that people found it. It's small enough that viewers need a magnifying glass to see it.
Still, NPR said, the grasshopper in the painting evokes a feeling of being outside on a windy day, watching a troubled master work his magic on a canvas.